Creative Commons
Original Creativity Center works are licensed under a
Creative Commons Attribution 4.0 International License
, unless stated by the owner. Permission to distribute commercially must come directly from the artist/writer.
Some individual works (RPGs, stories, artwork) may have their own licenses, so be sure to pay attention and heed those as well. The above purely exists as an umbrella license.
October 2021
| Sun | Mon | Tue | Wed | Thu | Fri | Sat |
| --- | --- | --- | --- | --- | --- | --- |
| | | | | | 1 | 2 |
| 3 | 4 | 5 | 6 | 7 | 8 | 9 |
| 10 | 11 | 12 | 13 | 14 | 15 | 16 |
| 17 | 18 | 19 | 20 | 21 | 22 | 23 |
| 24 | 25 | 26 | 27 | 28 | 29 | 30 |
| 31 | | | | | | |
Calendar
End of Year News (December 2017)
Thu Dec 28, 2017 3:57 am by Adrian
(It's been one year since I made a news thread, oops)
Merry Christmas/Festivus/whatever holiday you do or do not celebrate!
2017 was a pretty busy year IRL for most of us - according to forum statistics, our busiest month was in June with 1671 total posts, meaning our post rate has been a little …
[
Full reading
]
Comments: 0
Forum Bug
Wed Dec 28, 2016 3:18 am by Adrian
Hi all,
We're aware of a peculiar forum glitch that's causing some subforums to be locked.
Due to the lateness at this time, it might be a while before the glitch can be remedied, because despite my best efforts and as far as I can tell, everything seems to be working fine admin-side. It may have …
[
Full reading
]
Comments: 1
Discord News/Update Test
Thu Dec 08, 2016 1:35 am by Adrian
Comments: 0
5>
+4
Adrian
WritingBookworm
Hime
Kane
8 posters
Page 1 of 2 • 1, 2
AVATAR
AN RPG BY RONAN, ACE, CANA & KANE
STORY
Avatar Roku has just died, leaving the Avatar spirit to reincarnate amongst the Air Nomads. However, the world tetters on the brink of collapse and the future of the four nations remains uncertain following the death of the Avatar, the protector of peace and harmony in the world. The four nations remain beset on all sides by criminal gangs, nefarious warlords, and secretive societies. In all four nations, dark rumors of an ancient group known as the Tian Di Collective swirl under the placid surface of everyday life. The group's purposes remain largely unknown but many have suspected the collective to be behind the recent rash of kidnappings reported from every corner of the world: from the farthest reaches of the Northern Water Tribe to the center of the Earth Kingdom. Bending children as young as five have been stolen from their homes seemingly without a trace. Such kidnappings resemble a pattern that has been recorded as far as ten years prior. The covert agents of the collective had been careful to not arouse suspicion around these early times, but recent kidnappings have reignited interest in the collective and their overall goals. Given that the identity of the infant Avatar remains uncertain, the secretive organization known as the White Lotus would normally step in to manage the crusade against the shadowy collective.  However, warmongering rumblings in the northern Earth Kingdom and internal conflicts in the Fire Nation have preoccupied the majority of the White Lotus who find themselves stretched thin in a world without a fully realized Avatar. Under Grand Lotus orders, the few remaining members of the White Lotus have been tasked with the creation of an elite group of benders to operate in secret to hunt down and investigate the nefarious collective. While the collective's true goals remain shrouded in mystery, it is clear that the fate of the world hangs in the balance.
AU INFO
While this RPG does share its setting with A:TLA, it is important to note that the RPG takes place in an alternative universe in which key plot points are different from the show. In this version, the Fire Nation does not wish to begin a war to conquer the rest of the world and the majority of conflicts are those that arise within the borders of a single nation or those begun by smaller parties such as pirates or secret societies. As such, Airbenders in this RPG are alive and well and players are free to create such characters. All characters in this RPG are original and no characters from the primary series will be used. The setting of the RPG will largely resemble the world we are shown in the series without the advanced technology and military of the Fire Nation, which was a direct result of the war effort.
WORLD INFO
The world of this RPG consists of four sovereign nations: the Water Tribes of the North and South Pole, the Earth Kingdom, the Fire Nation, and the Air Nomads. Each nation represents a long and noble tradition of a particular bending art with a certain percentage of each nation's population being benders of that element (The Air Nomads are the only society to be 100 percent composed of benders). Separate from the four nations, the White Lotus operates a small base on an island located in the center of the ocean between the Earth Kingdom and the Fire Nation near the islands of the Southern Air Temple.
WATER TRIBE
Divided into the Northern and Southern tribes, this is the name for the collective group of people who populate the isolated and snowy areas around the North and South Pole. This nation follows a government in the form of a tribal chiefdom. While the Northern Tribe is larger and more developed, its Southern counterpart remains a large and thriving tribe. The people of the Water Tribes are relatively peaceful and strive to promote harmony with nature as well as with the other nations. The economy of the Water Tribe is small given both its location and the size of its population
EARTH KINGDOM
The Earth Kingdom is located on the largest continent of the world in addition to a number of smaller islands and is ruled over by an Earth Monarch. As the largest nation, it is the most diverse in terms of customs and cultural traditions. Additionally, given its size, the continent is home to a number of biomes including deserts, swamps, and canyons. The people of the Earth Kingdom are normally strong, persistent, and proud. The Earth Kingdom represents a center of industry given the practicality of Earth Bending; however, their economy, which also includes agriculture, does not come close to rivaling the Fire Nation.
FIRE NATION
The Fire Nation comprises a number of small and large islands near the equator. Given the geography of the nation, it is considered to be an archipelago. The nation is led by a monarch who is known as the Fire Lord. The people of the Fire Nation are defined by energy and a strong desire to achieve what they want. Despite being the second largest nation, it boasts the most advanced economy which is reliant on massive industry and technological development ahead of the other nations.
AIR NOMADS
While nomadic in nature, the Air Nomads inhabit four main temples in remote locations only accessible by sky bison flight: the Northern Air Temple located in the north of the Earth Kingdom and exclusively male, the Western Air Temple located to the north of the Fire Nation and exclusively female, the Southern Air Temple located to the north of the Southern Water tribe and exclusively male, and the Eastern Air Temple located to the east of the Earth Kingdom and exclusively female. Each temple is run by a group of leaders in the form of a theocratic council; as such, the council is the authority on both political and spiritual life. Airbender philosophy revolves around detaching oneself from earthly concerns and finding peace and spiritual freedom. Air nomads value peace and nature. The population of the Air Nomads is the smallest in the world and their economy is the most limited.  
PIAO LIANG ISLAND
The secret island of the White Lotus, Piao Liang Island is located in the center of the ocean between the Earth Kingdom and the Fire Nation near the islands of the Southern Air Temple. The small island consists of a pine forest, a rocky coastline at the perimeter of the island, and a large pagoda at the center of the island with a green tiled roof. The island is home to a number of species of fauna common to the earth kingdom despite its size.
For more information on locations in each nation as well as more information on the culture, geography, society, and history of each nation, please refer to this link and select the relevant nation you are trying to learn more about. Additionally, the wikipedia provides a valuable source for information on flora, fauna, cuisine and other smaller aspects of the world.
RP STARTING INFO
The RPG will begin with the establishment of your characters and them receiving a visitor from the White Lotus to inform them that their presence is requested on Piao Liang Island.
CHARACTER FORM
Name:
Age:
Appearance:
Bending?:
Personal History:
Personality:
Other:

Kane

Honorary Patron





Join date

: 2013-07-01


Posts

: 9015


Age

: 104


Location

: High above you



Name:
Yongten
Age:
21
Appearance:
Spoiler:
🜁
Yongten stands at around 5'7" putting her on the shorter side with a petite and lean frame to match. Her eyes are a molten, golden brown and she often wears her hair up as seen above. The only exception is during meditation when she lets her hair fall loose.  
Bending:
Yongten is an Airbender
Personal History:
Born at the Western Air Temple during the late hours of Yangchen's Festival, Yongten spent her early years much like any other Air Acolyte. Watched over by the nuns of the Western Air Temple, Yongten excelled at both the spiritual and physical side of Airbending. By the age of eight, she often spent hours deep in mediation at the foot of the massive Yangchen statue carved into the rocky cliffs behind the temple. Yongten formed a close relationship with the Mother Superior of the Temple, Mother Ketu and the pair was often seen together walking and meditating in the temple's gardens. Sensing great potential in her, Ketu instructed Yongten to visit a remote mountain in the eastern Earth Kingdom and meditate. At the age of fifteen, Yongten was able to discover her ability to meditate into the Spirit World which allowed her to use her spirit to travel into the Spirit World as well as see the presence of spirits in the human world, a rare gift among the Air Nomads. A spirit Yongten encountered named Hong Tian advised the young airbender to make her way back to the temple by traveling through the Earth Kingdom and the Fire Nation. Yongten's first stop on her journey back to the temple was the great city of  Ba Sing Se. Due to her upbringing at the temple, she had spent her life in relative isolation and had a limited view of what the world truly held. The young Airbender was simultaneously horrified and fascinated by the big city which was marked by rampant inequality but also a vast number of unique cultures and people. Making connections with the citizens of the Lower Ring, Yongten learned much about the cultures and values of Earth Kingdom citizens before she continued her journey. Stopping in every town she and her flying bison Yama came across, Yongten learned much about the cultures and people of the Fire Nation and Earth Kingdom, especially their spiritual practices and beliefs. Mediating among the spiritual centers of the Earth Kingdom and Fire Nation introduced her to a number of spirits and allowed her to address issues and grievances the spirits had against the mortals of the human world.  Her journey back to the Western Air Temple took more than three years and when she returned, she was granted the rank of master and given her tattoos due to the invention of a new Airbending technique which combined the energy of Firebending with the freedom and flexibility of Airbending. Invigorated by her experiences with the spirits of the Earth Kingdom and Fire Nation, Yongten requested permission for a pilgrimage to the Spirit Forest of the Southern Water Tribe.  After spending two years among the spirits of the sacred forest and with the people of the Southern Water Tribe, Yongten and Yama have just begun the journey back to the Western Air Temple.
Personality:
Yongten is a curious and inquisitive girl whose adventurous spirit has been enhanced by her extensive journeys around the world and her exposure to the various cultures and spirits of the world. This curiosity, however, is tempered by a deep-seated respect and belief in the teachings of the Air Nomads. Yongten is very spiritual and often finds herself often reflecting on her attachments to earthly concerns. However, the core of her personality is much like that of air; she believes in freedom, flexibility, and respect for all life. She would never resort to violence unless absolutely necessary and she shows a deep respect for all people.  Her soul is kind and gentle and she treasures making deep connections with those around her while still trying to adhere to the teachings of the nuns who raised her. Additionally, she can come off as a bit sensitive and introspective, but never shy and timid. She feels a duty to the spirits and to ensuring the people of the human world live in harmony with the spirits.
Other:
🜁 She is adept at glider flight with the sails of her glider being white and painted with various cultures' depictions of spirits
🜁 Yama has been her flying bison ever since childhood and the two are deeply bonded
🜁 Yongten's airbending style is unique and combines elements of the other bending traditions as well as lessons from the creatures of the spirit world
Name:
Panuk
Age:
19
Appearance:
Spoiler:
🜄
Panuk is around 6' tall and has a lean, muscular body from years of training and swimming. His eyes are a light blue color similar to the coloring of an icy sea under bright sunlight. When traveling in hotter climates, Panuk does not wear his poncho and has his shoulders exposed as in the middle picture.  
Bending:
Panuk is a Waterbender
Personal History:
Born in the Southern Water Tribe to Uki and Nanuq, Panuk was raised in an isolated village located on an icy island far out in the bay in front of Harbor City, the main capital of the Southern Water Tribe.  His mother Uki was a renowned healer whose talent attracted injured people from around the world to the icy cavern where she worked. His father Nanuq led the Waterbenders who guarded the capital city from their base on the island. A specialist in the Southern style of waterbending which prioritised offensive and aggressive moves over the more defensive and strategic style of the Northern Water Tribe, Nanuq devoted a great deal of effort to teaching his son. Nanuq possessed  a graceful and fluid style that was ideal for combat and focused on switching the state of water from liquid to ice and snow. When Panuk was fifteen, a training session with his father was interrupted by the ringing bell from the watchtower that sat on the northern shore of the island. The bell meant only one thing: invasion. His father urged him to return to their home to protect his mother with Panuk reluctantly complying. That was one of the  last moments he saw his father alive. The invasion was a small armada of ships from the southern Earth Kingdom under the direction of a local Earthbending lord who was searching for an ancient statue of a water spirit who promised eternal youth. As Panuk ran through the chaotic streets torn apart by pillars of ice and stone, he witnessed as his father rose out of the sea on a water spout and cleaved one of the ships in half with a massive blade of ice before being impaled by a spike of obsidian from an opposing ship. Screaming out, Panuk continued his run home, tears streaming down his face. When he arrived at his family's igloo, his mother was surrounded by three soldiers intent on forcing her to become the lord's personal healer for his military forces. One of the soldiers forced a stone set of cuffs onto his mother, causing her to  scream out in pain. In a moment of rage, Panuk exploded the snow of the igloo, turning the snow into three streams of water before freezing them into ice spears and impaling the three soldiers. Collapsing onto the red stained snow, his mother comforted him as he sobbed in her arms, the last of the earthbending forces retreating back onto the remaining ships in the sea. From then on, Panuk devoted himself  to serving in the guard that his father had once commanded. However, the pain and anger from the  loss of his father still lingered within him as he guarded the tribe. Despite his mother's attempts to teach him healing techniques, his own inner turmoil from the attack never allowed him to master any techniques. Eventually, when Panuk was seventeen, he left the guard and  fell in with a dangerous group of Waterbenders who delighted in robbing citizens and participating in crime and vandalism. It all became too much for Panuk who could feel himself slipping away from what his father would have wanted for him. He subsequently left the group.
Personality:
Despite all that has happened to him, Panuk truly does still have a good heart. However, for those who meet him, it would be near impossible to tell. He can come off as moody, dark, and aloof to almost everyone around him. Projecting a perpetually serious and moody persona that has little time for the feelings of others, Panuk's inner turmoil causes him to act angry and violent without warning at times if the situation upsets him and he often lashes out at others during these times. However, underneath it all, he remembers what his father stood for: justice, honor, and peace. He often secretly berates himself as he feels he has failed what his father would have wanted for him and that there is no path to redemption for him. Panuk has a soft spot for his mother whom he loves dearly and has always taken care of after the death of his father.
Other:🜄
When Panuk is outside of the South Pole, he wears two grey sealskin water skins in an X shape on his back with the each spout at his hip which provide him with a source of water to bend no matter his surroundings.
🜄
Panuk's waterbending style is offensive and aggressive and frequently relies on waterbending's ability to change water from liquid to ice and snow near instantly.  
🜄
He harbors a resentment toward all Earthbenders as he blames them for the loss of his father
Last edited by Kane on Sun Jun 14, 2020 7:33 pm; edited 1 time in total

Kane

Honorary Patron





Join date

: 2013-07-01


Posts

: 9015


Age

: 104


Location

: High above you



Vinran:

Name: Vinran (most call him "Vin" for short)

Age: 21

Appearance:

- Vin is 6'0 and has a bit of grey in his hair, as shown above. His eyes are hazel.

Bending: Earthbending

Personality: Though Vin does objectively good things, his personality is certainly an acquired taste. He's incredibly pessimistic and tends to take the extremist stance in any situation. He's not very kindly despite his general charismatic nature, but he undoubtedly means well. He's emotionally closed off, hard-headed, snarky, and not easy to befriend.

Background: Vin is the only child of Lord Feng, a wealthy aristocrat who works alongside the Earth King. Vin's mother was a sickly woman who died when he was about 6. His father's pain and mourning made it difficult for Vin to properly cope with the loss, and he had to become an adult pretty quickly to pick up his father's slack. He dabbles in organized 'crime,' which consists of stealing supplies from the wealthy and redistributing them amongst the poor.

Other: He has a pet armadillo wolf named Kuma.
Sino:

Name: Sino (see-no)

Age: 20

Appearance:

Bending: Non-bender, but she can chi block

Personality: Sino's general disposition is kind. She's a bit shy and jumpy because of her upbringing, and she definitely has issues speaking up for herself. Though she's genuinely sweet and optimistic, she has a constant air of melancholy around her. She tends to keep herself quiet, as she's conditioned to be. Underneath the surface, Sino is incredibly intelligent and spends as much time as she can reading and educating herself on as many topics as possible.

Background: Sino is one of the twin daughters of a Fire Nation general. Her father is tough, unfeeling, and power-focused, and her mother is the exact opposite; however, because her mother is so meek and timid, she never protects her children from her husband's wrath. Sino is the only non-bender in her family, making her the sort of 'black sheep.' Her father treats her with cruelty that is fueled by his disappointment, and her mother never steps in to help. Her twin sister is a talented fire bender, often praised by her father, which creates a competitive dynamic.

Other: N/A

Hime

Moderator





Join date

: 2013-05-19


Posts

: 9024


Age

: 22


Location

: N'al Ren



Name
: Princess Mizuki of the Fire Nation
Age
: 18
Appearance
:
Spoiler:
Bending?
: Firebender
Personal History
: By all accounts, Mizuki seems like a perfect future Fire Lord. Diligent and driven, intelligent and patriotic, and committed to truly making a better world for her future subjects, there could hardly be a more ideal candidate. There's only one small problem.
Mizuki's a bastard.
No one knows about this. Even Mizuki wasn't supposed to know. The only reason she does is because she accidentally overheard a conversation her mother had with a palace guard she turned to on a night when her marriage to the Fire Lord was having serious difficulties.
Mizuki thought about confronting her mother, or telling her father the truth. In the end, she decided to keep this knowledge under wraps. In other circumstances, she might have revealed what she knew, and passed down the crown to her younger sister, Zhilan, who's actually the rightful heir. However, for years Zhilan talked about how great the Fire Nation was, and how she wished to share that greatness with the other nations. When Zhilan was younger, she seemed to be talking solely from a place of idealism. But as Zhilan got older, Mizuki watched as Zhilan became more serious and pragmatic about her vision. She understood it as the Fire Nation's solemn duty to make the other civilizations like them, and Mizuki realized that these were warning signs.
For the sake of international peace, Mizuki resolved to carry her secret and keep Zhilan from the throne until she convinced Mizuki that she was changing. Mizuki hopes that day will one day come. But until then, she carries the weight of her heritage on her shoulders, doing her best to prove that she'll be a good Fire Lord — not to the world. The world already knows. No, she's fighting to prove that to herself. It's a fight Mizuki suspects she'll lose.
Personality
: Mizuki is full of passion, ambition, and pride. She just keeps it carefully locked away, where no one can immediately see it. But it is there, fueling her with a determination to prove herself worthy of being the next Fire Lord.
She also doesn't let herself get close to many people. It's not immediately obvious — while she can be a little formal sometimes, she's still cordial and congenial to others. But if you really think about it, she doesn't reveal much about herself to other people. There's a lot of baggage and internal conflict that Mizuki's allowed to get in the way of interpersonal relationships.
Other
:
-Her childhood nickname is 'Zuki.' She doesn't allow many people to call her that, but if she invites you to do so, that's a sign she feels genuinely close to you.
_________________
"I'll tell you where the real road lies: between your ears, behind your eyes. That is the path to paradise, and likewise the road to ruin."
Infinity's Row: Interlude l Anaphora: Pariah l Infinity's Row: Uncontrollable l Anaphora: Vengeance]
Currently Reading: The Traitor Baru Cormorant by Seth Dickinson
Currently Watching: Titans
Name: Zheng
Age: 20
Appearance:
Spoiler:
Bending?: Earthbender
Personal History: Zheng hails from Lengjian, a small but not un-noteworthy farming town in the rural hills of the northern Earth Kingdom. His father, Chenlin, has been the mayor of the town for 20 years - however, when Zheng was 16, his father developed a terminal and degenerative disease that in time made it harder for him to perform governmental functions. As such, he began training the young teenager in the duties of being the mayor of Lengjian, as it would be his duty once Chenlin passes. However, things proved difficult for young Zheng, and in 2 years his father lost the ability to speak entirely, making learning even harder.
As a result of taking care of his father (his mother suddenly vanished for unknown reasons when he was 10) and taking on the duties of the town, Zheng hasn't really had time to make friends or socialize beyond local politics. His only hobby comes from practicing earthbending, which nobody else knows about - except for his missing mother, who was a bender herself. Zheng isn't sure why he keeps his bending a secret - maybe he finds some security in having a secret just to himself, something he doesn't have to share with anyone else. And secretly, he wishes to travel to find someone to train with and develop his bending properly. But he fears that one day, he's going to have to make a choice between what he really wants, and where he's really needed.
Personality: Zheng is normally decisive and uncompromising. And on the surface, he has the makings of a good leader; however, internally he's filled with extreme anxiety over the ailment of his father, the impending responsibilities he's concerned he's not ready for, his fear of wasting his earthbending talents on politics, not to mention he's still not fully over what happened to his mother. This can often lead him to shut down when he's feeling opposed, or when someone debates with him about his choices. He also struggles with connecting to people - not because he doesn't want to, just that he's never been quite sure how to do that.
Other:
- Zheng is a self-taught bender, and as such his bending style can seem rather rudimentary to other earthbenders.
_________________
MAXXXXXXX | beeple
Name: Roke
Age: 22
Appearance:
Bending: Firebender
Bio: Roke was born near the bottom of the Black cliffs in a small un-named farming settlement. There Roke was an energetic child he often would often play tricks on the others in the settlement. He would often make the fire around the town go wild and crazy looking like different types of animals that he had seen. As he grew older he enlisted into the military in an effort to help his family make some money.
During his time in the army he took an exchange program with the earth kingdom and during this time he found out that his small village was destroyed from a rockslide. He left the army to find out about his family because of this he was dishonorably discharged. When he came home he found no bodies and a note saying that everyone survived the catastrophe. The note continued to say that everyone has left the land of fire (at least the no benders). He looked at the note realizing that he had to travel to the land in search of his missing family.
Personality: Roke has a playful attitude toward life, he hates responsibility, and can come across as very annoying toward certain people. Deeper down he never tells a pointless lie, he keeps every secret that he is privy to, and he doesn't get panicked in dangerous situations.
Other: He does not have much power behind his bending, but his control is very impressive 
Name: Ralli
Age: 21
Airbender
Appearance:
Bio: Ralli is an Airbender who had left the temple at a young age. She believed that the peaceful nature that the airbenders she lived with was flawed and wished to explore the world. After a few years of traveling she found herself in the earth kingdom. There she learned their style of bending and applied it to her airbending giving her a unique style.
She does not associate with airbenders much anymore. She finds that many Airbender are just posh people who think that they are above others because they see fighting as a negative thing.
Personality: Due to her nomadic style of life she has become very blunt. Ralli never lies because that only leads to more and that can cause a land slide. She loves to fight but she also knows that rushing in might lead to un favorable situations.
Other: when she moves sand in her hands it means she is trying to think… not her strong suit.

Nishioya

Newbie





Join date

: 2020-01-24


Posts

: 35



Name: Kota
Age: 18
Appearance:
Spoiler:
Bending?: Firebender
Personal History: Kota is the eldest child and only son of Headmaster Hiroki of Zoryu Academy, an elite primary and secondary school based in the Fire Nation Capital, and Haruna, a history teacher at the same school. Headmaster Hiroki is a stern and somewhat unforgiving man who expects the best out of all of his students; and his children are no exception.
Due to increased pressure from his parents (who themselves are both benders), Kota quickly climbed up the ranks of his class, becoming one of the top students in the school. However, his hopes for gaining the approval of his father quickly turned into consternation as Hiroki's attention turned to Kiyoko and Kimiko, Kota's younger sisters. Though only Kiyoko is a bender, the twins both turned out to be quite skilled fighters together, working as a single unit, which ended up undermining Kota's reputation at school and in his own family. And now that Kota is graduating, he's beginning to wonder if he'll ever gain his father's respect back.
Personality: Like many Fire Nation citizens his age, Kota is an ambitious young man, an ambition compounded by his entire family. He also feels a desperation to validate himself around his peers, to justify his own existence, which can lead him to grow especially defensive when he fails or makes a mistake. Kota gets along quite well with others, but feels extra pressured and inadequate if he gets the feeling that someone is challenging or one-upping him in some manner.
Other: N/A
_________________
MAXXXXXXX | beeple
Name: Riyuki
Age: 19
Appearance: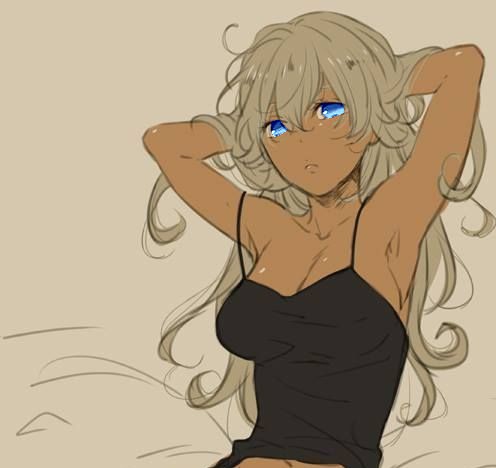 Bending?: Waterbending
Personal History:
No Big Backstories:

Born in the Southern Water Tribe, Riyuki lived a peaceful life amongst the vaste expanses of ice and snow. Although the Southern Water Tribe village was small compared to their northern cousins, they lived a happy, fulfilling life without all the pompousness and politics that was common in the big city. Instead, Riyuki enjoyed the closeness of her family and the joy of being one of five siblings. As one of the older daughters, Riyuki was expected to act as such, helping with housework and chores that needed doing around the house. However, this was only one part of her life. Personally, she enjoyed being outside in the empty but never-ending ice of the frozen tundra. It was there where she truly felt alive, as she was able to use the waterbending that had been passed down from both of her parents without any restraint.



As a young girl, Riyuki was the first among her siblings to develop waterbending. To her parents chagrin, she was able to make a mess unlike any other as she played in the ice and snow, using her vibrant imagination to sweep snow up into piles to jump into or shape into creatures she'd seen in the few books they had. Unlike the rigid and strict north, women were fully encouraged to use their bending to its full extent, and so as she grew her parents encouraged and educated her on how the Southern style of waterbending was unique. The gift came naturally to her, moreso than her younger brother and sister who also developed it later on, and in a short time  she, with the support of her parents, had reached the level of the average adult waterbender. However, she knew she couldn't stop there, and although of course she studied and learned about the world and other parts of life, her true interest lay in learning more to this ancient and sacred right of her people.



To do this, she studied with the village's best waterbenders, but at age sixteen she had already reached their level. However, she wasn't granted the title to master due to the fact that there has always been one thing holding her back: although she was a proficient waterbender, and she could manipulate ice and snow with ease, she had failed to understand the most basic mantra in the practice of waterbending; change. As much as she's tried, the technique of changing water into its solid form and vice versa had eluded her for as long as she could remember. Even the teachings of the village's oldest and most respected waterbenders didn't help her understand this foundational pillar of waterbending. Angered and hurt that she wouldn't be considered a master for this one shortcoming, she left the village and headed into the deep frozen tundra for three moons. She soon found that the South Pole was a cold, unforigiving place that with its harsh, bitter elements, would not allow her to survive unless she quickly adapted to living on her own. She made a hut deep in the drifts and began utilizing her waterbending as more than just a form of bending but as a tool that was absolutely for survival. Day in and day out, she pushed herself to learn more and more about the truth of waterbending, diving deeper into its depths. She used her skills to hunt under the ice for fish and arctic seals for blubber to keep warm. However, no matter how much she tried, the ice would not melt away, its resilience laughing at her as she learned how to deal with it in other ways.



When Riyuki was beginning to give up hope of ever mastering waterbending and at night would think of returning to her warm, loving home, on the longest, darknest night of the winter, she felt something calling her in the distance. The lights dancing in the sky drew her deeper into the frost, a humming, glowing light in the distance calling to her.



The next morning when she awoke, she was back in her home, her parents and many of the other villagers crowded around her in her family's hut. She'd been found deep in the wilderness by some hunters who had been returning from their soltice rites, her skin already blue and blistered. If it hadn't been for them, she might not have made it back alive.



After a few days, she had regained her strength and life continued as normal. However, something about Riyuki was different. What had changed within her during her time outside the village was just waiting under the surface...

Personality: Riyuki has always been the more aloof, introverted type. Although she has no problems getting along with others, she does think that she prefers being alone in nature.
Other: She has limited training in healing.
Name: Konran
Age: 21
Appearance:
Spoiler:
Bending?: Firebending
Personal History: Born in the Northern Water Tribe to a very wealthy Fire Nation merchant and a waterbender in the upper echelons of the Water Tribe nobility, Konran's mixed culture has been one that not many in this divided world of nations and borders get to experience. Although from time to time he would travel around to the Fire Nation and abroad with his father, most of their time was spent in the frigid, icy capital city of the north. It didn't help that this quite limited his interaction with any form of firebending, as well as the fact that the bitter cold made firebending much harder. As such, his firebending has never really been much more than the basic he things he can manage with it, although he does wonder if perhaps it's simply not for him. Growing up, he's always felt inferior because of his as well as because of his mixed heritage, even being born into nobility. He feels there has to be something that he can do in this world that is a calling only he can fulfill, something that will finally give him his chance to stand out.
Personality: He has a bit of an inferiority complex towards his twin, although he won't usually show it unless provoked. He does try to take charge and can sometimes be obnoxious due to him wanting to stand out more than his brother.
Other: its lit fam
Last edited by Ace on Tue Jun 16, 2020 7:23 pm; edited 3 times in total

Ace

Influential Creator





Join date

: 2013-09-04


Posts

: 6420


Age

: 24


Location

: Made in Japan



Ayaka:

Name:

Ayaka

Age:

22

Appearance:Bending?:

Firebending

Personal History:

Ayaka lived like every normal child in her small fire nation village. At least, she assumed her life was the same as everyone else. She grew up thinking everyone had angry dads who would yell and scream. Dads that would throw things and hit people. Meek mothers who just whimpered in fear and let it happen. Scared moms who would be too afraid to stand up for themselves, let alone a little girl. She thought it was normal to wear long sleeves to hide bruises, stay home from school when her face was hurting, wrapping up burns from her father's firebending and passing them off as her own accidents. She was told by her mother that her dad was a good man, he just got angry sometimes. That he loved them very much and that they were a true family. That she had to keep these things secret or else she might get taken away. "And you don't want that, right sweetie?" her mother would say. Ayaka didn't want that at all. She loved her parents and wanted them to love her too. She wanted to be good for them so she stayed quiet.

It wasn't until she was eleven and getting ready for school one day when her mother forgot to give her a jacket that things started to change for Ayaka. She could see people whispering, pointing, giving her weird looks. Teachers looked afraid and confused. Some asked questions, but Ayaka stayed silent, feeding the excuses that her mom engrained in her brain. "I tripped down the stairs" or "I fell down playing outside" or "My dad was showing me a firebending move and I burned myself when I tried it", anything to keep her parents happy. When she got home, she told her parents in pride about how good she did, only to be met with startled gazes and shouting. Her dad slammed her head into the table as her mom began running around the house, packing. Before she knew what had happened, Ayaka's family packed up what little they had and fled. Ayaka tried asking why they were leaving, but that only made her dad angrier. So she stopped asking.

Although young, things quickly began to add up for Ayaka. This wasn't normal. People didn't live this way. Families did not treat one another like this. This wasn't normal. Ayaka made these revelations in silent, realizing that any clue her father had of her thoughts would continue his spiral of abuse. Though she knew she did not want to live like this any more. She had to get away, no matter the cost. Ayaka spent years working up the courage, but finally told her mother that she was going to run away and that she should come with her. She begged her mother to leave, that she would end up dead if she stayed with that man for any longer. But her mother was too far gone. Putting up with this for even longer than Ayaka had clearly broke her spirit and she refused. So Ayaka packed up the few belongings she had and what little money she kept and fled in the middle of the night.

Through a long and difficult journey, she wound up in the fire nation capital when she was about 17. She lived on the streets for a while until she saw some street performers making money doing tricks, magic, playing music, any odd skill that they could. She realized that she could do the same. She stole a fancy outfit from a store and began dancing, using her firebending in her dance routines. She became pretty popular doing so, families and people of all ages being captivated by her beauty and seamless incorporation of bending into the routine. Her moves and grace astound audiences, drawing a sizable crowd whenever she appears in the plazas or town squares. Occasionally, she'll team up with other performers to put on a bigger show but mostly she works alone. Ayaka's been making her earnings as a dancer for the past few years, enjoying her work and the money it brings in. She has made it her mission to ensure those in the fire nation capital are better off than she was when she was little so she often spends time tending to children on the streets as well with what money she has left over.

Personality:

Ayaka carries around a lot of trauma that makes it difficult for her to trust people. She may appear a bit distant or very formal, not really divulging much in conversations or talking comfortably with people often. It takes a lot for her to open up and she finds it incredibly hard to do so. Though Ayaka carries this trauma, she refuses to let it define her. She has a strong willed personality and makes it her goal to look out for those that need help. She will passionately defend the little person and stand up for someone that has a hard time doing it themselves.

Other:

-From her travels to the capital and from living on the streets, she's picked up sufficient hand to hand fighting skills.

-Her father taught her firebending but as she has lived on her own she has become self-taught and changed her techniques from those that he taught her.

-She has incorporated many weapons into her routines as a street performer though her favorite are chakrams and she often keeps a pair strapped to her waist.
_________________
I may fall
But not like this: it won't be by your hand.
Realizing a year late I haven't given credit to Lady Sen for the amazing avi! <3

boyhoy

Administrator





Join date

: 2013-05-09


Posts

: 13648


Age

: 26


Location

: Beacon Academy



Name
: Rami
Age
: 21
Appearance
: 5'5", fair skin, dark brown hair, slim figure/partly malnourished and underweight
Spoiler:
Bending
: Firebender
Personal History
: Rami is the daughter of a Firebending Blacksmith. Her mother left her father and her when she was but a little girl, barely even remembering the face of the woman who birthed her because of this. Her father rarely speaks of Rami's mother, and she doesn't bother to ask much anyways. Despite growing up without a mother, her father was very kind to her and gave her the best life he could.
The two of them lived in the Fire Nation Capital, her father crafting armor for the Fire Nation military and others who would need it and had the coin. Despite one possibly thinking that the two of them would be living a very lavish life, however, that was not the case. The two lived pretty humble lives, neither poor nor rich. Most money her father made went into providing for Rami as she grew up, and more expensive items were saved for special occasions like a holiday or a birthday.
Rami also was interested in Blacksmithing like her father as she became older, and wanted to become a firebender so she could work alongside. It took many years for her to truly understand and get it down, but she did it. Unlike her father, however, who mastered his craft in armorsmithing, her interest was in weapons. Rami would often craft small knives and daggers in her free time, selling them on the side for quick coin. She knew to some degree that she may have been selling her blades to the wrong people. But, she was more than happy to make a little extra for her father and herself. She believes that he was aware that she might have almost been black-marketing her knives, but couldn't help but enjoy the new money they were making.
Luckily, nothing really came of Rami's under-the-rug deals, and so her father and her happily live out their lives smithing together.
Personality
: Rami is a pretty basic person. Some people have called her a bit boring, as she isn't extremely emotive. Much like her father was to her, she is pretty kind to everyone unless given a reason to. She doesn't like to boast or brag, however, one exception is showing off her skills of smithing weapons or armor. On top of all of this, she is a pretty quiet person. Not really because she feels like she has to, but, because she sort of wants to? But she will talk when spoken to, or if she really thinks she can add to a conversation. Rami also likes sharp and sparkly things.
Other
:
x Rami struggles with Anorexia nervosa, although it might be a to a lesser extent and isn't the cookie-cutter
x Being able to craft knives and daggers, Rami will occasionally craft a few to keep beside her in case of emergency. She knows how to ignite and throw them.
_________________
Page 1 of 2 • 1, 2
---
Permissions in this forum:
You
cannot
reply to topics in this forum