Creative Commons
Original Creativity Center works are licensed under a
Creative Commons Attribution 4.0 International License
, unless stated by the owner. Permission to distribute commercially must come directly from the artist/writer.
Some individual works (RPGs, stories, artwork) may have their own licenses, so be sure to pay attention and heed those as well. The above purely exists as an umbrella license.
August 2020
| Sun | Mon | Tue | Wed | Thu | Fri | Sat |
| --- | --- | --- | --- | --- | --- | --- |
| | | | | | | 1 |
| 2 | 3 | 4 | 5 | 6 | 7 | 8 |
| 9 | 10 | 11 | 12 | 13 | 14 | 15 |
| 16 | 17 | 18 | 19 | 20 | 21 | 22 |
| 23 | 24 | 25 | 26 | 27 | 28 | 29 |
| 30 | 31 | | | | | |
Calendar
End of Year News (December 2017)
Thu Dec 28, 2017 3:57 am by Adrian
(It's been one year since I made a news thread, oops)
Merry Christmas/Festivus/whatever holiday you do or do not celebrate!
2017 was a pretty busy year IRL for most of us - according to forum statistics, our busiest month was in June with 1671 total posts, meaning our post rate has been a little …
[
Full reading
]
Comments: 0
Forum Bug
Wed Dec 28, 2016 3:18 am by Adrian
Hi all,
We're aware of a peculiar forum glitch that's causing some subforums to be locked.
Due to the lateness at this time, it might be a while before the glitch can be remedied, because despite my best efforts and as far as I can tell, everything seems to be working fine admin-side. It may have …
[
Full reading
]
Comments: 1
Discord News/Update Test
Thu Dec 08, 2016 1:35 am by Adrian
Comments: 0
5>
Page 3 of 8 •
1, 2, 3, 4, 5, 6, 7, 8
What's it like in New York city -- accepted! Love me a murderous lesbo.

Captain Whitehawk

Adept Creator





Join date

: 2016-12-04


Posts

: 528


Age

: 21


Location

: No stops on this bullet train



The Prince:

Full Name:

Lucianus (previously Asmodeus, previously [REDACTED])

Age:

333

DOB:

January 17th, 7439

Gender:

Trans-male (ftm)

Orientation:

Bisexual

Race:

Sheolfolk

Virtue/Vice:

Lust

Personality:



Pushy, flamboyant, and stubborn, Lucianus prefers to maintain his safety by maintaining territory.  He's not a very good banner-carrier and doesn't take up big causes on principle; you can always win him over by telling him about your woes, but a war?  No, thank you.  It's so much easier and safer to mind one's own business.  A magical practice, really.

Domestic, likes peace, quiet, and a nice flat to come home to.  Enjoys doting on his lover, naturally affectionate, prone to extravagant gestures.

Dominating and roving, not very good at sitting still or keeping quiet.  Knee-deep in trouble before it can think to go looking for him.  

Morally dubious but earnest, think a blender instead of a moral compass.  Isn't so much clever as thorough and exasperating.

The kind of person you accidentally start dumping your secrets to while drunk expecting nothing to come of the encounter, but the next morning you discover he's sacked your traitorous spouse and dropped the kids off at daycare while you were sleeping off your drunken stupor.  Won't sign up to fight the bourgeois, but he will fistfight your obnoxious neighbors for you.

Not right in the head.  Missing some knives in the card deck.  Somebody screwed in a tree branch instead of a lightbulb.  He's paddling with one oar.  This elevator doesn't go all the way to the top floor.  This driveway doesn't quite reach the road, if you know what I mean.


Personality Type:

ESFJ // 3w4 7w6 1w2 // SX/so // Chaotic Neutral // Greed

Strengths:

 When he isn't pushing his next move, Lu holds a great reservoir of affection and attentiveness carefully distributed to lovers and friends.  His meticulous people-watching keeps him anxiously aware of other people, and this acts as an assist in establishing rapport, even in enemies.  His bravado and pleasantries combine to make of him an unlikely foe.  There is very little he won't do to get what he wants; his willingness to objectify himself rides foolishly close to suicidal.

Weaknesses:

Lucianus' appeal as an entertainer and escort has been uprooted with the desolation of Sheolfolk society following the Sundering.  While Sheol was a dark and dangerous domain, it had been one perfect for amassing a sizable hoard of followers.  Though his self-defense skills are adequate, he's largely relied on presentation and social skills to maintain affluence.  His traitorous love for a certain ex-Archangel would also be ready cause for assassination, nevermind every other damning thing he's done.  He's a deserter.  He's gone AWOL and he wouldn't support the Sheolfolk unless threatened.

Appearance:

Something like this:

Bio:

Spoiler:

In the dark, deep in the halls of Sheol, there are certain nebulous blobs of matter with ravenous appetites. [REDACTED] had seen them before and fed small creatures to them as a child--just experimenting, really. But upon turning fourteen and faced with assault, rape, and torture at the hands of her fellow Sheolfolk, [REDACTED] would need so much more than hardiness to survive two hellish years.

[REDACTED] learned all the lies that would draw a victim down halls and into the maw of a waiting

neurovore

, a ploy that lasted several months before a sister revealed [REDACTED]'s location to a roving band of Despair followers. She fled Sheol and her family for Morgul, a land whose lawlessness could act as easy cover for a vulnerable child. There in the rusting animal cages, [REDACTED] discovered a

neurovore

of unusual size and cleverness that functioned much better as a trash receptacle than previous pets. This

neurovore

even understood the concept of cessation and would halt if promised future feedings.

On her sixteenth birthday, the Elysian waiting for [REDACTED] in the ring was staggered by a knife she slipped between their ribs.  What question of victor the crowd held was dashed by the sight of a

neurovore

bubbling up from the sewer grates; certainly, both would die today.  

[REDACTED] shouted a command; the Elysian was eaten alive by the monster. The

neurovore

slid forward to sit beside the girl's heels, close enough to consume but strangely, obediently, the creature was still. It was quite unlike any monstrosity the Sheolfolk had seen before, discolored and contorted as if it were in the process of sprouting features and appendages. It even had the beginnings of an exoskeleton. Before all eyes watching, [REDACTED] stripped and lifted the bulbous mass to her chest. Its jaws reached out and ate her breasts in horrible, slobbering smacks as the Sheolfolk watched. Blood dribbling down her hips, she declared herself Lucianus.

This was not to be the end of Lucianus' theatrics. She joined a troop of performers, then a General's harem, later a wanton band of Gluttonous raiders.

Where two or more had gathered in Ahriman's name, Lucianus was sure to be, gobbling attention. They called her party girl, whore girl; she knew herself as desperately confused, desperately courageous, desperately wrong "girl." As a young Sheolfolkian adult, there was no better place to be than in the shadows of her betters, and in the darkness she traded boundaries and safety for influence.

It came time for Lucianus to request Ahriman's services. The throne room was exactly what one would expect from a god of darkness and evil: the room sweltered with rivers of lava; sleek obsidian swallowed the floor; it was hard to tell where Ahriman began and the throne ended, as both were made of bones. High-pitched voices with dubious intonation clanged quietly from somewhere in the mists. The god was so massive on his throne, so ugly, so ghastly that it took all her courage to stare back at him.

He asked Lucianus what she wanted. She told him her body was wrong. She wanted to be a he. A man, for Lucianus had not consented to the consumption of his flesh for mere show, nor had he spent any time being pushed around as a presumed-woman with any joy. He knew what he felt, but feelings did no good in a world where pants could be loosened to expose treacherous genitals, where his face was too soft and smooth, where a bounty of curves clasped all the wrong places. He was not what he wanted to be. He was weak, vulnerable, unwillingly available to any hands seeking flesh to grope. But Ahriman had power, Ahriman could transform him into anything.

Hearing Lucianus' struggle, Ahriman grinned and agreed to help. Lucianus could hardly believe it was that simple, but stood still as instructed and waited. The pain that followed dropped him to his knees, bones rotting in their sockets, vision swimming in darkness. A skull hovered near his face, empty sockets peering. Ahriman asked slowly in concern if Lucianus was alright, if Lucianus wanted to continue, there was no need to continue if Lucianus was hurt--but no, no, this was what Lucianus wanted, he'd come all this way to be fixed. Lucianus asked in halting gasps for Ahriman to continue.  

The process scraped on for hours. Every moment Lucianus spent unconscious was another moment the new body,

his

new body was delayed, as Ahriman was loathe to continue without Lucianus awake to assure him of his consent and desire. Broken on the ground, he counted every rib as it warped and settled back into place, gritted his teeth through the stretching of his spine, and bared them against the contortion of his flesh. There was no stopping, not if he was to become who he was, so he was left instead to wail in the darkness against suffering he needed.

When the body was done, the cacophony did not resign. Ahriman said, "You're welcome," and Lucianus was left to stagger out of the throne room. He retired in the back of a friend's flat, stealing silence and darkness to soothe his pounding head. When he was found several hours later, it took some pleading to convince the friend that yes, this was Lucianus before them. They asked what happened. "A gift," Lucianus said, and swallowed mention of the agony remaining.  

Years later, Lucianus returned to Ahriman's throne room as General, having spent every day since his transition dedicated to Lust. He knelt before the throne, bodily male and mostly sane. I want nothing but to see your face, he told the god, and after taking a few minutes to gaze upon Ahriman, departed.

The next day, he called again. I want nothing but your company, he told the god, and was allowed to merely dwell in Ahriman's presence.

The next day, he returned. I want nothing but to sit by your side, he told the god, and was not turned away.

The day after, he arrived with a solicitation. I know as well as any that you are a person of need, Lucianus said, and that on occasion, you may find yourself in the mood for a lover. I have spent my years in the arms of one person or another, but never in yours. It seems only fair that as the god who gave me this body, you'd also partake of it.

Ahriman was quiet, and appeared to think a moment. The silence stretched. The offer was not born of honest salacity, nor was the proposed sexual congress without danger: most toys of the god had reportedly died in the act, or been slaughtered afterwards. But it would've been a great honor to walk away from a fling with Ahriman; there was power to be had in being able to say that you'd fucked god and lived. As his competition grew in power and allure, Lucianus was running out of ways to establish his dominance. He knew the risk he took was high. He'd spent many nights calculating it while occupied with lower consorts.  

Then Ahriman spoke.

Ahriman wrote:"No."

And he offered no explanation, no matter how many times Lucianus poked and prodded him. It was not a rejection Lucianus could forget.

In the years to follow, as his hold on the Sheolfolk peoples waxed and waned, he would grow tired. Though he'd taken special care to avoid the war, its suffering was inescapable. Too often friends and beaus disappeared without goodbye beneath a Homini axe, or underneath the glare of Elysian magics. The lists of the deceased grew long till the dead of even a month ago could readily be replaced by a longer list, the dead of yesterday. Towns crumbled. Cities darkened and grew sparse in number. Lucianus had considered consulting Ahriman for explanation, but remembered the rejection of years ago and left thought of his god behind. There were no answers in Ahriman. Only suffering.

When the world fell and the gods disappeared, Lucianus saw the possibilities of a brave new world, one without religion and slaughter. Though his bones ache and his body weakens, there is promise, he thinks, in this emptied world.

He keeps company with Evangel now, a tired Elysian of similar mind. It feels good not to run at the sight of shimmering wings, and find warmth and love instead in the man attached to them.

Allegiance:

Himself.  A … theoretically stable environment?  His boyfriend.  Ahriman tempts still, but Lucianus knows he can trust Ahriman less than he trusts himself, which makes the standard abysmal indeed.  Not Elodi.  The Sheolfolk?  Uncertain.

Notable Relationships:



His family – He takes care to avoid what remains of them.

Behemoth – An old friend to whom he attributes his survival.  Behemoth, in turn, imprinted on him when he was a child and has retained that fondness for him.  She's naturally submissive to him in a way that she is with nobody else.  

Belial – An ex-boyfriend, it was a short-lived relationship.  Lucianus slept with him first for control and a shot at increasing influence, and while being arm-candy worked for a while, eventually Lucianus came to realize that Belial adored himself too much to have space for worshipping Lucianus.  He fears Belial a little still for that reason, though admittedly the quality is kinda hot.

Mammon – A General that won't get in bed with him.  A reluctance that Lucianus finds strange.  

Asmodeus – The current General of Lust, and an ex-boyfriend.  Lucianus had a standard practice of assessing his fellow Generals back when they were many, and the tale of a near-child becoming a General was intriguing indeed.  It was a complicated romance, tense and volatile.  They broke up a few years back.  Lucianus may or may not still be a little upset about it.

Ahriman – His god once rejected the privilege of Lucianus' flesh and Lucianus has never forgiven him for that.  Ahriman has the power to give Lucianus everything he wants but won't, and for that reason Lucianus hates him.

Beelzebub – They're fuckbuddies.  They get along well, no complaints there.

Evangel – Boyfriend.  Evan is so pleasant and sweet that half the time, Lucianus is convinced that either Evan isn't real or that Lucianus is in bed with Elodi.  They'd known each other for generations before the Sundering and seemed to be kindred spirits, but it's only been post-Sundering that they've gotten together.  Lucianus is determined to give Evan a good life even if it kills him.  


Fun Facts:



Has sired children.  No, he doesn't know where or who they are.

Some cold, Aspernori village is being deprived of a sociopathic menace.

This boy's got fibromyalgia.

What if Freddie Mercury followed Lust?

https://open.spotify.com/user/the-sound/playlist/43l0KOhSJi1y10N9c9v02R?si=yXNz5_edToaCB9_VQpKrAw

Last edited by Captain Whitehawk on Mon Mar 04, 2019 11:57 am; edited 1 time in total

Captain Whitehawk

Adept Creator





Join date

: 2016-12-04


Posts

: 528


Age

: 21


Location

: No stops on this bullet train



Amery Vinkielle
Full Name:
Amery Vinkielle
Age:
19
DOB:
NDA
Gender:
Male
Orientation:
Straight
Race:
Half Sheol
Virtue/Vice:
Wrath
Personality:
Complete mess
Personality Type:
He's defintinely extroverted
Strengths:
He's tactile, agile, thoughtful, not one to make rash desicions
Weaknesses:
Emotional, bitter, dependent, leechy
Appearance:
God-like
Bio:
Born to Azalon and Lord Vinkielle from a surrogate, thought dead, until found alive, almost died of injury, came back, ran away to find his father, found Nereida.
Allegiance:
Nereida
Notable Relationships:
Azalon
Weapon of Choice:
The Sabre of Grace, taken from his deceased father after his death.
Fun Facts:
Last edited by ~Dylan Battle~ on Sun Mar 03, 2019 8:43 pm; edited 1 time in total

~Dylan Battle~

Adept Creator





Join date

: 2013-12-08


Posts

: 692


Age

: 21


Location

: Los Angeles



Lilith Santanus
Full Name:
Lilith Satanus
Age:
18
DOB:
Hahaha
Gender:
Female
Orientation:
Bisexual
Race:
Homini
Virtue/Vice:
Greed
Personality:
Evil but keeps it cute
Personality Type:
B*tch
Strengths:
P**sy and a right hook
Weaknesses:
Money, power, glory
Appearance:
Hot?
Bio:
Came from nothing, dated something, became everything
Allegiance:
Slytherin
Notable Relationships:
Amery
Weapon of Choice:
Silver Tongue
Fun Facts:

~Dylan Battle~

Adept Creator





Join date

: 2013-12-08


Posts

: 692


Age

: 21


Location

: Los Angeles



Shayel!:

Full Name:

Shayel

Age:

24

DOB:

2/26/7197

Gender:

Male

Orientation:

a gay lad

Race:

Elysian-Homini

Virtue/Vice:

Anarchy

Personality:

Shayel is young, even as a 24 year old, and thus he is quite impressionable. Despite this, he shares a common them among Ravagers - a desire for unfettered freedom. But though he's forsaken his original family, there's still something inside him seeking a newer kin. He hopes he can find it in the Ravagers - after all, they were so far the only ones to take him in. Ultimately, Shayel does not like to be alone. He needs to be surrounded by people that are willing to accept him and his free spirit.

Strengths:

Shayel is nothing if not committed to his goals. He's quite a brave chap, braver than he lets on, and is willing to go to greater lengths than even most of his comrades.

Weaknesses:

Shayel's ultimate weakness is his dependency on camaraderie. The poor boy doesn't know how to live on his own without a clan of some sort, and honestly might die if left to his own devices.

Appearance: Bio:

Shayel comes from a Homini father and Elysian mother who lived in Hadiqa, a largely Elysian-populated village near Hel and Iskeria. Both of them followed restrictive Virtues that, for years, grated on Shayel's nerves. Since childhood he had no desire to walk any of Elodi's paths. But he was never sure if he could trust Ahriman's ways, either. The stigma he faced daily as a half-blood and the distrust he experienced from the few Sheolfolk he tried to mingle with left him unsure of his place in life. Until he met Levi, that is.

Allegiance:

Levi/The Ravagers

Notable Relationships:

Levi

Weapon of Choice:

Rapier

Fun Facts:

he's very misguided and i love him
_________________
MAXXXXXXX | beeple
Y'all are up to mischief ... I like it. Accepted.

Captain Whitehawk

Adept Creator





Join date

: 2016-12-04


Posts

: 528


Age

: 21


Location

: No stops on this bullet train



If you don't hate this gal by now, I promise you will (Imperiel):

Full Name:

Imperiel

Age: 878 (born April 19th, 6343)Gender: female, she/herOrientation: pansexualRace: ElysianVirtue/Vice: JusticePersonality: Imperiel is a very serious, straightforward person. She's all work and no play, but that work has gotten her places. However, she's put a lot of stress on herself, and overtime, she's only pushed down her negative emotions and tried to power through them all. It's not very surprising that she snapped.Strengths: Imperiel is physically strong, excellently trained in a variety of weapons, good at hand-to-hand combat, and has a way of making others respect her on first impression.Weaknesses: Imperiel thinks the entire world is full of soldiers just like her. She doesn't consider personal loyalties to be a deciding factor in anything. She's so far into her own beliefs, she's losing track of reality. She's extremely trusting of her own kind, and can easily be duped.Appearance:

god the quality of this is so bad:

Image from Love Nikki Dress Up Queen by Elex. I claim no ownership of any assets.

It's a shitty image but it's the closest thing I have to the image in my head lol

Biography: Imperiel was born to be in the Justice Sect. She loved the discipline, the training, the rules, and she rose to be archangel quickly. She believed that true justice was following the wants of Elodi, for Elodi was good. She followed every order as if it came from Elodi himself, because in her mind, they did. One day, she was ordered to scout for a base and...well, we know the rest.Allegiance: Justice, Elodi, and the Elysians (in her own mind anyway)Notable Relationships:



Aquila Ueno - Imperiel loves Aquila the way others love their favorite food - she loves the way they make her feel. Not only does she relish in the power she has over them, she also enjoys the perks of having a Homini as a bonded. Though her affection is sickening, she can, however, appreciate the truly admirable aspects of Aquila, including their bravery, resolve, and affection for their loved ones.


Haziel - Haziel was Imperiel's right hand man before she died. Imperiel trusts him greatly.


Jude - As Haziel's bonded, Imperiel has worked with Jude before. She finds his half-blooded genetics disgraceful.



Weapon of Choice: Imperiel is versed in all varieties of swords, spears, and knives. Anything else is beneath her.Other:

-This form is TERRIBLE why are y'all friends with me

-Her wings were originally white and feathered, but the feathers are falling off to reveal those black ones underneath.

Lady Senbonzakura

Influential Creator





Join date

: 2014-05-03


Posts

: 6877


Age

: 21


Location

: shipping hell



Hellspawn, my wife. Let her come to meeeee. Accepted.

Captain Whitehawk

Adept Creator





Join date

: 2016-12-04


Posts

: 528


Age

: 21


Location

: No stops on this bullet train



Full Name:
Bhadrael Gulikan
Age:
255
DOB:
7/22/6965
Gender:
Female
Orientation:
Homoflexible
Race:
Elysian
Virtue/Vice:
None
Personality:
Bhadrael swears nothing but allegiance to the Apostla. She's taken quite strongly to her mother and father's brainwashing and wants a new age for the world no matter the costs. Her loyalty also extends to her family and friends, and she would take a sword for them if the time came. Still, as a member of the Apostla, she keeps her circle of allies quite small, only trusting outsiders as far as she can throw them.
Strengths:
Bhadrael has plenty of connections she can use to get what she needs. She's also not a bad fighter, and can defend herself quite easily if the time comes.
Weaknesses:
Bhadrael was raised to be a secret-keeper, and thus hardly opens up to anyone. The only person she's truly confided in so far is Celine.
Appearance: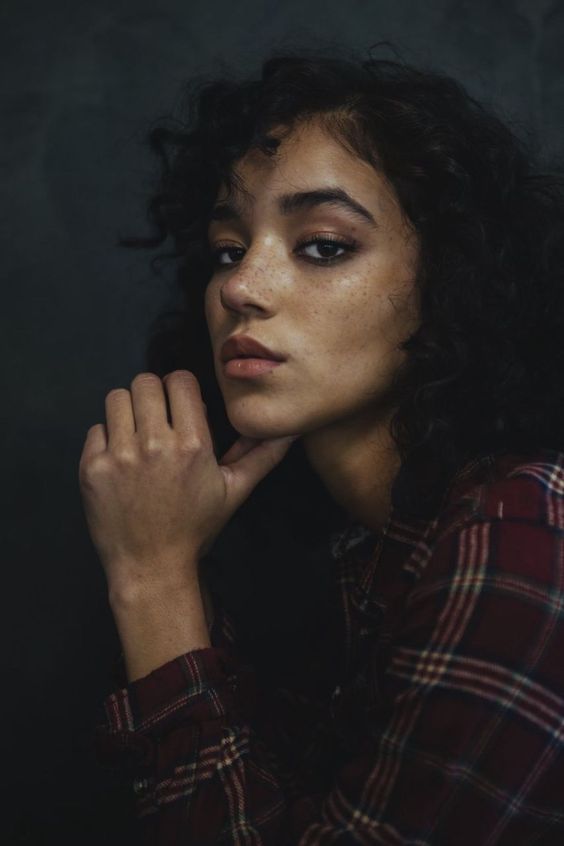 Bio:
Bhadrael knows nothing except her mother, father, brother, and the Apostla. Her mother's family has been in the society for hundreds of years, and she expects them to remain for eons more. But recently, she's been feeling some conflict. Though she rejects both Elodi and Ahriman, she's finding the pull of impurity to be stronger and stronger as the years go on. Most recently, it's been with a dear friend and fellow Apostle of hers, Celine Lovelace. Though she knows she is Homini, Bhadrael can't help but feel like there's more to their relationship than just camaraderie. But she's not sure if Celine feels the same way.
Allegiance:
The Apostla
Notable Relationships:


Manthiel, her younger brother.

Shaniel, her father

Mandael, her mother

Celine Lovelace, her closest friend.

Weapon of Choice:
Fragment of Firmament, a shiny, glass-like dagger that, in its hundreds of years in Mandael's family, has never dulled or broken once.
Fun Facts:
facts aren't fun
Last edited by Adrian on Mon Mar 11, 2019 7:50 pm; edited 1 time in total
_________________
MAXXXXXXX | beeple
She looks cute! Accepted!

Captain Whitehawk

Adept Creator





Join date

: 2016-12-04


Posts

: 528


Age

: 21


Location

: No stops on this bullet train



Page 3 of 8 •
1, 2, 3, 4, 5, 6, 7, 8
---
Permissions in this forum:
You
cannot
reply to topics in this forum