Creative Commons
Original Creativity Center works are licensed under a
Creative Commons Attribution 4.0 International License
, unless stated by the owner. Permission to distribute commercially must come directly from the artist/writer.
Some individual works (RPGs, stories, artwork) may have their own licenses, so be sure to pay attention and heed those as well. The above purely exists as an umbrella license.
August 2020
| Sun | Mon | Tue | Wed | Thu | Fri | Sat |
| --- | --- | --- | --- | --- | --- | --- |
| | | | | | | 1 |
| 2 | 3 | 4 | 5 | 6 | 7 | 8 |
| 9 | 10 | 11 | 12 | 13 | 14 | 15 |
| 16 | 17 | 18 | 19 | 20 | 21 | 22 |
| 23 | 24 | 25 | 26 | 27 | 28 | 29 |
| 30 | 31 | | | | | |
Calendar
End of Year News (December 2017)
Thu Dec 28, 2017 3:57 am by Adrian
(It's been one year since I made a news thread, oops)
Merry Christmas/Festivus/whatever holiday you do or do not celebrate!
2017 was a pretty busy year IRL for most of us - according to forum statistics, our busiest month was in June with 1671 total posts, meaning our post rate has been a little …
[
Full reading
]
Comments: 0
Forum Bug
Wed Dec 28, 2016 3:18 am by Adrian
Hi all,
We're aware of a peculiar forum glitch that's causing some subforums to be locked.
Due to the lateness at this time, it might be a while before the glitch can be remedied, because despite my best efforts and as far as I can tell, everything seems to be working fine admin-side. It may have …
[
Full reading
]
Comments: 1
Discord News/Update Test
Thu Dec 08, 2016 1:35 am by Adrian
Comments: 0
5>
Page 1 of 3 • 1, 2, 3
**If you want to get into the mood**


Welcome to the world of shinobi, where there's adventure, mystery, and danger wherever you may roam. You may be a genin, ready to advance to the rank of chunin. Or you may be a more experienced jonin, searching for something that may threaten the shinobi world itself. But whoever you are, and wherever you may be, one thing is for certain: the possibilities are limitless in the world of . . .
火の意志
[This OP, while hopefully containing enough information to get you started, has nowhere near all of the information about the Narutoverse. For more information, please consult Narutopedia, where I ripped much of this information from.]
Table of Contents:

So there's a whole bunch of information here, and some of it may be kinda disorganized. Hopefully a table of contents should help you navigate the OP and help you find any information you need.

I. Geography
II. Ninja Rankings
III. Mission and Technique Rankings
IV. Chakra and Jutsu
V. Clans
VI. Jinchuriki
VII. Shinobi Rules
VIII. Character Form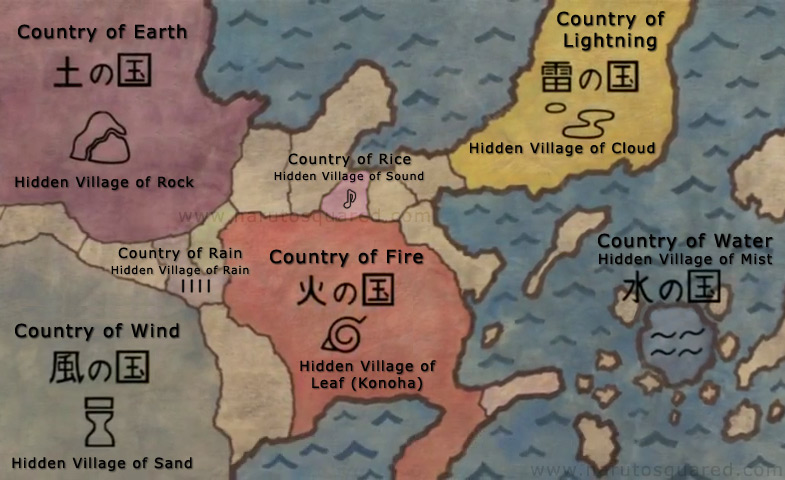 The Five Great Shinobi Countries
The Land of Fire: Hidden Village: Village Hidden in the Leaves or Konohagakure. Ruled by the Hokage.
The Land of Waves: Hidden Village: Village Hidden in the Mist or Kirigakure. Ruled by the Mizukage.
The Land of Earth: Hidden Village: Hidden Stone Village or Iwagakure. Ruled by the Tsuchikage.
The Land of Wind: Hidden Village: Village Hidden in the Sand or Sunakagure. Ruled by the Kazekage.
The Land of Lightning: Hidden Village: Village Hidden in the Clouds or Kumokagure. Ruled by the Raikage.
Academy Student: Still a student learning the basics of Chakra, Ninja and Jutsu. At the Academy they are taught by Chunin Ninja.
Genin: Genin are what Academy Students become when they graduate. They are the lowest rank of Ninja and have D-Rank and C-Rank missions.
Chunin: Chunin is the middle rank of Ninja and are usually sent on C-Rank and B-Rank missions.
Jonin: Jonin is the advanced rank of Ninja, being sent on A-Rank missions. Some Jonin move on to lead Genin squads.
Kage: Kage is the title of the leader of each Hidden Village and often deemed the best Ninja in the respective village.
**As Kages are the leader of a village, no player can have a Kage character.**
III. Mission and Technique Ranking
E-Rank: Still learning at the Academy
D-Rank: Ninja techniques at Genin level. D-Rank missions are mainly labor jobs, like babysitting and finding lost pets.
C-Rank: Techniques at Chunin level. C-Rank missions are bodyguarding and hunting down wild animals.
B-Rank: Techniques at Chunin or Jonin level. B-Rank missions include spy missions and assassinations.
A-Rank: Techniques at Jonin or Kage level. A-Rank missions vary, but one thing is common in all of them- they are extremely dangerous and difficult to complete.
S-Rank: Techniques at Kage level, sometimes attempted by highly experienced Jonin. S-Rank missions are missions that are only given to highly, extremely experienced Ninja and large groups of squads.
Chakra:

Chakra is the molding of physical and spiritual energy that is used to perform Jutsu. As it's needed for even the most basic of jutsu, chakra is essential for ninja. Once the chakra is ready, than through various hand signs it can be released outside a Ninja's body in the form of jutsu.

Because chakra takes time and a great deal of training to gradually build up, the key to its use is not actually having large amounts of chakra but instead being able to sufficiently control and conserve it. This is called

chakra control

. In order to have good chakra control, a ninja should only mould as much chakra as they need to perform a given ability. If they mould more chakra than is needed, the excess chakra is wasted and they will tire out faster from its loss. If they don't mould enough chakra, a technique will not be performed effectively, if at all, likely creating problems in a combat situation.

Five Basic Nature Transformations:

The Five Basic Natures are the five elemental chakra natures, which are the foundation of all elemental ninjutsu. They are so vital to the shinobi lifestyle that each of the Five Great Shinobi Countries is named after one of the five. Each element is naturally weaker than and stronger than another:



Fire (火, Hi) is strong against Wind but weak against Water.

Wind (風, Kaze) is strong against Lightning but weak against Fire.

Lightning (雷, Kaminari) is strong against Earth but weak against Wind.

Earth (土, Tsuchi) is strong against Water but weak against Lightning.

Water (水, Mizu) is strong against Fire but weak against Earth.


Basically, if an elemental technique is put against another elemental technique of the same level, but of a stronger nature, then the technique with the superior nature will prevail. However, a technique with a weaker nature can overpower a technique with a stronger nature if the former is of a higher level. For example, fire can overpower a water technique if it is first strengthened by a wind technique.

A similar principle applies in how technique of the same element interact, what is called counterbalancing. If two techniques of the same nature and the same level are used against each other, they will cancel each other out. However, if the two techniques have different levels, the higher-level technique will not only prevail but will grow stronger from interaction with the weaker, as when Amaterasu, the highest level Fire Release technique, grew stronger by absorbing an opposing Fire Release: Great Fireball Technique.

Affinities:

Every person's chakra has an affinity towards one of the five basic nature transformations. Affinity can at times be genetic, or at least common to a particular family; most members of the Uchiha clan have an affinity towards the Fire nature. One's affinity can be determined using pieces of paper made from a special type of tree that is grown and fed with chakra. When this so-called "Chakra Induction Paper" is exposed to even the slightest hint of chakra, it reacts according to the chakra's latent element:
Fire: the paper will ignite and turn to ash.
Wind: the paper will split in two.
Lightning: the paper will wrinkle.
Earth: the paper will turn to dirt and crumble away.
Water: the paper will become wet/damp.
Shinobi have an easier time learning to create and control a chakra nature that matches their affinity. They are, however, not limited to the nature they have an affinity for. It's perfectly possible for a shinobi with an affinity for Fire to perform a Water technique. It's even common for jōnin to have mastered two natures. Although it is technically possible to master all five natures, it is very rare because of how much of training is involved.

**Note: No character can master all five natures. As outlined above, jonin characters may have mastered two natures, but Genin and Chunin should only have one.**

Yin and Yang Release:

Aside from the five elemental nature transformations, there are two nature transformations that are the source of all non-elemental techniques, such as the Shadow Imitation Technique, Multi-Size Technique, medical ninjutsu, genjutsu, etc. There is Yin Release (陰遁, Inton), based on the imagination and spiritual energy of a shinobi, and Yang Release (陽遁, Yōton), based on the vitality and physical energy of a shinobi. Together, they are used to perform Yin–Yang Release (陰陽遁, In'yōton, Onmyōton).

Combined Releases:

**Note: If you are not acquainted with the Narutoverse very well, I'd suggest skipping this section. There's already a lot of information for you to take in. If you still want to read on, you can, but this is information you probably don't need right now.

For those still here, keep in mind that these Combined Releases are conditional, and that you need to talk to me before having any character possess any of these Releases. If you post a character that has any of these Releases without talking to me first, then they'll be denied.**

By using two or three basic nature transformations simultaneously, one can create a completely new elemental nature with unique properties that wouldn't exist on its own. However, doing this requires a kekkei genkai or, if three elements are used, a kekkei tōta. In the anime, it is further stated that those with the ability to combine the elemental nature transformations possess an affinity for the chakra natures they must simultaneously use.

Ten combined nature transformations will be included in the RPG:



Ice Release (氷遁, Hyōton) is created by simultaneously combining the Water and Wind natures. Infamously used by the Yuki clan, their kekkei genkai.

Wood Release (木遁, Mokuton) is created by simultaneously combining the Earth and Water natures. Famed as the kekkei genkai of Hashirama Senju, and thus reproduced in those using his cells.

Lava Release (熔遁; 溶遁, Yōton) is created by simultaneously combining the Fire and Earth natures. A characteristic of the Four-Tails and its jinchūriki, and a kekkei genkai used by ninja of Kirigakure, Iwagakure, and Kumogakure.

Storm Release (嵐遁, Ranton) is created by simultaneously combining the Lightning and Water natures. A kekkei genkai used by Kumogakure ninja.

Boil Release (沸遁, Futton) is created by simultaneously combining the Water and Fire natures. A characteristic of the Five-Tails and its jinchūriki, and a kekkei genkai used by Mizukages.

Dust Release (塵遁, Jinton) is created by simultaneously combining the Fire, Earth, and Wind natures. A kekkei tōta used by the Second and Third Tsuchikage.

Explosion Release (爆遁, Bakuton) is made of the Earth and Lightning natures. A kekkei genkai common to members of Iwagakure's Explosion Corps.

Scorch Release (灼遁, Shakuton) is implied to be created by simultaneously combining the Fire and Wind natures. A kekkei genkai only known to be used by Pakura.

Magnet Release (磁遁, Jiton) is implied to be created by simultaneously combining the Wind and Earth natures. A characteristic of the One-Tail and its jinchūriki, and one of the kekkei genkai used by ninja of Sunagakure and Kumogakure. It is also used by ninja of Ishigakure.

Crystal Release (晶遁, Shōton) is suggested to be made of at least the Earth nature.

Jutsu:

Jutsu are supernatural fighting arts that Ninja perform in battle. There are many different kinds of jutsu -- some can be learned or even created by Ninja.

There are three basic types of jutsu:

Ninjutsu

: Hones Chakra and certain hand signs to perform supernatural feats. The most commonly-employed jutsu.

--Medical Ninjutsu: Medical ninjutsu is a subform of ninjutsu that focuses specifically on manipulation of the body. It's often used for healing purposes, though knowledge of medical ninjutsu can also translate into different purposes, such as ways to create poisons and attack the nervous system. Shinobi who practice medical ninjutsu are called medical-nin.

A Word on Medic-Nins:

In my opinion, medic-nins are the unsung heroes of the Naruto universe. They may not always be the most powerful ninjas ever, but they are critical for teams. The presence of a medic-nin can often make or break a mission. They're not defenseless, either; they're called medical ninjas, not simple medics. Medical-nins are specifically trained to be able to dodge any attack that comes their way; their teammates are reliant upon them to heal their wounds, so it's critical that medic-nins don't get injured. Because of this, medical-nins not only need fine chakra control, but also a proficiency in taijutsu. This is more of a guideline than a rule, but I'd highly recommend that each team have one medic-nin.

Genjutsu

: While ninjutsu and taijutsu primarily attack the body, genjutsu attacks the mind. It's similar to ninjutsu in the sense that it relies on chakra and hand signs, but instead it does damage to the flow of chakra inside someone's brain and creates a disruption in their senses. It's often used to create illusions and causes pain from trauma.

Taijutsu

: Hand-to-hand combat, basically. Unlike Ninjutsu and Genjutsu, this doesn't rely on chakra (although it can be used to enhance it) or hand signs, and is quicker to execute.
There are many different clans in the shinobi world. Clans have different secret techniques (hiden techniques) and genetic abilities (kekkai genkai) passed down through family bloodlines. Many -- though certainly not all -- shinobi hail from a clan.
**There are more clans than what this OP covers, but for the sake of size and time, the OP is only going to cover a few specific clans in Konohagakure. If you're curious about clans from other villages, then feel free to check out the Naruto wiki. Conversely, if you're interested in supplemental information about a particular Konohagakure clan, you may Google that as well.**
Konoha Clan List:

Aburame Clan:

The Aburame Clan is one of the four noble clans of Konohagakure. At birth, members of this clan are offered to several special breed of insects as a nest, residing just under their host's skin. These insects will then live in symbiosis with their host from that point on. Because of this, its members are characterised by their use of insects as weapons.

Akimichi Clan:

The Akimichi Clan is one of the four noble clans of Konohagakure. Many of their clan's techniques revolve around the manipulation of their bodyweight and size through the use of Yang Release.

The Akimichi clan has a special relationship with the Nara and the Yamanaka clan. For several generations, members of these three families have formed "Ino–Shika–Chō" trios, named after the first part of the names of the members with the Akimichi members being the "Cho" in the trio.

Hyuga Clan:

The Hyūga Clan is one of the four noble clans of Konohagakure. All members born into this clan possess the Byakugan, a kekkei genkai that gives them extended fields of vision and the ability to see through solid objects and even the chakra circulatory system, amongst other things. Members of this clan are also trained in the art of the Gentle Fist, and also possess the unique ability to expel chakra from any of the tenketsu in their body.

Byakugan:

The Byakugan is the dōjutsu kekkei genkai of the Hyūga and Ōtsutsuki clans. It is regarded as one of the "Three Great Dōjutsu", the others being the Sharingan and the Rinnegan.

This dōjutsu usually is manifested as very distinctive eyes, characterised by their enlarged and featureless white irides (though the anime tends to portray them as a light shade of lavender) with no visible pupils. While active, the pupils become more distinct and the veins near their temples bulge. Unlike other dōjutsu, the Byakugan is normally available to its users from birth, and on rarer occasions, the dōjutsu can be awakened.

The Byakugan's abilities have left it highly coveted, as evidenced by other villages' attempts to steal it; Kumogakure used various machinations to obtain a Byakugan during the "Hyūga Affair". Unlike other dōjutsu, transplanted Byakugan can be activated and deactivated at will. In order to reduce the probability of their eyes falling into enemy hands, the main house of the Hyūga place cursed seals onto the foreheads of branch house members which, among other things, seals away the Byakugan upon their death.

Byakugan Abilities:

The Byakugan gives the user a near 360º diameter field of vision, with one blind spot at the back of the neck above the first thoracic vertebra The range of this vision varies between users and can be improved with training: for example, Hinata Hyūga as a genin could see targets 50 metres away; by age 18, she can see targets 20 kilometres away. Its vision can penetrate through any solid objects or obstructions, and likewise remains unaffected by blinding interferences, though certain barriers may distort the Byakugan's perception. The Byakugan is able to follow high-speed movements, which allows the wielder to analyse their opponent's actions, and allows the user to predict and better react to them. It can also emit powerful chakra pulses to subdue an opponent.

The Byakugan is able to see chakra to a higher degree than the Sharingan, such as identifying where a person's chakra signature originates from. It can discern certain types of clones from the real person. Its ability to see chakra is acute enough to see the chakra pathway system and the 361 tenketsu that run along it. The Hyūga have devised a fighting style known as the Gentle Fist to take advantage of this ability, wherein they strike an opponent's tenketsu to either seal or forcibly open them, thus giving the user complete control over their opponent's chakra.

The Byakugan can also decipher whether or not genjutsu is being used on either the wielder or others. The Byakugan can also be used to extend the range of genjutsu.

Prolonged use of the Byakugan causes severe but temporary eye-strain, leaving wielders unable to properly perceive targets.The Byakugan will automatically activate if the user is stressed enough from confrontation.

Inuzuka Clan:

The Inuzuka Clan is a family of shinobi in Konohagakure known for their use of ninken (dogs with heightened senses and abilities) as fighting companions and are easily identified by the distinctive red fang markings on their cheeks.

Kurama Clan:

The Kurama Clan is a clan of extremely skilled genjutsu users. This talent in genjutsu is due to the kekkei genkai that the clan possesses. However, once every few generations, a member of the clan will be born with such enormous skill in genjutsu that their illusions causes the brain to make anything that happens to the victim within the genjutsu physically real, allowing the clan member to potentially kill their opponents with genjutsu.

Such frightening power is not without its drawbacks, however. The user can rarely control the full extent of their abilities, and as such their subconscious will often regulate that power, leading to the creation of a second personality in control of that power. This personality then overwhelms the original, turning the individual into a monster that is a danger to everyone that surrounds them. They were originally one of the more prominent clans in Konohagakure, but the number of ninja in the clan has severely dwindled.

Nara Clan:

The Nara Clan is one of the many clans of Konohagakure. They are known for their tending of deer, such as Rikumaru, and their ability to manipulate shadows through the use of Yin Release.

The Nara clan has a special relationship with the Akimichi and the Yamanaka clan. For several generations, members of these three families have formed "Ino–Shika–Chō" trios, named after the first part of the names of the members with the Nara members being the "Shika" in the trio.

Nekoka Clan:

**Note: This clan is the original creation of NightOwl.**

The Nekoka clan is a smaller clan compared to others and are distant relatives to the Inuzuka Clan. A few members broke off to form their own clan many years ago. They haven't been on very good terms since, but at least have a better relationship than they did in the past. Similar to the Inuzuka clan, they have heightened animal like senses and are able to communicate with cats. So much so, that some time in the past a member created the Kyattsuai, resembling a cat's eye, appeared and has been in their bloodline ever since.

The Nekoka clan also pride themselves on their refined attitude and appearance. They always have to have the correct posture, speech, and appearance. If one were to walk around in messy clothes or even have just bad breath, the family would not be pleased. Even so it might appear like it, this is not to be confused with being conceited. as they are friendly and will help a friend in need as much as they possibly can. They are also very family oriented.

A blood member of the Kekoka clan can be recognized by the paw prints tatoo's they have on their arm(s). Each paw print holds the spot of a blood related family member that was/is alive in that persons lifetime. The paw on the top center part of the hand is their own. The first tatoo they receive is their own they receive on their first birthday. The rest they receive over time on their 6th year. When a new family member is born once they're past their 6th year, they get a new one immediately.

The Nekoka bloodline ability is Kyattsuai (means Cat-eyes). This ability allows the user to be able to see in dark places as if it were day time. It also lets the use narrow in on an object, giving them better precision and accuracy. This usually appears around a persons 10-12th birthday, though sometimes a person can go their whole life without it appearing.

Sarutobi Clan:

The Sarutobi Clan is an influential clan from Konohagakure. It has produced several renowned members who have held positions of high authority, including the current Hokage. All known members have also been devout observers of the Will of Fire.

Senju Clan:

The Senju Clan was one of the clans responsible for founding the first shinobi village: Konohagakure — the other being their rival Uchiha clan. Although the clan itself no longer appears to exist as a group, the Senju continue to influence Konoha's politics through their philosophy of the Will of Fire and the corresponding interpretation of the role of the Hokage position.

Uchiha Clan:

The Uchiha Clan is one of the four noble clans of Konohagakure, reputed to be the village's strongest because of their Sharingan and natural battle prowess. After helping found Konoha decades ago, the Uchiha grew increasingly isolated from the village's affairs. They are afflicted with "the Curse of Hatred."

Sharingan:

The Sharingan is the dōjutsu kekkei genkai of the Uchiha clan that appears selectively among its members. It is regarded as one of the "Three Great Dōjutsu", the others being the Byakugan and the Rinnegan.

When a wielder of this kekkei genkai experiences a powerful emotional condition with regards to a person precious to them, their brain releases a special form of chakra that affects the optic nerves, transforming the eyes into Sharingan; for that reason the Sharingan is described as an "eye that reflects the heart". Often, as per the Uchiha's so-called "Curse of Hatred", this emotion is a negative one, brought on by stress or loss. The emotion can also be positive, driven by a desire to protect or reunite with a loved one.

As with any dōjutsu, Sharingan can be transplanted into non-Uchiha. They are unable to deactivate it and its use has a greater chakra demand for them than for actual Uchiha, who need only minimal chakra to keep it active. For these reasons, non-Uchiha tend to cover their Sharingan when they aren't using it in order to conserve chakra Sharingan that originate from the same Uchiha are still linked to some extent even when wielded by separate users, at times enabling those users to see the same things.

Sharingan Abilities:

The Sharingan grants the wielder two broad abilities: the "Eye of Insight" and the "Eye of Hypnotism." Although the abilities are not literally restricted to certain eyes, the Sharingan can only be used to its full potential when both eyes are together. Even within these two categories, there may exist several distinct though similar abilities:

"Eye of Insight"

The user can see chakra, giving it colour in order to distinguish it by its composition and source/ Though not as capable in this regard as the Byakugan, it can see chakra through some (but not all) obstructions and detect irregularities in a person's chakra flow, such as those caused by genjutsu influence.

The user is granted incredible clarity of perception, enabling them to read lips or mimic something like pencil movements. Some Sharingans are even able to see on a cellular level. In combat, this allows them to see fast-moving objects and, once fully developed, offers some amount of predictive capabilities: they can anticipate an opponent's next move based on the slightest muscle tension in their body and act accordingly to dodge or intercept. They can also read the enemy's hand seals to give them an insight of the performed technique's nature, regardless of the speed of performance, so long as the hands are not physically hidden from view. Although a Sharingan user can see these things, they also need the physical ability to actually act on the visual information. In the anime, it is shown that with advanced enough prowess, via eye contact, the user can even enter the target's mind to look through their memories.

The user is able to copy almost any jutsu they see, memorising ninjutsu, genjutsu, and taijutsu with near-perfect accuracy. They can then either perform that jutsu or modify it to suit their needs. Again, Sharingan users need the prerequisite abilities before they can mimic a jutsu they have seen, and for that reason they cannot, for example, reproduce kekkei genkai abilities they do not have or nature transformations they haven't learned to perform.

"Eye of Hypnotism"

The user can perform what is generically called Genjutsu: Sharingan. While there are various manifestations and purposes of the ability, the better known one is to, through eye contact, suggest thoughts and actions to a target, coercing them to divulge information or act in a particular way, potentially without the target's awareness. In extreme cases, the Sharingan user can take complete control of the target's body, forcing them to do exactly as the controller wishes; this control is visually indicated by the Sharingan's design appearing in the target's eye. The Uchiha ccan even enter a tailed beasts' jinchūriki's subconscious to more precisely control the beast's chakra. Multiple targets can be taken control of in this way, though the more divided the user's attention is, the easier it is for targets to escape this control.

While not an ability per se, the Sharingan user can appear as if they are able to "see the future". First, the user must perfectly mimic every move their opponent makes and possibly their thoughts and words through careful observation. Then, they suggest an action to the opponent such as hand seals for a technique that the opponent and Sharingan user already know and copy that. With these things done, the user can complete the action even before the opponent does, possibly using the Sharingan's genjutsu to confuse or delay them.

In addition to these abilities there are two other jutsu that a Sharingan user can perform: Izanagi allows the user to warp reality for a short time, changing reality into illusion and illusion into reality, thus escaping death and rewriting destiny; Izanami traps the victim in an infinite loop disregarding the target's five senses, specifically designed as a reprimand for those who would abuse Izanagi. Use of either ability causes the Sharingan with which it is performed to be blinded afterwards, and for that reason the Uchiha classified them as kinjutsu.

Mangekyo Sharingan:

The Sharingan can be evolved into the Mangekyō Sharingan by experiencing the trauma of loss, granting unique, user-specific jutsu in addition to the Sharingan's standard abilities. Awakening the Mangekyō Sharingan will automatically fully mature a Sharingan if it isn't already.

**Note: No Uchiha Genin or Chunin should have the Mangekyo Sharingan. If you want your character to have the Mangekyo Sharingan, PM me.**

A Note on Uchiha Characters:

Because of past popularity with Uchiha characters, there is a tentative cap on characters from the Uchiha Clan. Right now, I am allowing up to four Uchiha characters. I have taken one of them already, so there are three spots left. If it proves to be less popular than I'd thought, or if RPers show themselves to be responsible with Uchiha abilities, then I'll remove the cap and allow for more Uchiha characters.

Uzumaki Clan:

The Uzumaki Clan was a prominent clan in Uzushiogakure. Since its disbandment, most of its known members reside in Konohagakure. Uzumaki naturally possess incredibly strong life forces, granting them tremendous stamina and vitality, and were most famed for their fūinjutsu, the seal of which typically appears as a spiral crest reminiscent of their clan's symbol.

Yamanaka Clan:

The Yamanaka Clan is a family of ninja found in Konohagakure. The members of this clan specialise in mind-centred techniques which makes them experts at intelligence gathering, espionage and ultimately interrogation. They have also displayed sensory abilities and their techniques include transferring consciousness, reading minds and communicating telepathically.

The Yamanaka clan has a special relationship with the Akimichi and Nara clan. For generations, members of these three families have formed an "Ino–Shika–Chō Trio", named after the first part of the names of the members. The Yamanaka members are the "Ino" in the trio.
**Note: Clan Creation**
Q:
Can I create my own clan?
A:
Absolutely! Just run it by me first. I'm pretty chill, so chances are, it'll be accepted.
Jinchuriki are humans that have tailed beasts sealed inside them. This gives them considerable power and chakra reserve, on par with a Kage. If you were in the Infinity's Row RPGs, then this is basically the original version of a Jun.
There are nine tailed beasts in the world, making nine total jinchuriki. Some seek to use their power for good. But others may wish to use their power for more nefarious purposes . . .
IMPORTANT:

In terms of raw power, jinchuriki are some of the most dangerous shinobi in the world. That is why I am limiting jinchuriki characters to exactly three spots. Unlike the Uchiha Clan reservations, this is non-negotiable.

Q: But I thought there were nine tailed beasts? Doesn't that mean there are nine jinchuriki in the world?
A: Yes. In the universe, there are indeed nine jinchuriki. But I'm still only limiting the jinchuriki spots to three characters.

This limit is for two reasons:
1. To avoid power creep.
2. Because I want more of a focus on character than abilities. More on that in the Rules section.

As of now, two spots have been reserved, so that means there is one spot left. If you have a very good idea for a jinchuriki, come talk to me.
VII. Shinobi Rules
All CC rules apply
No one can be the rank of Kage.
As outlined in their respective sections, only three jinchuriki and four Uchiha.
Aside from these, there are no character caps.
For a character with a Combined Release, a transplanted dojutsu, or other extenuating circumstances, please come see me.
This is a relatively loose-plot and free-reign RP, so I want it to be as chill as possible. But if you're in a team, you
need
to be active, because people may need you.
A VERY important note: there are many abilities to explore, and it's great. But remember: that should be a springboard for your character, not the defining trait. If you feel like you're coming up short character-wise, ask yourself: "Would this character still be interesting and dynamic without their abiilties?" If the answer's no, you have rethinking to do. tl;dr: Just put some effort into your character, please.
One of my favorite things about the Narutoverse is that there's a lot to explore and build upon. So by all means, explore! The sky's the limit here.
VIII. Character Form
A Note on Stats (Read Before You Fill Out the Form):

So, this time around, I'm forgoing the Strengths and Weaknesses section on the form. Strengths and weaknesses relating to the personality can be put down on the personality section.

As for strengths and weaknesses ability-wise, that's where the statistics comes in. To help with any potential power creep, and make sure everything's balanced, I'm going by a point distribution system in relation to ninjutsu, genjutsu, and taijutsu.

In the Naruto Databooks, there are numbers to indicate proficiency with these three jutsu types. That's kind of what I'm doing here -- having you guys put numbers onto the form to indicate proficiency. However, it's a little more complicated than just sticking whatever number you want on there.

For the stats, you have an allotment of 15 points. You may divide those fifteen points up among the three categories however you wish,

so long as the total number adds up to fifteen in the end. If you want examples, they're below:

Example A:

Ninjutsu: 2
Genjutsu: 3
Taijutsu: 10

Example B:

Ninjutsu: 7
Genjutsu: 7
Taijutsu: 1

So on and so forth. The higher the number, the more proficient you are at it. A 5 means that you're average for your age group. That's another thing to keep in mind -- it's still relative to your age group. So you may have a genin that has a full 12 in taijutsu, which means you should be able to soundly beat most people in your age group in taijutsu. And, since it's a 12, you may even be able to hold your own against some jonin. But still don't go on taking on a full-on Kage, basically, because chances are they can still trump you. Conversely, if you have a jonin character, and only have a 5 (the average) in genjutsu, you'll still be a ton more proficient in genjutsu than genin.

I know this might be confusing and complicated. And if you do have questions, please, let me know. I'm just trying really,

really

hard to avoid power creep. If you're still willing to stick along with this, then thank you so much.  
Form:

Name:
Age:
Appearance:
Personality:
Biography:
Village:
Rank:
Chakra Affinity:
Clan?:
Jinchuriki?:
Weapons:
Team:

Statistics-
Ninjutsu:
Genjutsu:
Taijutsu:

Trivia/Anything Else?:
Last edited by WritingBookworm on Fri Sep 22, 2017 11:24 am; edited 2 times in total
_________________
"I'll tell you where the real road lies: between your ears, behind your eyes. That is the path to paradise, and likewise the road to ruin."
Infinity's Row: Interlude l Anaphora: Pariah l Infinity's Row: Uncontrollable l Anaphora: Vengeance]
Currently Reading: The Traitor Baru Cormorant by Seth Dickinson
Currently Watching: Titans
Uzumaki Kira:

Name: Uzumaki Kira

Age: 13

Appearance:

Spoiler:

Biography: Born in Uzushiogakure to a single mother, Kira grew up a bit of a tomboy as she helped her mother do things that normally would've been done by her father. She was very tough and liked to fight others after attending the Academy as a child. She grew up to be very kindhearted though, and her mother watched her grow lovingly. Her mother was a great kunoichi skilled in sealing jutsu, until one day she died during a mission out to the Hidden Sand. Kira, without any other family that she knew of left in her village, was sent to Konohagakure to become a ninja because of her high levels of chakra that came with being of the Uzumaki clan, as well as her strength in Ninjutsu. Her goal is to become strong enough to find out what happened to her mother and get revenge on them. She doesn't really care if she meets her father, although she would like to give him a piece of her mind.

Village: Konohagakure (Previously of Uzushiogakure)

Rank: Genin

Chakra Affinity: Earth

Clan?: Uzumaki

Jinchuriki?: No

Weapons: General ninja tools (kunai, smoke bombs, paper tags, shuriken)

Team: Ronan's character + third member TBD (@Shannon)

Statistics-

Ninjutsu: 9

Genjutsu: 1

Taijutsu: 5

Trivia/Anything Else?: She wears a crystal necklace around her neck that was given to her by her mother.
Yuki Hakari:

Name: Yuki Hakari

Age: 15

Appearance:

Spoiler:

Biography: Born in Kirigakure, Hakari was born to the Yuki Clan which was dwindling in numbers due to the reigning Mizukage's displeasure with them and constant demand to send them out on deadly missions. As a result of this, and a desire to remove this curse from the clan, Hakari was given to Kirigakure as a potential host for a Tailed Beast. Her parents knew she would most likely die, but they gave her up regardless. Perhaps they had no choice; in the end, it didn't matter to Hakari. She went through the binding process and survived, successfully becoming a Jinchuriki. Trained specifically by the Mizukage's elite jonin, she became a killing machine capable of taking on multiple enemies even without the use of a Tailed Beast's power. Eventually, as was custom in the village, she killed her own parents. After all she had suffered through, she did so without any hesitation. After all, if they had cared about her at all, they would've saved her from this fate.

After this, she was a fully qualified shinboi in the village's eyes, and became a weapon of war, used to destroy entire towns of innocent people at times even. However, her seal was unstable at best, which allowed her access to terrifying power but also meant her life would likely end as soon as the seal stopped working.

After many missions, it seemed the Mizukage had noticed the same thing she had; her time as a Jinchuriki was coming to an end as her seal began to break, and so she was sent out for one final mission: to destroy Konohagakure.

However, her mission was completely unsuccessful; they were caught by a large group of Konoha ninja who had been patrolling at the time and happened to have a Byakugan user with them. Hakari tried to fight back, determined not to let herself be captured and tortured for information at any rate, but the Byakugan user stopped her chakra flow before she could unleash the destructive power inside her.

When she woke, she was tied down, and she could no longer feel the chakra of the Tailed Beast inside her which had been on the verge of overflowing. It seemed they had resealed it, this time with a much stronger seal than had been used before. Knowing she was defeated, she waited for them to come and torture her, and perhaps kill her or extract the monster if that was their plan. But it never came. Instead, the Kage of Konohagakure himself came and, after giving her a quick look up and down, asked a simple question, but the last thing she ever expected to be asked.

"Do you want to be free?"

She couldn't respond. What did they mean, free? But something inside her, without her even being able to think, caused her to nod. And the Kage smiled, as if knowing something she didn't.

"Very well. Welcome to Konoha."

Then, he turned around and left. Not even a few seconds passed after the Kage was gone that Hakari was let out of her chains and taken out past multiple buildings, right into the open night air of the village, and to an apartment where she was left, all alone. As if she... was going to live here.

Not likely. She'd escape before dawn. This would almost be too easy.

And try she did, but escape seemed impossible. Someone was always watching. No matter what she did, she couldn't get away, especially with her Tailed Beast power so sealed up.

Finally, about a week or so later, she received her first visitor. Someone who said he was going to be the jonin in charge of her as part of the a genin team of Konohagakure. The exact same person who'd captured her - the Byakugan user. In shock at this thought, that she was going to be treated like just another genin, she wanted to argue, but she knew that it had all already been decided. She would just have to put up with it. But sooner or later, he would let his guard down. And if they ever went on a mission outside of the village... she would be sure to make sure and pay the Byakugan user back, or at least shame them by running away from this village. She wouldn't just be content as some pet for the Hokage; she would be free no matter the cost.

Village: Kirigakure (Living in Konohagakure)

Rank: Genin

Chakra Affinity: Water

Clan?: Yuki

Jinchuriki?: Yes

Weapons: General ninja tools (kunai, smoke bombs, explosive tags and shuriken) and two kamas

Team: TBD

Statistics-

Ninjutsu: 8

Genjutsu: 1

Taijutsu: 6

Trivia/Anything Else?: Due to having her Jinchuriki be sealed by Konohagakure, she can't use any Jinchuriki powers.
Hyūga Rei:

Name: Hyūga Rei

Age: 14

Appearance:

Spoiler:

Biography: A Hyūga clan member, Rei was born to the main family. Although her taijutsu is relatively strong, she is suited for medical ninjutsu as well, which her father says is a waste of her time when she could be training in Gentle Fist. However, she thinks she can manage both so against his will she has been training to become a medical-nin, using the precise chakra control she learns from training in Gentle Fist to strengthen her medical-nin abilities. She has also learned how to deal with genjutsu to some extent; mostly in noticing them with her eyes and dispelling them, but some knowledge of how to apply them as well, although she's never actually used it. She can be a bit stubborn when it comes to things she wants, but mostly she is an obedient and capable kunoichi who usually follows the lead of those around her, not taking the spotlight unless there is no one else or until they are in a pinch. This sort of behavior is also viewed as unbecoming of daughter of the main family, but she knows that conditioning herself to act in this way will come in handy in the future as a medical-nin where she must always be wary and taking the most caution. She is actually quite mature for her age, but her father only sees the weakness, and continues to train her harder and harder. However, the one part of her personality that has remained the same is that she's very outspoken; she will always speak her mind and argue even if there are many against her if she firmly believes in something. This inner resilience and strength of character allow her to keep herself moving forward and never lose hope, even in the worst of circumstances. While her ninjutsu was never spectacular, she has made up for it by training alone in order to boost her overall physical prowess in the hopes that, alongside her Gentle Fist, it will make up for her weakness.

Village: Konohagakure

Rank: Genin

Chakra Affinity: Lightning

Clan?: Hyūga

Jinchuriki?: No

Weapons: General ninja tools (kunai, smoke bombs, explosive tags, and shuriken) as well as senbon and her Wrist-Mounted Senbon Launcher equipped with poisoned senbon

Team:

Statistics-

Ninjutsu: 1

Genjutsu: 4

Taijutsu: 10

Trivia/Anything Else?: She is a medical-nin as well as a Gentle Fist user
Nara Yabuto:

Name: Nara Yabuto

Age: 25

Appearance:

Spoiler:

Biography:  Yabuto is the oldest of 10 children, and as such was responsible for taking care of them constantly. This led him to quickly develop in maturity and leadership, as it was his duty to set an example for his younger siblings. He also worked hard to become a shinobi, his goal to someday become the leader of the entire village, the Hokage. He continued work hard, mastering his clan's Yin-based techniques before he was even a Jonin. By the time he became a Jonin he had already begun learning Earth Style, and used his knowledge and effort to clear the Jonin Exam. After becoming a Jonin, he had hoped to start a rigorous training and be sent out on missions, but instead was assigned to a genin team by his former Jonin leader who hoped that the experience would help him to grow more than he already had from his past experiences. Although he was already accustomed to taking care of kids from his childhood, he was a bit unhappy with the decision, but quickly decided to use it to show the village his worth as a leader in the hopes that they would see his drive and determination to do everything in the village's best interest. As such, he has begun to practise

Village: Konohagakure

Rank: Jonin

Chakra Affinity: Earth and Air

Clan?: Nara

Jinchuriki?: No

Weapons: General ninja tools (kunai, smoke bombs, paper tags, shuriken) and two chakra blades

Team: Willing to Lead a Team

Statistics-

Ninjutsu: 7

Genjutsu: 3

Taijutsu: 5

Trivia/Anything Else?: He uses Earth Style mostly in order to use his shadow techniques in a variety of new ways, but can also use a variety of useful Earth Style jutsu as well.

His scar came from fighting against a Boil Release user who permanently damaged his face. He ended up capturing them with his shadow techniques before the man could do any more damage, though. His iris was slightly scalded as well, causing him to lose some vision in that eye. However, the damage allows him to see the effect of a genjutsu around him, so it isn't all bad.
Last edited by Ace on Thu Nov 23, 2017 5:30 pm; edited 2 times in total

Ace

Influential Creator





Join date

: 2013-09-04


Posts

: 6420


Age

: 23


Location

: Made in Japan



Yamanaka Inochida:

Name: Yamanaka Inochida

Age: 15

Appearance:

Spoiler:

Personality: Inochida is a very detail oriented person but won't hesitate to break a rule or two to make sure things go according to his plans. He enjoys being in charge of a situation and will get sassy with anyone telling him to do things even though he knows the other person is right. He can be seen as snarky and mean towards the ones he loves but once you get close to him you realize that's his way of caring, by pushing you until you can better yourself or make the best decision on a mission. In reality he loves the people he is close to with all his heart and would die for his team if needed to keep them safe.

Biography: When Inochida was still in school he spent his time studying, training, or working in his family's flower shop. He always kept himself busy, never wanting to just be sitting around. He wanted to follow in his parent's footsteps and become ninja and knew he wouldn't achieve that without constant hard work. His parents were always very supportive of him, but couldn't always be there to help as they often went off on missions.

On one occasion Inochida's parents went off on a lower level mission to escort an important person across the lands. It was a simple mission, one no one thought anything of, but they didn't return for months. Search parties were sent out but nothing came up until the person they were escorting stumbled into the village. Inochida was called in to the infirmary to talk to the man and told him his parents were on that mission.

"They may still be alive," the man rasped out, moments from death, "I don't know who took them but they might...they might..."

With those last words the man took his final breath and Inochida lost the only lead to finding his parents again. Inochida ended up staying with Inai, his best friend other than (Cho- character), and her family although he still managed to run the flower shop on his own. He wanted to keep that one part of his family alive and once he passed the chunin exam he used that money to help pay for the shop. Eventually he was able to save up enough for his own room to gain some independence (and mainly to keep Shikari's family from having to feed yet another kid) Despite this he still spends a lot of time with her since they are on the same team.

Village: Konohagakure

Rank: Chunin

Chakra Affinity: Water

Clan?: Yamanaka

Jinchuriki?: Nah

Weapons: Multiple different kunai and shuriken

Team: Shikari and Choma

Statistics-

Ninjutsu: 8

Genjutsu: 3

Taijutsu: 3

Trivia/Anything Else?: Nope!
Nara Shikari:

Name: Nara Shikari

Age: 15

Appearance:

Spoiler:

Personality: Although Shikari was one of the smartest kids in the academy no one really knew how she did it. She never studied, never participated in class, and yet still got some of the best grades. She was just naturally gifted and the only thing holding her back was her own laziness. She never saw the point of going all out for something that didn't even matter yet and instead just stayed quiet and got her work done. Now she shows a little more care in the missions she does but will still complain about all the work they need to do. She's a very carefree person but will get serious if a situation calls for it. She is also a great strategist but Inochida usually gets his ideas in before she's able to say anything.

Biography: Shikari grew up following the flow of whatever felt right in life. She never had any particular plans and always decided to do things last minute when she figured out what could be done using the least amount of energy. She hated exerting herself but would do it for the good of her team (after a fair bit of complaining). However despite this she has a sharp mind and good skills. She can analyze a situation and come up with the quickest method to get a job done.

When Inochida's parents went missing she didn't hesitate to bring him into her home. Her parents took him in immediately after hearing what had happened, as well. Inochida was her best friend, along with (Cho-character) and she would do anything to help him and protect him. She would usually go off with him on "secret missions" to find any clues on where his parents went, even if she pretended like she didn't want to waste the time doing so. Once they became chunin they didn't have much time to search as their missions took up most of their lives.

Since she was in the middle of 10 children she was often left on her own. Not that her parents didn't love her, no, but because their oldest children were already going off on dangerous missions and the youngest children still couldn't take care of themselves. This played into her "I don't care" attitude since no one really payed attention to what she did. She really didn't care, though. She understood why her parents couldn't spend every second with her and she had always been closest to her older brother, Yabuto, anyway. In fact, the only thing that actually gave her a little motivation was the fact that one day she might be on his level. (She'll never say it out loud, though.)

Village: Konohagakure

Rank: Chunin

Chakra Affinity: Fire

Clan?: Nara

Jinchuriki?: Nah

Weapons: General ninja tools, medical supplies, scrolls

Team: Inochida and Choma

Statistics-

Ninjutsu: 8

Genjutsu: 5

Taijutsu: 2

Trivia/Anything Else?: Nope!
Inuzaka Sanari:

Name: Inuzuka Sanari

Age: 13

Appearance:

Spoiler:

Plus a bonus cause this picture is adorable:

Personality: Sanari is a very bubbly and excitable person. She loves being with her teammates and her animals, feeling more at ease with someone by her. She hates being alone and will go out looking for people to go on an adventure with (most often she drags her teammates along with her) She gives her all in everything she does and won't stop until she's succeeded. She's also always ready for any mission, needing to be active and moving at all times or else she gets restless. She would give her life for her team and anyone else who needs her help.

Biography:  Sanari was rarely home as a child. She would go out into the woods and have her own little adventures whenever she could. Her parents were rarely home as well, going off on missions often, and so it worked out. Despite barely seeing each other, though, Sanari's family was incredibly close. They had dinner all the time, stayed up late recounting their own adventures, and laughed and played frequently. Sanari doesn't have much experience in the harshness of the world, only seeing it as a place for fun adventures, so her time as a ninja may prove to be eye-opening for her.

Village: Konohagajure

Rank: Genin

Chakra Affinity: Earth

Clan?: Inuzaka

Jinchuriki?: Nah

Weapons: General Ninja gear and a black katana

Team: Ronan's char and Kira

Statistics-

Ninjutsu: 6

Genjutsu: 3

Taijutsu: 6

Trivia/Anything Else?: Nope!
There may be more to come I'm not sure yet XD I hope these all look ok!
Last edited by Shaybaysasuke on Thu Nov 09, 2017 6:42 pm; edited 2 times in total
@Ace
and
@Shaybaysasuke
: Accepted! Glad to have you.
_________________
"I'll tell you where the real road lies: between your ears, behind your eyes. That is the path to paradise, and likewise the road to ruin."
Infinity's Row: Interlude l Anaphora: Pariah l Infinity's Row: Uncontrollable l Anaphora: Vengeance]
Currently Reading: The Traitor Baru Cormorant by Seth Dickinson
Currently Watching: Titans
Name:
Nekoka Akiha
Age:
14
Appearance:
Spoiler:
Personality:
To be rp'd for now.
Biography:
Akiha grew up in Sora-ku as the heiress to the Nekoka clan. Sora-ku is a formerly abandoned and crime-ridden city that has begun to flourish again in that last few decades thanks to the Nekoka clan. However, things still aren't perfect in the city. Crime is still high and the city is still rampant with black marketeers that use the city to sell weapons or rare goods. Because of this, her childhood was far from easy. She learned from a young age how to tell if someone had good or ill intentions towards her and how to defend herself on the street.
But thankfully she was never alone. Family is highly valued in her clan and as such she always could find help when she needed it, as well as a warm place to sleep at night. When she was young, she was given a kitten, Aiko, and they've been inseparable since. Aiko, like the rest of the cats her clan housed, came from a long line of nin-neko's that helped keep the town safe, and soon enough if was Aiko that would be protecting young Akiha and teaching her how to defend herself from those who would harm her.
However, since she's the clans heiress, she wasn't able to stay in Sora-ku. As is her clans tradition, in order to learn how to be a proper ninja she was finally sent to Konoha to attend the Academy when she was 10. Even tho she started two years late due to her situation, she was able to make up for it by graduating two years early thanks to her continuous hard work and past experiences in Sora-ku.
Village:
- Sora-ku (birthplace)
- Konoha (currently)
Rank:
Genin
Chakra Affinity:
Fire
Clan?:
Nekoka
Jinchuriki?:
Nope.
Weapons:
Kunai, chakra kunai & blades, smoke bombs, explosive tags.
Team:
With writing and ronan's chars.
Statistics:
Ninjutsu: 6
Genjutsu: 1
Taijutsu: 8
Trivia/Anything Else?:
She has a nin-neko named Aiko (EYE-ko).
Aiko has a number of abilities that separate her from a normal house cat. For starters she is able to talk and use cat-taijutsu so that she's able to fight with and defend her partner, Akiha. She has great agility, stamina, and is fast on her feet, which allows her to able to keep up with a now properly trained Akiha without tiring out. She has an enhanced sense of smell and is able to distinguish people and items just by their scent alone.  Lastly, she has some control over her chakra. Her claws act as natural weapons that she uses to flow chakra into to make them as sharp as weapons.
Spoiler:
_________________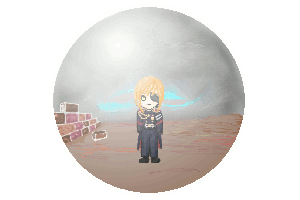 Thank you so much Athena! You're amazing!!

Forum Rules..

• •

..Anaphora: Entropy..

• •

..

Anaphora Wiki
Spoiler:

NightOwl

Retired Staff





Join date

: 2013-05-09


Posts

: 1102


Age

: 24


Location

: Coding hell



Accepted, Tara!
The RPG is expected to start on Sunday! Make sure to get your forms in before then!
Name
: Sarutobi Azami
Age
: 15
Appearance
:
Personality
: Azami has consistently strove to embody the Sarutobi Clan's virtues: strength, willpower, and devout loyalty to comrades. It's always been her dream to follow in the footsteps of her adopted ancestors and strive to be a shinobi. Though the road hasn't been easy, with dedication, she's improved her ninjutsu and taijutsu skills. She has a vibrant, loud personality, which makes it so she's not always the most subtle of kunoichi.
Though she'll deny it, Azami also has some insecurity. Because she wasn't born into the Sarutobi Clan, she questions whether or not she's a true Sarutobi, and whether or not they made a mistake by taking her in.
Biography
: Shortly after her birth, Azami had Matatabi, the Two Tails beast, sealed into her. The story her adopted parents tell her is that her parents were aiming to use her power for their own purposes, and to bring the ninja world to a collapse. They were foiled by a team headed by a Sarutobi Clan member, who took pity on Azami and took her in as of their own.
She's tried to have a relatively normal life since. To do her family proud, she's strove to become a ninja. While ninjutsu hasn't come naturally to her, she still fearlessly pursued her dream, and aspires to become Hokage some day.
Village
: Konohagakure
Rank
: Genin
Chakra Affinity
: Fire
Clan?
: Sarutobi
Jinchuriki?
: Yes. She's the host of Matatabi, the Two-Tails jinchuriki. She's never used Matatabi's power before -- she likes to pretend that her tailed beast doesn't exist. But she'll have to come to terms with it eventually.
Weapons
: Basic ninja weapons, such as kunai, shuriken, and a few explosive tags. Nevermind the fact that Azami is, in herself, a weapon.
Team
: Akiha and Ronan's character
Statistics-
Ninjutsu: 4
Genjutsu: 1
Taijutsu: 10
Trivia/Anything Else:
- Face claim is Yume from Grimgar.
_________________
"I'll tell you where the real road lies: between your ears, behind your eyes. That is the path to paradise, and likewise the road to ruin."
Infinity's Row: Interlude l Anaphora: Pariah l Infinity's Row: Uncontrollable l Anaphora: Vengeance]
Currently Reading: The Traitor Baru Cormorant by Seth Dickinson
Currently Watching: Titans
Name
: Hyuga Hideo
Age
: 24
Appearance
:

Personality
: Hyuga Hideo is stern, serious, and direct. He ultimately became a ninja because he believes it is his natural duty to protect his homeland, and so he takes said duty very seriously. He chastises anyone who may take that role lightly, and so, doesn't always get along well with those of a more carefree nature.
Biography
: As a member of the main branch of the prestigious Hyuga clan, there were great expectations placed on Hideo from the start. He was a prodigy, but in a clan full of prodigies, that wasn't enough. In order to stand out, he had to be the strongest, the fastest, the smartest.
In the end, no matter how much he tried, he could not be any of those things. But he could be the most loyal and dedicated to Konoha. After much introspection, he learned to fight not to prove himself, but to do the right thing.
He climbed through the ranks and eventually made Jonin. He was sent on exactly one A-Ranked mision during which he helped capture Yuki Hakari. Because of his hand in that, the Hokage changed Hideo's assignment pattern, and commanded him to lead a specific Genin team. He accepted this assignment, though not without bitterness. To him, watching over children wasn't the best way to protect Konoha. The only reason he respected the Hokage's wishes without complaint was because in that team was Yuki Hakari, whom he felt was important to watch over. It's safe to say he's got quite the handful with this team . . .
Village
: Konohagakure
Rank
: Jonin
Chakra Affinity
: Fire and Lightning
Clan?
: Hyuga
Jinchuriki?
: No
Weapons
: His Byakugan, kunai, and other Shinobi weapons
Team
: Hakari, Shigure, and TBA
Statistics
-
Ninjutsu: 6
Genjutsu: 2
Taijutsu: 7
Trivia/Anything Else?
:
- His face claim was made by using Hapuriainen's Naruto Character Creator.
_________________
"I'll tell you where the real road lies: between your ears, behind your eyes. That is the path to paradise, and likewise the road to ruin."
Infinity's Row: Interlude l Anaphora: Pariah l Infinity's Row: Uncontrollable l Anaphora: Vengeance]
Currently Reading: The Traitor Baru Cormorant by Seth Dickinson
Currently Watching: Titans
Name
: Uchiha Shigure
Age
: 15
Appearance
: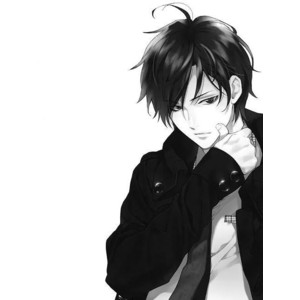 A
very
important thing to note about his appearance: Shigure is blind. He had his eyes cut out, so he usually wears his forehead protector over his eyes.
Personality
: Shigure's a calm reflective person, who can be seen as the voice of reason. He can appear dispassionate at times, but really, he's quite passionate -- whether that manifests positively or negatively. He's determined to eventually find whoever took his eyes, reclaim his Sharingan, and make them pay for the deed.
Biography
: Shigure has never been a good Uchiha. He was born with a Water affinity in a clan full of Fire affinities, already making it extremely difficult for him to master the Uchiha clan fire techniques, though he had marginally better mastery over the Sharingan.
Because of this, he strove to make up the difference through hard work and determination. For a while, it looked like it was paying off. He graduated the Academy among the top of his class, and was even assigned to a team.
But then everything went downhill.
Only two days upon being a Genin, Shigure was drugged and kidnapped by missing-nin, whom to this day he doesn't know anything about. He was tortured, and his eyes were cut out by the missing-nin who wanted the prized Sharingan. Konoha shinobi eventually managed to rescue them, but the damage had already been done. His Sharingan were taken, and the missing-nin had gotten away with it.
It was a long road to recovery. During that said road, he thought it best to dedicate his talents to medical ninjutsu as opposed to the front lines. He learned to use his other senses to guide him, and he was even reassigned to a new team -- to Hyuga Hideo's Genin team.
But through it all, he hasn't forgotten what has been done to him. Shigure will, eventually, take back what is rightfully his.
Village
: Konohagakure
Rank
: Genin
Chakra Affinity
: Water
Clan?
: Uchiha
Jinchuriki?
: No
Weapons
: Medical supplies and other basic shinobi weapons.
Team
: Hyuga Hideo and Yuki Hakari
Statistics
-
Ninjutsu: 7
Genjutsu: 3
Taijutsu: 5
Trivia/Anything Else?: N/A
_________________
"I'll tell you where the real road lies: between your ears, behind your eyes. That is the path to paradise, and likewise the road to ruin."
Infinity's Row: Interlude l Anaphora: Pariah l Infinity's Row: Uncontrollable l Anaphora: Vengeance]
Currently Reading: The Traitor Baru Cormorant by Seth Dickinson
Currently Watching: Titans
Kozuke:

Name:

Uchiha Kozuke

Age:

13

Appearance: Personality:

Kozuke is a perfectionist, always pushing himself to be the best he can as he has adopted the mentality his father shoved upon him. He keeps to himself for the most part and focuses on himself as opposed to others around him. While not standoffish or rude, Kozuke prefers to be frank and honest as opposed to beating around the bush. Kozuke is not opposed to working as a team or with others and recognizes the possibility for success when multiple people pull their skills together. Kozuke tends to adopt a leadership role though the most important thing to him is winning and being the best so if someone else can help him win, he will let them lead instead. As much as Kozuke tries to hide it, he has some elements of PTSD from his abuse throughout the years, especially around authority figures. He can easily become skittish or tense if situations cause painful memories to flare up. When this occurs, he can almost become paralyzed as a result.

Biography:

Kozuke was born the fifth child of Yamato and Nakiri Uchiha, heads of the Uchiha clan. His father was incredibly strict, tolerating nothing but the best from his children, while his mother was extremely passive and timid, completely submissive to his father and whatever he wished. As such, Kozuke trained rigorously from an extremely young age in order to bring pride to the Uchiha name; Yamato would stand for nothing but excellence, even from a young child. Beatings and lashings were not out of the ordinary in this Uchiha household, so much so that the pain didn't even cause Kozuke to blink an eye by age 6. Kozuke trained relentlessly everyday without stopping in order to achieve the level his father expected. Luckily for Kozuke, he was fairly adept at his training and quickly mastered lessons that were brought before him. When Kozuke was eight, his oldest brother, Saito, went through the Chunin exams and failed. Later that day, his father had Saito killed, disguising it as an accident. The others in the clan has suspicions that this was no accident, but none dared speak up against Yamato who ruled with an iron fist. Of the remaining three of Kozuke's siblings, only his sister, Sinai, has passed the Chunin exams while the rest have mysteriously ended up dead by some terrible accident. These terrible and emotional deaths of his siblings activated the Sharingan within Kozuke and every since then, his training has only gotten more intense and the consequences for failure more brutal. As Kozuke nears the level of preparing for the Chunin exam, part of him is terrified he will die as a result of failure.

Village:

Konohagakure

Rank:

Genin

Chakra Affinity:

Water

Clan?:

Uchiha

Jinchuriki?:

No

Weapons:

Standard ninja gear and explosives

Team:

Kira and Sinari

Statistics-

Ninjutsu: 8

Genjutsu: 3

Taijutsu: 4

Trivia/Anything Else?:

Kozuke has scars all along his back though he keeps them covered. He is also partially deaf in his left ear though training has allowed him to become adept at compensating for this lack of hearing. While he has affinity for water, he has been able to perform relatively well with the fire techniques of the Uchiha clan.
Ayaka:

Name:

Nara Ayaka

Age:

14

Appearance: Personality:

Will RP this

Biography:

Ayaka grew up in a branch of the Nara clan with two younger siblings. Both of her parents were shinobi and her mother taught at the academy so she always knew she would follow in their footsteps and attend the academy when she grew of age. Ayaka started the academy earlier than most due to the magnitude of abilities her parents possessed, but was a bit slow to pick up the studies and as such ended up falling in the same path as children her age. While starting off slow, something clicked for her when she turned nine and since then progressed at an alarming rate and became more adept with her jutsu and clan abilities. While others typically view her as weak due to her slow start, she uses this to her benefit and takes them by surprise when it counts.

Village:

Konohagakure

Rank:

Genin

Chakra Affinity:

Earth

Clan?:

Nara

Jinchuriki?:

No

Weapons:

She won't typically use any, but she keeps standard ninja gear with her for emergencies.

Team:

Akiha and Azami

Statistics-

Ninjutsu: 9

Genjutsu: 1

Taijutsu: 5

Trivia/Anything Else?:
Last edited by boyhoy on Thu Nov 02, 2017 12:55 am; edited 2 times in total
_________________
I may fall
But not like this: it won't be by your hand.
Realizing a year late I haven't given credit to Lady Sen for the amazing avi! <3

boyhoy

Administrator





Join date

: 2013-05-09


Posts

: 13648


Age

: 25


Location

: Beacon Academy



Accepted! So happy to see these guys! =D Also holy crap, poor Kozuke.
_________________
"I'll tell you where the real road lies: between your ears, behind your eyes. That is the path to paradise, and likewise the road to ruin."
Infinity's Row: Interlude l Anaphora: Pariah l Infinity's Row: Uncontrollable l Anaphora: Vengeance]
Currently Reading: The Traitor Baru Cormorant by Seth Dickinson
Currently Watching: Titans
Page 1 of 3 • 1, 2, 3
---
Permissions in this forum:
You
cannot
reply to topics in this forum