Creative Commons
Original Creativity Center works are licensed under a
Creative Commons Attribution 4.0 International License
, unless stated by the owner. Permission to distribute commercially must come directly from the artist/writer.
Some individual works (RPGs, stories, artwork) may have their own licenses, so be sure to pay attention and heed those as well. The above purely exists as an umbrella license.
July 2018
| Sun | Mon | Tue | Wed | Thu | Fri | Sat |
| --- | --- | --- | --- | --- | --- | --- |
| 1 | 2 | 3 | 4 | 5 | 6 | 7 |
| 8 | 9 | 10 | 11 | 12 | 13 | 14 |
| 15 | 16 | 17 | 18 | 19 | 20 | 21 |
| 22 | 23 | 24 | 25 | 26 | 27 | 28 |
| 29 | 30 | 31 | | | | |
Calendar

End of Year News (December 2017)
Thu Dec 28, 2017 3:57 am by Adrian
(It's been one year since I made a news thread, oops)
Merry Christmas/Festivus/whatever holiday you do or do not celebrate!
2017 was a pretty busy year IRL for most of us - according to forum statistics, our busiest month was in June with 1671 total posts, meaning our post rate has been a little …
[
Full reading
]
Comments: 0
Forum Bug
Wed Dec 28, 2016 3:18 am by Adrian
Hi all,
We're aware of a peculiar forum glitch that's causing some subforums to be locked.
Due to the lateness at this time, it might be a while before the glitch can be remedied, because despite my best efforts and as far as I can tell, everything seems to be working fine admin-side. It may have …
[
Full reading
]
Comments: 1
Discord News/Update Test
Thu Dec 08, 2016 1:35 am by Adrian
Comments: 0
5>

Hello everyone! If you've been on this site for a while, you've probably heard of Infinity's Row, one of the most successful RPGs on the forums. With this RPG came a lot of interesting and varied characters, each with unique descriptions and history. How, then, can we distinguish between these people?
Right here! If you have a character, please feel free to fill out the form below and attach it to your first post on this thread, so others can view biographies like a dictionary. You can edit and add to your liking, whenever you want.
Full Name:

Age:

Status:

Description:

Occupation/Title:

Biography:

Weapon:

Skills:

Weaknesses:

Family Members:

Friendships/Alliances:

Theme(s)?:

Other:
*FYI, status just means if they are alive, and if they are good or bad. You can use an image for your description and weapon as well.
Here is mine...
Full Name: Aidec Icaris Farenart
Age: 16
Status: Alive/Good
Description: 
Occupation/Title: Runite's Row Member, Head of Fa'alwind Regime
Biography: Aidec is the son of two of the most notorious criminals in N'al Ren, Marin Blundeau-Farenart and Lyall Farenart (pronounced Lyle). Both were known as ruthless thieves, plunderers, and were even rumored to have killed in order to get their way. Nevertheless, they loved their only son, and did everything to make sure his life, however bleak, was as good as they could make it.
Aidec has never had any desire to follow in their footsteps... not completely, anyways. When Marin and Lyall were forced to escape Ald Ruhn after a murder of a prominent upper-class couple's son in the middle of the night, Aidec chose to stay behind, keeping to himself and thieving in order to survive. For six years, he lived with the burden and stigma of being "the criminals' son," and was never trusted. For this reason, he chose independence over friendship - yet a part of him wanted to prove he was more than just a scoundrel.
At the age of 16, Aidec jumped at the chance to join Runite's Row in an effort to redeem himself. Whether it was by a stroke of luck or fate, he never knew - he was accepted into the clan, bestowed with a special axe, and vowed to protect N'al Ren.
While a member of Runite's Row, he gained a crush on Elia Haywitt, but has not heard from her in the months following Arker's reign. In the six months before Apocalypse, he had formed an underground coalition, known as the Fa'alwind Regime, with the goal to reclaim the 1/4 of the city that was under Arker's rule. Eventually, Resh Archambault called for a reunion of the clan members, and Aidec left control of the group to Grace Kejhan, his second-in-command. Several weeks later, while Aidec conducted a bank robbery in Ald Ruhn, the N'ode region was bombed, killing Grace and most of the Fa'alwind citizens, and scattering the Fa'alwind Regime across the land.
Eventually, they regrouped in Swynborough, promising to protect the city while Aidec and the clan brings the war to Arker. He was instrumental in the downfall of Arker Zenh'aliem. After the war, Aidec and his rediscovered parents moved to New Fa'alwind to help reconstruction efforts, and encountered a new deadly force. However, Fe Zenh'aliem has gone into hiding...
He is involved in the Azula - Aidec - Yuffie love triangle.
Weapon: Axe named Sentinel. It's about five feet long. Sentinel is designed specifically for Aidec's abilities - it can get him out of any situation that would normally seem impossible. It is eventually revealed that Sentinel is possessed by the spirit of a former enemy soldier from another land who vowed to protect future wielders from their own pride.
Skills: Reconnaissance, stealth, thieving and pickpocketing, defense, evasive strategy, sewing
Weaknesses: Tends to be independent a lot. Likes to work alone, and doesn't function too well, even with just one other person. While he has fighting skills, he is not built as a fighter, and instead leans more towards defense and evasion rather than attack.
Family Members:
Marin Blundeau-Farenart
Lyall Farenart
Friendships/Alliances:
All of Runite's Row
Fa'alwind Regime
Theme(s)?:
Other: None as of now.
Last edited by Sentinel on Mon Jun 30, 2014 7:59 pm; edited 2 times in total
_________________
Site Rules | Banner Submission | IR | Evergreen
Full Name: Amber Valentine
Age: 16
Status: Alive/Good
Description:
Occupation/Title: Runite's Row Member and former stripper
Biography: Amber was born in a decent sized town. Her family wasn't very wealthy, not able to support her and her 6 siblings very well. When she was two, she was given up by her parents to a group of bandits in exchange for a large sum of money. She lived with this group of thieves for years, until the age of 13, constantly being physically and verbally abused. It was then when she was put on the market for sex trafficking. She was sold to a rich man in the *main capital city* and forced to do what he wished, while suffering more abuse. After a year or so, she could no longer stand him and killed him while he slept. She took some cash, jewelry, and clothes and ran away to a smaller area of town. Soon she ran out of money and was forced into the nightlife show business to pay her bills.
Weapon: Double-sided scythe; named Rasorium
Skills:
Weaknesses:
Family Members: She has had no contact with them since age 2 so no longer knows the status of any of them. She had 6 siblings.
Friendships/Alliances: Runite's Row
except Ebony
Theme(s)?:
Other: I'm going to edit the rest tomorrow.

boyhoy

Administrator





Join date

: 2013-05-09


Posts

: 13417


Age

: 23


Location

: Beacon Academy



_________________
Site Rules | Banner Submission | IR | Evergreen
Full Name
: Caroline Laura Fray
Age
: 16
Status
: Alive/Good
Description
:
Occupation/Title
: Runite's Row Member
Biography
:
Caroline grew up in a small town outside of the main city of Ald Ruhn with just her mother and father, Alia and Ian Fray, along with an older sister she cannot remember. Typically her days consisted of the usual "help her mother at home while her father worked or went to drink his stress away". She sometimes played with the other children in their unnamed, barely known town but usually stuck to playing and staying around her older sister, Melana, whom she admired very much.
Things were stable in her family until a demon flipped her life at the age of 8. It killed her parents in front of her and somehow managed to erase her sister from her memory, when it was done Caroline was left unharmed. At this point she had no memory of Melana whom suddenly vanished from the scene. Considering she had no other known family Carol was forced to live in an orphanage in the next town over.
The orphanage was one that held only four to six girls at a time, usually consisting of children from ages 5 to 15. At the age of 16 they got the choice to stay another year or leave and never come back, but by 18 you had to leave no matter what. The other girls there varied from time to time as each one got adopted, for the first year Caroline struggled to make friends and even be noticed by the others. She also had a strange issue with parents meeting her and then ending up not adopting her, giving her the thought that she wasn't good enough or there was something she was doing wrong. Things then changed two years into being at the orphanage when a lot of the girls began finding out about her past and her inability to be adopted. For some reason, they began making fun of her, blaming her for the reason her parents died, and some even went as far as calling her a demon herself.
As the years passed on and the bullying became less as she matured, Caroline finally reached the age of 16. She took the opportunity to leave and after packing what little she had and being given enough to live at least a week, she began trying to live on her own, getting an apartment in Ald Ruhn that was cheap but good enough to live in. After she tried to find some means of making money she finally discovered she wasn't ready to live in her own. Just when she was about to be kicked out of her apartment she met a boy named Keiran. He, for some odd reason she still doesn't understand, helped support her and took her in to his apartment on the same floor. Allowing her to live there for the time being until she could support herself, all she had to do was cook, shop, and do her fair share of cleaning. In that short amount of time she didn't actually get to know much about Keiran and still basically only knows his name. At this time he did show some interests towards her, but she could never return any sort of feelings for him. Yet, she did admire him for helping her, unaware of the real person--or thing--he was.
After about two months of living with him she finally left when Laylet, a fellow Row member, recruited her in, saying she had some sort of potential. She had to admit she felt a little sad leaving him, but she knew the Row would be a better place for her, hopefully.
Weapon
:
Sanctus (
Scythe
)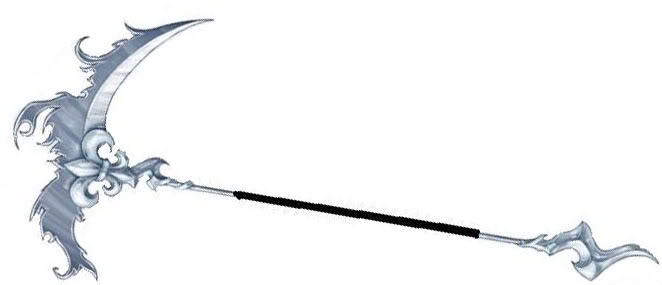 Skills
: Caroline is fairly intelligent, loyal, and good at hiding pain/weakness. She notices the good things about a situation and uses them to her advantage and is a good support to others on the battle field. Being small usually helps with being unnoticed, but not stealth.
Weaknesses
: Despite being a support on the battle field she struggles to be one out of battle, which is when she is the one who requires support from her friends. Being small Caroline also isn't the strongest person and relies more on her speed.
Family Members
:
Ian Fray (
Father, deceased
)
Alia Fray (
Mother, deceased
)
Melana Fray (
Older sister, unknown
)
Friendships/Alliances
:
All of Runite's Row
(bellow are some more major people)
Cameron; Boyfriend
and peed on her foot.
Laylet; The one who recruited her into IR
Melana; Ended up being her long lost older sister
Azula; Has very mixed feelings on her, not sure if she's a friend or enemy
Theme(s)?
:
Looking for one...
Other
: I'll edit more later
Last edited by GoldenGirl on Sat Sep 20, 2014 4:11 pm; edited 1 time in total (Reason for editing : Fixed her looks, biography, skills and weaknesses)


Similar topics
---
Permissions in this forum:
You
cannot
reply to topics in this forum