Creative Commons
Original Creativity Center works are licensed under a
Creative Commons Attribution 4.0 International License
, unless stated by the owner. Permission to distribute commercially must come directly from the artist/writer.
Some individual works (RPGs, stories, artwork) may have their own licenses, so be sure to pay attention and heed those as well. The above purely exists as an umbrella license.
July 2018
| Sun | Mon | Tue | Wed | Thu | Fri | Sat |
| --- | --- | --- | --- | --- | --- | --- |
| 1 | 2 | 3 | 4 | 5 | 6 | 7 |
| 8 | 9 | 10 | 11 | 12 | 13 | 14 |
| 15 | 16 | 17 | 18 | 19 | 20 | 21 |
| 22 | 23 | 24 | 25 | 26 | 27 | 28 |
| 29 | 30 | 31 | | | | |
Calendar

End of Year News (December 2017)
Thu Dec 28, 2017 3:57 am by Adrian
(It's been one year since I made a news thread, oops)
Merry Christmas/Festivus/whatever holiday you do or do not celebrate!
2017 was a pretty busy year IRL for most of us - according to forum statistics, our busiest month was in June with 1671 total posts, meaning our post rate has been a little …
[
Full reading
]
Comments: 0
Forum Bug
Wed Dec 28, 2016 3:18 am by Adrian
Hi all,
We're aware of a peculiar forum glitch that's causing some subforums to be locked.
Due to the lateness at this time, it might be a while before the glitch can be remedied, because despite my best efforts and as far as I can tell, everything seems to be working fine admin-side. It may have …
[
Full reading
]
Comments: 1
Discord News/Update Test
Thu Dec 08, 2016 1:35 am by Adrian
Comments: 0
5>
Page 1 of 29 • 1, 2, 3 ... 15 ... 29


Link to the App Thread
-Adara-
My eyes fluttered open to the same sounds I had heard every day for almost the last eighteen years. The feet of the Red servant girls made little noise as they flitted about the closet and the room, preparing my outfit for the day.
And what a day it was. Kingstrial. I slumped back into the pillows, closing my eyes again. This festival of feats would decide not only my husband but the next ruler of Norta. It would determine who would end over three hundred years of Calore rule upon a simple marriage vow. No longer would Burner Kings sit on the throne. It could be a Whisper or a Telky or a Shadow. I had been dreading this day ever since I came home from the front. I had pleaded to be Queen, ripped gowns and melted crowns, burned furniture and art in my wake and nothing had worked. My father was resolute in one thing alone. No woman would rule his Kingdom, even if it meant his grandchildren would be Shivers or Oblivions or Greenwardens. They would never be Burners.
I spun around before opening my eyes again, gazing at the mannequin dressed in my gown for the day. I choked back a sigh as I looked upon it. The dress was made of beautiful black silk, darker than anything I had ever seen. Rubies adorned the entire body of the dress, thousands of gems glittering in the morning light. The dress was sleek and fell in a simple, elegant wave. However, the tiara was the most beautiful of all. It was a black metal fashioned and fitted with gem-made flames of rubies, onyx, and garnet.
At least I will be beautiful... no, I will be powerful
-Kyros-
My feet would have shuffled underneath me if my protocol teacher hadn't spent years instilling in me how important one's walk is. I kept my hands calmly at my side even though my military uniform caused a terrible itch. My uniform was unlike anything another Silver officer would wear. The entire thing was made of metal, highly polished Platinum specifically, every thin plate interlocking into a beautiful yet fluid design. I had to focus the smallest fraction of my ability on shifting its weight occasionally. It was my family's own design, and we wore it with pride. Or so we were supposed to.
As I stood below the Spiral Garden, my ability made itself comfortable with the space. I could feel every metal component in the area, knowing which type of metal it was, knowing how far it was. It was what my father had spent years teaching me. I knew every metal we mined and more. I knew the pipes were steel and the wiring in the arena copper. I knew another Kingstrial participant's boots in here had iron studs. We were all waiting below the arena. Waiting for what, I couldn't even begin to understand.
-Maximillian-
The Spiral Garden was beautiful as always. Even on a day like today, it was all I could focus on. The entire thing resembled a giant bowl with beautiful sloping terraces covered in well-kept flowering hedges. Streams even rushed musically between the hedges before falling daintily to the next level to continue their journey. The foliage was a natural divide to each of the well adorned boxes the High Houses would soon be occupying. The boxes stretched from the bottom of the garden where a small stone circle sat all the way to the top where the Royal Box stood. Five chairs of beautiful yet unforgiving stone occupied the box that was screened in on both sides by sheer silver silk. The most important houses would have the boxes next to the King and his family when it was finally time for their arrival.
The garden was empty save for a few servants such as me. I made my way up the terraced steps, all the way to the House Osanos box to the left of the King where it was customary for the Queen's family to sit. I heard the steps of my guard behind me, as silent and as forboding as he himself was. As was expected, House Samos would take the box to the right and the Royal Paramore's House of Skonos would be directly across from the King's box. I settled into one of the armchairs farther in the back, waiting for the arrival of the Houses. Even now, I felt the presence of my Silencer guard behind me, smothering my ability and making me another Red servant dressed in the blue and green of House Osanos.  
Last edited by Kane on Tue Jun 20, 2017 1:59 pm; edited 2 times in total
_________________

Kane

Honorary Patron





Join date

: 2013-07-01


Posts

: 8990


Age

: 101


Location

: High above you



~Aurelia
Wearing a white dress of my own choosing with blue accents made to appease my father, the silvers of House Osanos made their way towards the gardens. I for one, stayed as far away from my father and his new wife as I could. I'd have to sit nearby the entire time we were in the box, so this was the only time I'd have to be away from them. At they very least, I could rejoice in successfully frustrating my father once again. He'd tried to pick out my dress, but it had gotten "torn" this morning, so I'd gone with the white dress which I'd gotten earlier instead. Of course, it was all symbolic; a tounge-in-cheek play on how white, the color of House Arven, which was synonyms with the use of silencers, was being worn by the heir to House Osanos. My father must've furious, but I couldn't have been happier. Of course, I'd allowed for some blue trim to be added on just so it wouldn't be completely obvious, but anyone who saw me would likely notice and realize the meaning instantly, which was what I was hoping for.

~Jaune
When I woke up, I was deep into a wooded area that lied far to the west of any place I'd ever been before. I wasn't exactly lost though - I knew that another House shared a border with House Samos, and it was near this forest. I'd walked here all through the night to make sure they wouldn't spot me, and here I'd woken up, much later than I usually awoke due to my exhaustion. Now I just had to keep going, and hopefully I would find something to eat before I made it to the next village. However, I had no idea what I'd do when I got there though. Would thee be Silvers waiting to kill me there as well? If so, what was I supposed to do?

~Arion
Looking around at my competitors, I tried to see which houses were represented down here. At any rate, I would surpass them all. Even if the Magnetron heir or the Merandus one was favored, I would win no matter what. I had set my sights on victory and I wouldn't let anyone take my future from me.
_________________

Ace

Influential Creator





Join date

: 2013-09-04


Posts

: 6369


Age

: 21


Location

: Made in Japan



~Antonin~

"My boy, it's time to wake up," my father's voice filtered through my mind, struggling to break through the drowsiness already overtaking me again. I hummed in acknowledgment but buried myself further into my pillow for even a few more seconds in the warm blankets. I heard him chuckle, no doubt shaking his head in exasperation, before he was by my bed, ruffling my hair with his hand, "Antonin, it is a very important day today, you can not be tardy. Come now, get up and I will leave you to get dressed."

"Alright, alright," I relented with a loud yawn, slowly sitting and stretching before smiling at my father, "I'm up, I'll behave I promise."

"You best," he replied in a somewhat joking matter, we all knew how I could be.

With that he nodded to the servants already in the room and left me to get ready to go to the Garden. I ran my hands down the length of the black cashmere suit that was accented with metallic black materials and buttons. I grinned, this fit me perfectly. The color would help me blend into the shadows more easily while the subtle shine would help bring out my personality. I nodded to the servants to begin helping me dress, already excited for what the day would bring.

~Aelia~

The wind was blowing through the fields, my hair waving along with the tall blades of wheat. Everything was quiet, not many of us started our shifts so early but just being out here to watch the sunrise was calming.

My eyes closed shut and I basked in the stillness of the morning until something hard crushed my toes.

"Ouch!" I cried out, pulling my knees up to my chest as my eyes snapped open. A boy was standing in front of my with wide eyes, shocked at my outburst.

It took him a few moments to compose himself before he was offering me his hand with an apologetic smile, "Oh gosh, I'm sorry. Didn't see you there, you kinda blend in with all the grain. Do you need help?"

I grimaced and pulled my knees closer to myself, shrinking away from his hand, "No. I'm fine, just leave me alone."

The boy looked shocked at my bluntness but huffed and turned from me, throwing one last remark behind his shoulder, "Fine, then. Have fun being out here by yourself."

"Trust me, I will," I muttered under my breath with a roll of my eyes. I wrapped my arms around my legs and took a breath, resting my chin on my knees as I tried to enjoy the last of my morning.

~Dimitri~

I was cooking breakfast, bacon sizzling in the pan above a tiny fire. It had been nerve wracking making such a small spark to combust the twigs in order to make the fire. What if I had gotten out of hand? This tiny shack we had found was tiny but enough for what we needed, two small rooms and a larger one we used as a den and kitchen. I would really hate to burn it to the ground now.

I heard the shuffling of footsteps behind me and turned quickly, tension fading when I saw Milena. My eyes met hers and I smiled in greeting before my gaze quickly flickered down to the floor and then back to the pan, "Good morning, Milena. I made some breakfast, I hope you're hungry."

"I'm starving," she groaned before sitting down on the floor by the low table, "Just try not to burn the meat this time."

I chuckled and flipped the bacon, "Keep up the attitude and that'll be all you'll eat from now on."
_________________

Love doesn't discriminate, between the sinners and the saints
It takes and it takes and it takes, and we keep loving anyway
We laugh and we cry and we break and we make our mistakes
- Anya -

"Will you please sit still?" My handmaiden pressed her palm into my back, frustration bubbling in her voice. "You want to look nice for Kingstrial, do you not?"

I stared at myself in the mirror, wrinkling my nose. Do I want to look nice for Kingstrial? Where I have to watch a bunch of dumb first-borns strut around in hopes of winning my sister like a trophy? No, I'd much rather look hideous. "Sorry!" I answered her sarcastically. "I'm just... Too excited, I guess!"

Her expression fell flat. "Young miss, I expect you to not ruin this for your house," she said sternly as she weaved away at my dark locks. "It's a very important day."
_________________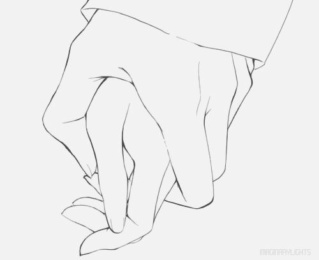 ✹ D E V I ✹
i don't want you
to see me
the way i see myself.

Hime

Moderator





Join date

: 2013-05-19


Posts

: 8655


Age

: 19


Location

: N'al Ren



-Adara-

As I slipped into my dress, my maids moved a full-length mirror in front of me to examine myself. I stood above them only due to the pedestal I was on for the fitting. My hand slipped against my small form as it felt all the jewels twinkling in the fabric.

"Adara, my dear." I heard a voice say as my maids moved the mirror away to the corner of the room again. I spun lightly on my heels, the silk flowing with me as I went. My eyes focused on a beautiful man with ocher skin and lovely blond hair. He had a small silver crown with opals entwined in his hair.

"Uncle Ferris!" I exclaimed with a warm smile as I jumped off of the pedestal and into his waiting arms. He was dressed in his lavish court garb fashioned in his House's colors of red and white. His face crinkled with laugh lines as he gave me as a smile.

"My dear, you look beautiful. Let's finish it off. Not that you need it!" he said as he guided me to my gilded vanity, my tiara in his hand. Even today, he knew how to handle me. My father's true love, one of my closest friends, and my mother's very best friend. He had been in court for years, a testament to my father's love. My father had crowned him a prince in title only despite the outcry from the other High Houses.

His hands went over my face as he removed the dark circles under my eyes and a few small wrinkles near my eyes, the result of nights without sleep. His ability took it all away, replacing my skin with a healthy tint.

"My parents don't even greet me today. On a day when I should be announced as heir," I whispered quietly as he styled my hair into an elaborate look before placing my tiara in place. His face remained still as he admired his work in the mirror.

"This pains your mother and father more than you could ever know."

-Maximillian-

I sat up straighter as the Houses entered and made their way to their boxes. They knew their places well without even being told. My ears heard light grumbles and gossips about how the Royals were toying with them, making them wait in the garden for insufferable lengths of time before they even showed their dark locks and bronze eyes.
_________________

Kane

Honorary Patron





Join date

: 2013-07-01


Posts

: 8990


Age

: 101


Location

: High above you



~Antonin~

I bowed my head to my father and leaned down so my mother could kiss my cheek before I made my way to where the heirs were meeting. An easy smile graced my face as my eyes wandered on those already here. I wasn't terribly nervous about this display. My ability was powerful, and although I didn't know how it matched up to the others, I knew that I wouldn't disappoint my family today.
_________________

Love doesn't discriminate, between the sinners and the saints
It takes and it takes and it takes, and we keep loving anyway
We laugh and we cry and we break and we make our mistakes
-Kyros-

"Antonin!" I called happily as he entered the veritable lion's den. I knew, even now, that smiling would look like a weakness to those gathered around me. I could almost guarantee my father would hear about it, either from the Provos guard down in the cavern or one of the other heirs. I would be punished, but I couldn't live like that.
_________________

Kane

Honorary Patron





Join date

: 2013-07-01


Posts

: 8990


Age

: 101


Location

: High above you



~Antonin~

"Kyros!" I greeted back, my smile growing wider. It was nice to see a happy face among the others, everyone seemed so stoic, "It's been too long, how've you been?"
_________________

Love doesn't discriminate, between the sinners and the saints
It takes and it takes and it takes, and we keep loving anyway
We laugh and we cry and we break and we make our mistakes
~Arion
I ignore the others who had arrived and prepare myself and my outfit for what I had planned, making sure to place the straps inside my shirt sleeve as I usually did. Although I wouldn't be in combat, I would be making use of them nevertheless, and do something that I'm sure none of the Houses would've expected. After all, it wasn't a tool I used in battle. My regular abilities were more than enough for that, after all.

Looking around, I sighed at the sight of the Samos boy. If it weren't for him, I could use my usual metal plates. But then he might wreak havoc on my performance. So for this day, I'd decided to use thick granite slabs instead. The rock would likely break after the few concentrated blasts it would take, but that was fine with me. It would last just long enough as I'd seen in my trial runs with it back home, so it would have to do. My arms sagged slightly at the extra weight as well, but since it was only for a short while it wouldn't hamper me too much. I'd just have to bear with it.

Making sure the finishing touches on my uniform, made of black, flame and blastproof-material but donned with red shoulder plates and accented with orange, the colors of House Lerolan, I slid my hands into my sleeves and practiced with the straps to make sure they were comfortable, tightening and loosening them until they were at the perfect length to adjust to the thicker granite slabs. Now, all I had to do was wait down here with the rest of these people until the royal family finally arrived. Hopefully they didn't keep us waiting too long; my eyes shifted in a sidelong glance at two people who seemed particularly dense, actually acting as if they were actually friends. Only one of us would come out victorious, what part of that was hard to comprehend? No use in acting all buddy buddy now, unless perhaps one of them was just trying to gain favor with the other in case of their loss. In which case, I would bet that the Haven boy was likely sucking up to the Samos one.

~Aurelia
As we enter the box, I hurry to the corner, away from the seat I should've likely taken at my father's left side. I hardly wanted to watch this display of stupidity and arrogance anyways. The boys down there were likely overjoyed that they had a chance at becoming king, but I thought the whole thing was utterly stuck in the past.

"Why can't us girls compete for our place to rule as well?" I mutter to myself, almost hoping my father overheard. This was always a sore subject I liked to bring up whenever he summoned me to talk to him, which was less and less each time. But it was only fair, and I was almost sure that the Princess felt the same way.
_________________

Ace

Influential Creator





Join date

: 2013-09-04


Posts

: 6369


Age

: 21


Location

: Made in Japan



-Kyros-

"Admitedly not well with this Kingstrial looming. I've been practicing day and night, my only time sleeping would be if you considered skin healing your exhaustion sleep," I said as I ran a hand over my polished plates, the shine almost multicolored even in the dim light of the cavern.

-Maximillian-

My posture became even more stoic when Aurelia, the future lady of the house, sat by me. I doubt she had noticed me just because of my simple clothes. They were servants things. Not even my face could distract from the sharp lines of the garment. We were cousins, but she had no way to know, and I wasn't going to tell her and risk her father.

"Good morning, My Lady," I greeted respectfully, hoping that was all the interaction we had.
_________________

Kane

Honorary Patron





Join date

: 2013-07-01


Posts

: 8990


Age

: 101


Location

: High above you



Page 1 of 29 • 1, 2, 3 ... 15 ... 29



Similar topics
---
Permissions in this forum:
You
cannot
reply to topics in this forum