Creative Commons
Original Creativity Center works are licensed under a
Creative Commons Attribution 4.0 International License
, unless stated by the owner. Permission to distribute commercially must come directly from the artist/writer.
Some individual works (RPGs, stories, artwork) may have their own licenses, so be sure to pay attention and heed those as well. The above purely exists as an umbrella license.
August 2017
| Sun | Mon | Tue | Wed | Thu | Fri | Sat |
| --- | --- | --- | --- | --- | --- | --- |
| | | 1 | 2 | 3 | 4 | 5 |
| 6 | 7 | 8 | 9 | 10 | 11 | 12 |
| 13 | 14 | 15 | 16 | 17 | 18 | 19 |
| 20 | 21 | 22 | 23 | 24 | 25 | 26 |
| 27 | 28 | 29 | 30 | 31 | | |
Calendar

Forum Bug
Wed Dec 28, 2016 3:18 am by Sentinel
Hi all,
We're aware of a peculiar forum glitch that's causing some subforums to be locked.
Due to the lateness at this time, it might be a while before the glitch can be remedied, because despite my best efforts and as far as I can tell, everything seems to be working fine admin-side. It may have …
[
Full reading
]
Comments: 1
Discord News/Update Test
Thu Dec 08, 2016 1:35 am by Sentinel
Comments: 0
Merry Christmas/Happy Hanukkah/Other religious holidays!
Fri Dec 02, 2016 5:56 pm by Sentinel
*wipes sweat from brow* Whew, political correctness is a lot of hard work. But it has to be done.
ANYWAYS, we did it - we (almost) survived 2016 which, I think we can all agree, was pretty damn terrible in many ways.
Regardless, it was a good year on the forums - we've met some new faces, set out …
[
Full reading
]
Comments: 2
5>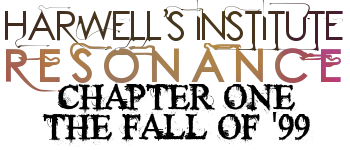 ---
"Even a week after central Calloway County was evacuated, travelers found themselves taking long, infuriating detours around the townships of Fulton and Reform. The most common rumor was a potentially catastrophic error at the nuclear reactor. After all, Chernobyl had only been 12 years ago.

But despite the presence of high levels of radiation in the area, which prompted the barriers blocking highways and routes in and out of the city, initial investigation proved that the Callaway County Nuclear Plant was never in danger of a meltdown.

In fact, the radiation came from something much stranger - something much more dangerous."


- Conspiracies of the United States, 1950-2000
by Todd Berger
---
State Highway CC
Reform, MO
September 5, 1999
"Dude, these weathermen suck ass."
A red-haired young man scowled at the night sky as a beat-up pick-up truck hurtled up the highway, windshield wipers squeaking away mercilessly at the barrage of raindrops. The 1990 Chevy Silverado carried two individuals - both were star athletes at Westminster College, but within mere months they would be no more than a distant memory.
For now, they were on their way back to Fulton after a night of debauchery. They had just achieved an outstanding win over Illinois College, and what better way to celebrate than by partying, of course? But now, it was 1 in the morning. It was time to return home.
It was also the time for a massive thunderstorm to pop up.
"For real. I didn't see a single fucking cloud in the sky earlier," the driver commented. His rolled-down window granted them bursts of wind from the storm, causing his bangs to drive wildly across his forehead.
"Well, you know Missouri weather," Red-Head quipped. "It's freaking bipolar."
"Yeah, but still. Storms don't just appear like this. This is nuts."
"What, are you gonna complain that it's the government seeding clouds or some shit?" Red-Head let out a chuckle. "If you need me to, I can drive us home."
"It's my truck," Bangs muttered, leaning forward to see better. His seat belt locked, catching him, and he let out an annoyed grunt.
"It's your dad's truck, and I'm sure he'd agree with me. I am the better driver, after all," Red-Head boasted.
"Shut up, man." Bangs rolled his eyes at his friend. Thunder shook the cab of the truck, causing him to clutch the steering wheel tighter.
Red-Head let out a laugh, apparently oblivious to the rolling thunderstorm above the two. "You're such a pussy. You sure you don't want me to drive?"
Bangs ignored the question. "Holy- What's with the sirens?" A caravan of red and blue lights flashed on the horizon, heading in the direction of the Calloway Plant. Even with the rain and lightning, their piercing cries broke through the night.
"No clue," Red-Head muttered. "Maybe some drunk asshole lost control. Wouldn't be surprised on a night like this..."
The row of cruisers turned onto Highway CC, in the direction of the Silverado. Bangs pulled over onto the shoulder and let them pass. He counted at least 20 of them.
"Okay," Red-Head began as the last siren passed. "I have to admit, that's seriously fishy. Maybe we should just..."
He was cut off when Bangs whipped the steering wheel to the left, making a hard U-turn. Red-Head was thrown into the passenger door from the force. His seat belt didn't seem to catch much of his fall.
"Hey!" Rubbing his head from the sudden collision, the young man glared at his friend. "What the hell are you-"
"Investigating." Bangs cut him off, dead set on following the cruisers. "You know, unless you're too scared..."
"This is different!" Red-Head hissed at him. "This is, like, official cop shit! We could get in trouble for obstructing justice, or something like that. Let's just go home, dude."
Bangs threw his friend a stare that could pierce through diamond. "My parents work at that plant. If something's going on, I want to be sure they're okay."
"If there's something going on with the reactor, don't you think it'd be a good idea to stay away from it?" Red-Head scratched his already-tousled hair.
Bangs sighed. "David... I don't know how to explain it, but..." The driver trailed off, trying to find his train of thought. "Ever since I was a kid, I've always had a bad feeling that-"
A white-hot light filled their view and suddenly, in the eyes of the United States government, Bangs and Red-Head were no more.
---
"Mr. President I..."
"No, no, let's try that again. *ahem* Mr. President, I... shit, no. C'mon, Wilkerson, pull it together..."
White House, West Wing
Washington, D.C.
September 5, 1999
A young, blonded man paced back and forth within a currently-vacant section of the West Wing, sweat beginning to drip from his matting hair. The situation in Fulton, Missouri, was not something to be taken lightly - any update from the investigative team was to be handled with the utmost composure by White House aides.
Unfortunately, Wilkerson was hired only a month ago.
The newest update was, in his words, "fucking wild." A baby. An actual, newborn baby was found at ground zero. And not only was it alive - it was completely unharmed. As if the President didn't believe the situation already...
"Leroy?"
Wilkerson cringed at the mention of his name - he hated it, and was glad that a majority of the people he worked with referred to him by his last name. But as he turned around, he was relieved to see it was none other than Holly Grayfield. Though the two were hired on the same day, Grayfield had proven herself to be much more adept in her work, and as a result Wilkerson more than respected her.
"Hol-oh, uh, Grayfield," Wilkerson nodded, and more sweat drops fell from his face. "Is there something you need?"
To his surprise, and against the gravity of the situation, Grayfield laughed. The Fulton crisis was confidential - of the two, only Wilkerson knew about each and every update, so Grayfield was oblivious to the accident. Regardless, her calm, heartfelt laugh seemed to neutralize Wilkerson, and Grayfield took his shivering hands. Her dark skin was warm to the touch.
"My God," she muttered. "What are they telling you?"
Wilkerson shrugged. "It's confidential, Grayfield."
"As long as it doesn't risk national security, right?"
"I..." Wilkerson began, but cut himself off as Grayfield shot him an inquisitive look. "Can't say. Confidential."
"Right," she said, letting him go. "Well, whatever it is, I hope it's not too bad. Lord knows we need some superheroes right now."
"That ain't no kidding," Wilkerson muttered, wiping the moisture from his brow. Grayfield watched the movement intently.
"I'm not gonna lie, I've been hearing things all day," Grayfield admitted, staring down at her shoes. "Whatever is going on in the Midwest, I'm sure it's hard to believe for everyone."
Grayfield embraced Wilkerson, pulling him in tight. "Don't be too hard on yourself. This isn't an easy job for anyone, even me."
"Huh," Wilkerson scoffed. "I would never have guessed."
Grayfield released him, but took a hold of her friend's shoulders. "Hey, it isn't. I thought about quitting about 40 times since I got here. You know what stopped me?"
Leroy Wilkerson stared back at Grayfield and waited for the answer, though he already knew it.
"Thank you for sticking with me, Leroy," Grayfield said, letting go of his shoulders. "I mean it. Promise me you'll do the same."
Wilkerson nodded. "Of course, Holly." The two aides turned and continued on to their destinations. But as Holly Grayfield turned the corner, Wilkerson had one look back, taking an almost longing glance at the silver ring on Grayfield's finger.
---
"Isaiah Vanderbrook and David Lester of Fulton, MO passed away on September 5, 1999 at Capital Region Medical Center after an automobile accident. Upon investigation, neither Vanderbrook nor Lester were wearing seat belts."
Fulton Sun Obituaries
September 6, 1999
---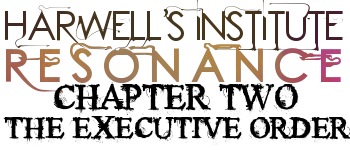 Coming Soon

_________________

Creepy and to the point... definitely leaves me wanting more.

The baby thing makes me wonder if this is a character origin story? Vincent is 18 right now, the right age for being discovered in 1999...

I can't wait for the next entry!
_________________
~In the memory of~
Thank you so much ~Hermione~ for the awesome signature!

Comrade Squid

Profound Creator





Join date

: 2014-05-04


Posts

: 2873


Age

: 16


Location

: The point




Similar topics
---
Permissions in this forum:
You
cannot
reply to topics in this forum