Creative Commons
Original Creativity Center works are licensed under a
Creative Commons Attribution 4.0 International License
, unless stated by the owner. Permission to distribute commercially must come directly from the artist/writer.
Some individual works (RPGs, stories, artwork) may have their own licenses, so be sure to pay attention and heed those as well. The above purely exists as an umbrella license.
March 2018
| Sun | Mon | Tue | Wed | Thu | Fri | Sat |
| --- | --- | --- | --- | --- | --- | --- |
| | | | | 1 | 2 | 3 |
| 4 | 5 | 6 | 7 | 8 | 9 | 10 |
| 11 | 12 | 13 | 14 | 15 | 16 | 17 |
| 18 | 19 | 20 | 21 | 22 | 23 | 24 |
| 25 | 26 | 27 | 28 | 29 | 30 | 31 |
Calendar

End of Year News (December 2017)
Thu Dec 28, 2017 3:57 am by Adrian
(It's been one year since I made a news thread, oops)
Merry Christmas/Festivus/whatever holiday you do or do not celebrate!
2017 was a pretty busy year IRL for most of us - according to forum statistics, our busiest month was in June with 1671 total posts, meaning our post rate has been a little …
[
Full reading
]
Comments: 0
Forum Bug
Wed Dec 28, 2016 3:18 am by Adrian
Hi all,
We're aware of a peculiar forum glitch that's causing some subforums to be locked.
Due to the lateness at this time, it might be a while before the glitch can be remedied, because despite my best efforts and as far as I can tell, everything seems to be working fine admin-side. It may have …
[
Full reading
]
Comments: 1
Discord News/Update Test
Thu Dec 08, 2016 1:35 am by Adrian
Comments: 0
5>
Page 3 of 4 •

1, 2, 3, 4


User:
Athena Lionheart
Appearance:
Spoiler:
Appeal:
Spoiler:

Let's keep this brief. I'm joining this caravan and, in return, I'll aid you in your travels. I'm knowledgeable in navigation and staying alive out there in the desert, and I can fight. I'm ready to leave at a moment's notice.
Second Plot?
No.
Other Information:
-Her name is Ana Musadara.
-She's an Angenie, able to transform into a jackal.
-She owns and is skilled with a staff and a bow and arrow.
_________________
≾
Every generation gets a chance to change the world
≿
⌠ Anaphora Fan Thread ⌡
× ⌠ Anaphora: Entropy ⌡ × ⌠ My Shop ⌡ × ⌠ Forum Rules ⌡ × ⌠ versen ver ♥ ⌡
Accepted! Just so you know, since the caravan is already moving, Ana won't be able to hop on until it stops (which won't be very long, mind you), so feel free to join the Discord group (lemme know if you need a link), and I'll let you know when that happens (unless you feel like keeping up with the RPG progress, that is).
User:
boyhoy
Appeal:
Appeal:

The name's Zeyna Adira Hajim, but call me Zeyna. And are you kidding me with this 'why should I be allowed to join your caravan?' bullshit? Is this a damn interview? Do you really have the ability to be so picky? If you were, I doubt you'd be willing to hear someone like me out so it doesn't seem like you got many options. So why the fuck shouldn't I be allowed? You need people to join and I want to join. That's all that matters. Just stay outta my way and we'll be peachy.
Appearance:
Zeyna:

>Her outfit is similiar to the one pictured. She has gold bracelets at her biceps and golden bangles dangling from her wrists.
Second Plot? (Y/N):
N
Other Information:
>>She is 22 years old.
>>She is an Angenie with the ability to transform into an inland taipan and a golden eagle.
>>Her past is a sensitive topic to her so she rarely discusses it openly. The most she generally shares is that she was an orphan on the streets who joined a thieving gang at age 6. They took her in and raised her until she ultimately left to follow her own path.
>>She fights mainly with two large curved daggers that are strapped at her thighs and a whip attached to her back though she seems to be proficient in other weaponry as well.
User:
boyhoy
Appeal:
Appeal:

It is a pleasure to meet you, sir. My name is Rakin Gadi and I am the Prince of a small nation many many miles from here. I was heir to the throne before my father and mother were slaughtered in an assassination upon our land. My four younger siblings and I attempted to escape, but alas I was the only survivor. My joining of your caravan would be beneficial to the both of us. I have an array of skills I am willing to lend to you in exchange for the protection and travel your caravan would provide in return. It seems an offer too good to refuse, no?
Appearance: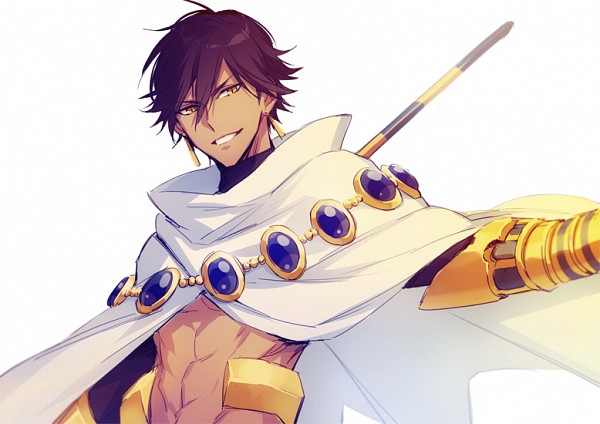 >Outfit same as appearance except the wrap over his shoulders is generally absent or around his head.
>No armor on arms. Instead he has a thick gold band around his bicep.
>A marking in the shape of a sun is found on his right side below his ribcage.
Second Plot? (Y/N):
N
Other Information:
>>He is 21 years old.
>>He is a Charmer, which he discovered at the age of 8. He travels with a black panther familiar named Kana. He has had this familiar since he was 11.
>>He fights with a scimitar.
Last edited by boyhoy on Sun Jan 29, 2017 1:00 pm; edited 1 time in total
_________________
I may fall
But not like this: it won't be by your hand.
Realizing a year late I haven't given credit to Lady Sen for the amazing avi! <3

boyhoy

Administrator





Join date

: 2013-05-09


Posts

: 13088


Age

: 22


Location

: Beacon Academy



Accepted! Same story as above~
User: Sentinel
Appeal:
IN THE HIDDEN CATACOMBS BENEATH HER HOME...:

"Oh, hello. I am Princess Sereta. Yeah, a princess. No, I don't exactly look like one. I don't have much desire for royalty, but it's hard to escape something you're born into, now isn't it?"

Sereta glances over at a shadowy, misshapen object hidden behind her.

"Oh, this? This is... uh, a secret. Neither of my parents are aware that I'm a Charmer, and I'd prefer if we kept it that way. Especially with the new laws. No, it won't eat you. Despite the myths, scorpions don't eat men. At least, I don't think this species does. Yes, it is massive. Ever tried to sleep with a 150 pound scorpion on your chest? Don't, it's exhausting."

Sereta adjusts her head garment.

"Now if you'll excuse me, I have an appointment with someone."

"'Who?' You ask too many questions. Excuse me..."
Appearance:
Spoiler:
Second Plot? (Y/N): Yes
Other Information:
*Sereta is a Charmer. She can charm scorpions. Her familiar is a six-foot-long black scorpion named Alssaeida.
*She is 19.
*She will initially have a love interest but as the RPG goes on, she.... won't. Basically she's going to become available soon. You'll see.
*I'm still a tad bit iffy on how royalty works in Moresh, so if there's something wrong with this, let me know.
_________________
Site Rules | Banner Submission | IR | Evergreen
On second thought, if you guys have made a form before this post, you can just start on the caravan as if you started with them
User:
Sana
Appeal:

"Um, excuse me, sir?  Sir?  Ah, do you...do you have any food that you could spare?"

The girl keeps her eyes down, but glances over at the stuffed bear cradled in her left arm.  "Cinny and Zara haven't eaten in a while and--"

She lifts her eyes and despite herself, could not help but lick her lips when she sees the ships in the distance.

"Please sir.  It's been really long since the last caravan came through--"

She wavers, and drops her head before adding, "Zara can maybe help...somehow.  Please don't leave Zara behind."
Appearance:
Second Plot?
N
Other Information:


16

goes by Zara

uses a walking stick

always carries around a scruffy yellow stuffed bear



---




Angenie transformations:

Arabian oryx

silk ribbon


Sana

Newbie





Join date

: 2017-01-31


Posts

: 1



Accepted! You'll just have to wait a little bit for the RPG to progress, but I'll let you know on Discord when that happens!
Page 3 of 4 •

1, 2, 3, 4



Similar topics
---
Permissions in this forum:
You
cannot
reply to topics in this forum