Creative Commons
Original Creativity Center works are licensed under a
Creative Commons Attribution 4.0 International License
, unless stated by the owner. Permission to distribute commercially must come directly from the artist/writer.
Some individual works (RPGs, stories, artwork) may have their own licenses, so be sure to pay attention and heed those as well. The above purely exists as an umbrella license.
December 2017
| Sun | Mon | Tue | Wed | Thu | Fri | Sat |
| --- | --- | --- | --- | --- | --- | --- |
| | | | | | 1 | 2 |
| 3 | 4 | 5 | 6 | 7 | 8 | 9 |
| 10 | 11 | 12 | 13 | 14 | 15 | 16 |
| 17 | 18 | 19 | 20 | 21 | 22 | 23 |
| 24 | 25 | 26 | 27 | 28 | 29 | 30 |
| 31 | | | | | | |
Calendar

Forum Bug
Wed Dec 28, 2016 3:18 am by Sentinel
Hi all,
We're aware of a peculiar forum glitch that's causing some subforums to be locked.
Due to the lateness at this time, it might be a while before the glitch can be remedied, because despite my best efforts and as far as I can tell, everything seems to be working fine admin-side. It may have …
[
Full reading
]
Comments: 1
Discord News/Update Test
Thu Dec 08, 2016 1:35 am by Sentinel
Comments: 0
Merry Christmas/Happy Hanukkah/Other religious holidays!
Fri Dec 02, 2016 5:56 pm by Sentinel
*wipes sweat from brow* Whew, political correctness is a lot of hard work. But it has to be done.
ANYWAYS, we did it - we (almost) survived 2016 which, I think we can all agree, was pretty damn terrible in many ways.
Regardless, it was a good year on the forums - we've met some new faces, set out …
[
Full reading
]
Comments: 2
5>
Page 2 of 4 •

1, 2, 3, 4

User: WritingBookworm
Appeal:

"'Why I should be considered for your caravan?' I think the real question here is, why shouldn't I be considered for the caravan? I'm certainly gorgeous enough for the part, wouldn't you agree?

. . . Okay, okay, I admit, my appearance could use some work. My lifestyle isn't the sort that's kind to your hair. I can clean up nicely sometimes, though. You should have seen me back in the days . . . anyways. Point is, if you want a skill, I got it. Swordplay, smuggling, slight-of-hand, navigation, sailing -- hell, even dancing and seduction. I mean, I did say I could clean up nicely, and I wasn't a pirate forever, I'll have you know. Who cares if I can't read? Who the hell needs reading, anyways?

So, as you can obviously see, your caravan would be much better off with me, my good looks, and my glorious sass. I mean, I didn't have to turn all of you for help. A little girl like me that needs to get out after killing a man in front of a bunch of people? She has plenty of options, believe me. You should feel honored that you're the first one I picked. Lucky you!"
Appearance: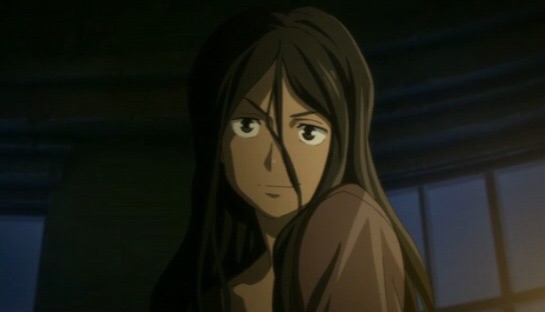 She's about 5'8".
Other Information:
- The name she goes by is Adila.
- She's 20 years old.
- Adila has two knives that she's pretty good with, and a scimitar that she's
really
good with.
- She's bisexual, so she's kinda gaaaaaaaay.
- Her face claim is Inukashi from No.6.
Last edited by WritingBookworm on Mon Jan 23, 2017 1:52 am; edited 1 time in total
_________________
Credit to Hime for the drawing!
[Infinity's Row: Interlude l Anaphora: Pariah l Infinity's Row: Uncontrollable l Anaphora: Vengeance]
Currently Reading: The Fallen by Thomas E. Sniegoski and the Emperor's Soul by Brandon Sanderson
Currently Binging: The Star Wars Movie Saga
4 Days Until Star Wars: The Last Jedi
Accepted, both of you!

I know a couple people still have to get their forms in, so I'll probably start the RPG next weekend (or sometime around then, but I'll be flexible if you guys have stuff going on)
User: Cana
Appearance:
Appearance:
Appeal:
Appeal:

"There are people after me, and with good reason; I possess information that could cause quite a bit of turmoil in the political landscape of Agrahar. I would like to escape the confines of the palace. Despite my appearance, I also know my way around a knife, when the situation calls for it… My, er, feminine charms aren't anything to sneeze at, either,

as I'm sure you've already noticed

. With your cooperation, I'm sure this could prove to be a mutually beneficial relationship."
Second Plot? (Y/N): N
Other Information:
*Goes by Raniya
*20 years old
*Illegitimate child of Moresh's Sultan, although the public is unaware of this.
_________________
"Truly happy memories always live on, shining. Over time, one by one, they come back to life."
― Banana Yoshimoto, Kitchen

Cana

Profound Creator





Join date

: 2014-07-15


Posts

: 2950


Age

: 17


Location

: Re-Tail



User: Ace
Appearance:
Spoiler:
Appeal:
Spoiler:

"Well, I guess I could be of help. I know some swordplay to help defend the Caravan, plus I'm knowledgeable in trade and geography, plus lots of other things that would probably come in handy. That, and these 5 gold pieces could be yours for the small price of bringing me along with you. So, what do you say?"
Second Plot? (Y/N): N
Other Information:
-Goes by the name Rashid
-Was the Crown Prince of White Harbor's royal family, but after his mom passed during childbirth and his father took a new wife and had another child, he was forced to flee from the country
-20 years old
User: Ace
Appearance:
Spoiler:
Appeal:
Spoiler:

"What do you mean, why should you let me join? It's not even a question - you're obviously going to need me. I have a particular set of... skills that can come in handy, and if your Caravan gets into any trouble, you're going to be happy to have me. Besides, I can take care of myself, so you don't have to worry about babying me like some of the other people who you might be considering taking along. So really, there's no cons for you. There's no reason to say no, is there?"
Second Plot? (Y/N): N
Other Information:
-Goes by the name Hakuei
-She is an Angenie; current transformations are into the curved dagger Rashid is seen holding and into a Abyssinian cat
-She was caught and enslaved by the new wife of the leader of White Harbor but escaped with Rashid
Last edited by Sentinel on Wed Jan 25, 2017 7:57 pm; edited 1 time in total (Reason for editing : fixed image code)
_________________

Ace

Influential Creator





Join date

: 2013-09-04


Posts

: 6120


Age

: 21


Location

: Made in Japan



User:
ShaybaySasuke
Appeal:
Spoiler:

"H-hello? Are you Mr. Shamir? Mama told me I could find you here, but I really don't know why I needed to come. She only told me that I needed to get far away from here and that you could help me."

"Hmm? O-oh yes, sir! I can use this knife and Papa always taught me how to sneak around. I promise I won't be a hinderance to you! I may be small but I can fight for you!"
Appearance:
Spoiler:
Bonus gif cause she's adorable:
Second Plot? (Y/N)
: N
Other Information:
-Her full name is Vidya Amita Gadhavi
-She is 10 years old
-She is human
-She wears the outfit in the first picture
The RPG is posted!
http://creativitycenter.forumotion.com/t1258-sands-of-time#120938
is the link!
If you still wish to join or have other characters you'd like to make, go ahead and make them! Just know that if they are joining the caravan, they will join at a later stop, so they may not be able to join right away (but I'll try to work something out as soon as possible for new characters).
User: Kane
Appeal:
Spoiler:

"Really it is such a pleasure to meet you! The day is just dreadfully hot wouldn't you say? Oh yes well I suppose it's time to get down to brass tacks, don't you agree? My name is Jiri Saresh. I'm sure that must sound familiar to you, but it's beside the point. My talents extend from the illegal arcane to the fully wholesome. That alone should intrigue you, shouldn't it?
Appearance:
Spoiler:

Jiri

His skin is akin to a mildly brewed tea and that mark on his face is a dark crimson. He usually only wears a pair of white flowy silk pants and two gold bracelets around his wrists.
Second Plot? (Y/N): N
Other Information:
-He is a charmer and his familiar is a white Bengal tiger named Sala.
-I forgot to join!!!!
-He is 18 years old
Last edited by Kane on Sun Jan 29, 2017 12:38 am; edited 1 time in total
_________________


Kane

Epic Creator





Join date

: 2013-07-01


Posts

: 8588


Age

: 100


Location

: High above you



Page 2 of 4 •

1, 2, 3, 4


Similar topics
---
Permissions in this forum:
You
cannot
reply to topics in this forum