Creative Commons
Original Creativity Center works are licensed under a
Creative Commons Attribution 4.0 International License
, unless stated by the owner. Permission to distribute commercially must come directly from the artist/writer.
Some individual works (RPGs, stories, artwork) may have their own licenses, so be sure to pay attention and heed those as well. The above purely exists as an umbrella license.
January 2019
| Sun | Mon | Tue | Wed | Thu | Fri | Sat |
| --- | --- | --- | --- | --- | --- | --- |
| | | 1 | 2 | 3 | 4 | 5 |
| 6 | 7 | 8 | 9 | 10 | 11 | 12 |
| 13 | 14 | 15 | 16 | 17 | 18 | 19 |
| 20 | 21 | 22 | 23 | 24 | 25 | 26 |
| 27 | 28 | 29 | 30 | 31 | | |
Calendar

End of Year News (December 2017)
Thu Dec 28, 2017 3:57 am by Adrian
(It's been one year since I made a news thread, oops)
Merry Christmas/Festivus/whatever holiday you do or do not celebrate!
2017 was a pretty busy year IRL for most of us - according to forum statistics, our busiest month was in June with 1671 total posts, meaning our post rate has been a little …
[
Full reading
]
Comments: 0
Forum Bug
Wed Dec 28, 2016 3:18 am by Adrian
Hi all,
We're aware of a peculiar forum glitch that's causing some subforums to be locked.
Due to the lateness at this time, it might be a while before the glitch can be remedied, because despite my best efforts and as far as I can tell, everything seems to be working fine admin-side. It may have …
[
Full reading
]
Comments: 1
Discord News/Update Test
Thu Dec 08, 2016 1:35 am by Adrian
Comments: 0
5>
Page 2 of 7 •

1, 2, 3, 4, 5, 6, 7


Hey! I made a thing to keep track of who's going on what mission.


TEAM A

Mission: Stop a bank heist from taking place.

Mission Leader: The Martial

Location: New York City, NY

Participants:
-Sarah Brandt
-Morgan Campbell
-Zilia Fiane
-Maxwell Grayson
-Lucille Lear
-Ariel Lichtenburg
-Tristen Madden
-Annie McCallister
-Gretchen Norman
-Slade Norman
-Gregorio Perrino


TEAM B

Mission: Flush out two minor supervillains from Albany.

Mission Leader: Nightwatcher

Location: Albany, NY

Participants:
-Ada Adler
-Bridget Baumgartner
-Ethan Blanc
-Sophia Hayes
-Aava Monet
-Phoebe Murdoch
-Kendall Nolan
-Thea Tethys
-Loretta Williams
-Xavier Xiques


TEAM C

Mission: Investigate the disappearance of a missing person.

Mission Leader: Empathy

Location: New Madrid, MO

Participants:
-Vincent Christiansen
-Damien Du Couteau
-Hunter Hailey
-Alexander Marshall
-Fiachra Martin
-Lachtna Martin
-Summer Matthews
-Adair Scáthán
-Riada Scáthán
-Shayla Thompson
-Valerie Waller
Last edited by WritingBookworm on Thu Jun 29, 2017 11:31 am; edited 1 time in total
_________________
"You rise with the moon, I rise with the sun."
Infinity's Row: Interlude l Anaphora: Pariah l Infinity's Row: Uncontrollable l Anaphora: Vengeance]
Currently Reading: The Iliad by Homer
Hey again! So here I have some information about the Guardians! I've been looking for a way to get this information across in the RPG, but I don't know if the opportunity will present itself anytime soon. So I have some info right here, for anyone that's curious.
The Guardians:

Lightbringer

-The founding member of the Guardians, Lightbringer was the first widely-known superhuman to come. With her emergence, everyone learned of superhumans' existence. She has an extremely generous range of superpowers, from super strength to impenetrability to telepathy to teleportation, and more superpowers keep emerging as time goes by. Her most used superpower, however, and the one she's named for, is her control over light. Not too much is known about her past, save for the fact that she had a brother who was killed before she came into heroics. His death is what motivated her to help make the world a better place. Nowadays, she deliberately tries not to use her powers. She's retired, and currently works as the Harwell's Vice Principal and Alpha Class Head.

Nightwatcher

-Though Nightwatcher is the second-in-command, he was not a founding member of the Guardians. In fact, he was actually one of the first villains they fought. Trained with his brother to be able to handle superhumans, he doesn't have any superpowers, yet keeps up just as easily with other powered beings. Ultimately, though, he and his brother were defeated by the first Guardians, and then were offered to join them. Though his brother did not accept that offer, Nightwatcher did. Though Nightwatcher has since kept most of his edge, he has certainly reformed, and became so trusted and invaluable that he became Lightbringer's personal right hand man. He has retired, and currently works as the Beta Class Head.

The Martial

-The Martial was once a woman who just wanted to fight for her country. In a time where the US forces was only just beginning to properly integrate women into the army, she struggled to prove herself . . . until her superhuman strength, speed, and easy mastery over weaponry (later revealed to be telumkinesis) made her not only the strongest woman in the forces, but the strongest person there, period. When it became obvious that she was superhuman, Lightbringer extended the invitation for her to be among the Guardians, which she readily accepted. She has a soft spot for Empathy, her childhood friend, and currently works as the Gamma Class Head.

Empathy

-While most of the Guardians are off fighting at the front lines, Empathy provides much-needed support. He's the primary healer of the group, and has the ability to enhance someone's strength or stamina for a certain period of time. His polite, soft-spoken demeanor makes him a great diplomat for the group . . . as does the fact that he can understand and alter emotions (as his name, Empathy, suggests), or compel people to do things with his voice. As kind as he genuinely is, these powers, along with his sharp mind, make him a far, far more dangerous threat than his initial appearance suggests. He is a childhood friend of the Martial's, and it's rumored that he may be carrying a torch for her. He currently works as the Delta Class Head.

The Sorcerer

-The Sorcerer, as the name suggests, possessed magic. He particularly had an affinity for Clairvoyance Magic and Telekinetic Magic, with some Healing Magic up his sleeve. He worked as a magic teacher for Harwell's before his ultimate death three years ago. He has since been replaced by Samuel Beckwith.
-The Sorcerer was created by NightOwl.

Silverwave

-Silverwave was a ferrokinetic superhero, possessing ferrokinesis, frequency manipulation, and enhanced senses, as well as the ability to detect other nearby superhumans. He has since gone on to have a daughter, Tristen Madden, who inherited his abilities.
-Silverwave was created by Sentinel.

Helios

-Helios, son of Vasilia Weston, was the only non-powered member of the Guardians before Nightwatcher came alone. He fought with high-tech armor, and was a fairly popular superhero before his ultimate death at the hands of Blue Ruin and Alex Song.
-Helios was created by Omni.

William Harwell

-While not a superhero by any means, William Harwell was heavily involved with the Guardians as their financial backer. As a very financially successful man, and an old friend of Lightbringer's, it was Harwell who provided the Guardians with the connections and the resources necessary to get off the ground. After his daughter revealed herself to be a superhuman, Harwell knew there should be a safe place for her to learn, as well as for other superhumans. So he founded Harwell's Institute, an invitation-only school where teenage superhumans could come to learn, train, and expand their limits. Other people have since followed in his wake, creating covert superhero schools in Britian, France, Japan, China, and Brazil. He still works as the school's Principal.
_________________
"You rise with the moon, I rise with the sun."
Infinity's Row: Interlude l Anaphora: Pariah l Infinity's Row: Uncontrollable l Anaphora: Vengeance]
Currently Reading: The Iliad by Homer
Really cool information! Are the Guardians the only early superhero group, or are they only the first/most famous? Also, were there independent superheroes in the early days?

Paradox

Profound Creator





Join date

: 2013-05-09


Posts

: 3546


Age

: 17


Location

: Yáterash



Yeah, they're the first and most widely known group, but there are certainly other superhero groups, especially now that most of them are either dead or working at Harwell's. There have been other independent superheroes, too!
_________________
"You rise with the moon, I rise with the sun."
Infinity's Row: Interlude l Anaphora: Pariah l Infinity's Row: Uncontrollable l Anaphora: Vengeance]
Currently Reading: The Iliad by Homer
Now I gotta write an epic backstory for Silverwave. The list looks really cool though, Writing! Thanks for sharing!
_________________
Site Rules | Banner Submission | IR | Evergreen
'Eyyy, so I finally got around to making a Lucille aesthetic! Well, technically two -- this is a slightly modified version of the original. The original's actually kinda spoilery. Both aesthetics are mostly the same: I just replaced one of the pictures with a different one. I'll share the spoilery aesthetic once more of her backstory's been revealed.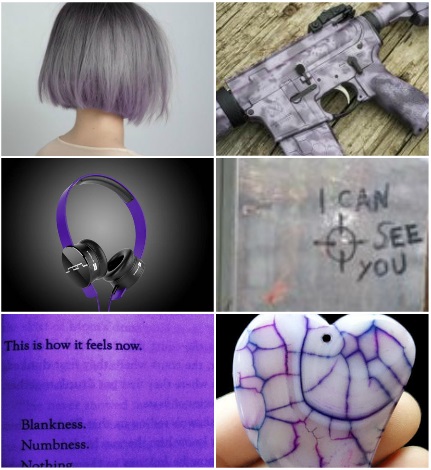 _________________
"You rise with the moon, I rise with the sun."
Infinity's Row: Interlude l Anaphora: Pariah l Infinity's Row: Uncontrollable l Anaphora: Vengeance]
Currently Reading: The Iliad by Homer
Lucille's aesthetic is so good!
And I made an aesthetic for my boys! Adair is on the left and Riada is on the right (but you could probably tell based on what's there XD)
_________________
"Stdnts. Lattice, Swiftshot, The Seamstress and Smokescreen are proud to present, 'The Heroes' Map.'"We owe them so much.Hang on - this is Harwell's. And that- no. Is that really-?Harwell.In his office.Pacing.Does that a lot.You mean this map shows-Everyone.Everyone?Everyone.Where they are-What their doing-every minute-of every day!Awesome! Where'd you get it?Took it from Martin's office, of course, freshman year.
(This is Harry Potter, after all.)

Lady Senbonzakura

Influential Creator





Join date

: 2014-05-03


Posts

: 6626


Age

: 20


Location

: shipping hell



OH MY GOSH THAT IS PERFECTION I LOVE IT

(Also, really digging that graphic there.)
_________________
"You rise with the moon, I rise with the sun."
Infinity's Row: Interlude l Anaphora: Pariah l Infinity's Row: Uncontrollable l Anaphora: Vengeance]
Currently Reading: The Iliad by Homer

Lady Senbonzakura

Influential Creator





Join date

: 2014-05-03


Posts

: 6626


Age

: 20


Location

: shipping hell



Page 2 of 7 •

1, 2, 3, 4, 5, 6, 7



Similar topics
---
Permissions in this forum:
You
cannot
reply to topics in this forum