Creative Commons
Original Creativity Center works are licensed under a
Creative Commons Attribution 4.0 International License
, unless stated by the owner. Permission to distribute commercially must come directly from the artist/writer.
Some individual works (RPGs, stories, artwork) may have their own licenses, so be sure to pay attention and heed those as well. The above purely exists as an umbrella license.
May 2018
| Sun | Mon | Tue | Wed | Thu | Fri | Sat |
| --- | --- | --- | --- | --- | --- | --- |
| | | 1 | 2 | 3 | 4 | 5 |
| 6 | 7 | 8 | 9 | 10 | 11 | 12 |
| 13 | 14 | 15 | 16 | 17 | 18 | 19 |
| 20 | 21 | 22 | 23 | 24 | 25 | 26 |
| 27 | 28 | 29 | 30 | 31 | | |
Calendar

End of Year News (December 2017)
Thu Dec 28, 2017 3:57 am by Adrian
(It's been one year since I made a news thread, oops)
Merry Christmas/Festivus/whatever holiday you do or do not celebrate!
2017 was a pretty busy year IRL for most of us - according to forum statistics, our busiest month was in June with 1671 total posts, meaning our post rate has been a little …
[
Full reading
]
Comments: 0
Forum Bug
Wed Dec 28, 2016 3:18 am by Adrian
Hi all,
We're aware of a peculiar forum glitch that's causing some subforums to be locked.
Due to the lateness at this time, it might be a while before the glitch can be remedied, because despite my best efforts and as far as I can tell, everything seems to be working fine admin-side. It may have …
[
Full reading
]
Comments: 1
Discord News/Update Test
Thu Dec 08, 2016 1:35 am by Adrian
Comments: 0
5>

Harwell's Institute: Metaspace
One hour.
They weren't sure what it was but they knew it was the end. It had either been the work of thousands of years, or millions, but the stars in the night sky were blinking out of existence. It started with one, then a hundred, then more, picking up speed. A dark wall was rushing towards the center of the universe, the world's best scientists could only conclude, a wave that carried an incomparable obliteration with it.
A wall that was headed right towards them all.
The governments realized there was no point in trying to hide it - even the most amateur of astronomers had an idea of what was going on. There was nowhere to run, either - the wall was rushing in at well over the speed of light, encompassing all of reality. The world was about to end, and all humanity could do was watch.
All of them, except for a few.
30 minutes.
"Push, ma'am! You have to push!"
Soon, the last child in the universe would be born. The mother-never-to-be was in the throes of labor, struggling and sweating in vain to prevent her son from being born.
"No!" she shouted, hands ripping at the hospital sheets. "I can't let him be born! Not when he's about to- AH!"
Her body spasmed in pain, bucking up and down on the bed. Her husband was nowhere to be found - she was all alone in their final moments, save for two strangers and a fetus.
"Miss, we don't want your final moments to be painful - neither yours nor your son's. Please, think about what you're doing!" The doctors pleaded and pleaded, but to no avail. The woman had decided ever since the world learned of its doom.
This boy should not be born.
15 minutes.
A tall, cloaked man held his hands out in front of him on top of a tower. Below him, the streets of Dubai froze, watching the skies in terror of the inevitable. The man did not join them - instead, he attempted to feel the weft and weave of the fabric of the universe.
The man's fingers burned. It was unraveling violently. There was no use.
He rested his fingers at his side. He tried to warn them. Warn them of what they were doing. There was a reason science had to adhere to such draconian rules of ethics. There was a reason man should never play God.
The man curled his fingers around a pistol resting beside his hip. He stared down the barrel.
This was too high of a price to pay.
1 minute.
She couldn't do it. The pain was too much. She shouted, begging for them to do something, but the baby was coming.
The woman pushed, and the doctors held out their hands. A small, wrinkled thing - the most innocent being on Earth - emerged crying, oblivious to its sudden end.
The last mother held her child, not daring to let it go.
The man held the gun steady and pulled the trigger.
The planet shook and turned dark.
3.
2.
1.
END
---
COMING SOON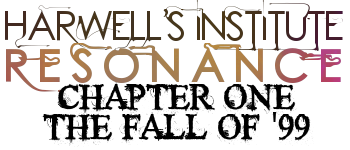 Last edited by Sentinel on Tue Dec 27, 2016 8:56 pm; edited 1 time in total
_________________
Site Rules | Banner Submission | IR | Evergreen
Ahhh you're just making me more hyped! Can't wait to see what Resonance has in store. ^.^
_________________
[Infinity's Row: Interlude l Anaphora: Pariah l Infinity's Row: Uncontrollable l Anaphora: Vengeance]
Currently Reading: Leah on the Offbeat by Becky Albertalli
Currently Playing: Doki Doki Literature Club

---
Permissions in this forum:
You
cannot
reply to topics in this forum