Creative Commons
Original Creativity Center works are licensed under a
Creative Commons Attribution 4.0 International License
, unless stated by the owner. Permission to distribute commercially must come directly from the artist/writer.
Some individual works (RPGs, stories, artwork) may have their own licenses, so be sure to pay attention and heed those as well. The above purely exists as an umbrella license.
January 2018
| Sun | Mon | Tue | Wed | Thu | Fri | Sat |
| --- | --- | --- | --- | --- | --- | --- |
| | 1 | 2 | 3 | 4 | 5 | 6 |
| 7 | 8 | 9 | 10 | 11 | 12 | 13 |
| 14 | 15 | 16 | 17 | 18 | 19 | 20 |
| 21 | 22 | 23 | 24 | 25 | 26 | 27 |
| 28 | 29 | 30 | 31 | | | |
Calendar

End of Year News (December 2017)
Thu Dec 28, 2017 3:57 am by Adrian
(It's been one year since I made a news thread, oops)
Merry Christmas/Festivus/whatever holiday you do or do not celebrate!
2017 was a pretty busy year IRL for most of us - according to forum statistics, our busiest month was in June with 1671 total posts, meaning our post rate has been a little …
[
Full reading
]
Comments: 0
Forum Bug
Wed Dec 28, 2016 3:18 am by Adrian
Hi all,
We're aware of a peculiar forum glitch that's causing some subforums to be locked.
Due to the lateness at this time, it might be a while before the glitch can be remedied, because despite my best efforts and as far as I can tell, everything seems to be working fine admin-side. It may have …
[
Full reading
]
Comments: 1
Discord News/Update Test
Thu Dec 08, 2016 1:35 am by Adrian
Comments: 0
5>
Page 1 of 5 • 1, 2, 3, 4, 5

"We cannot risk a war with Fiore, no matter our prowess. And because of that, I am hereby disbanding Fairy Tail. This is.... difficult, I know. But it has to be done.

But no matter how far away this may take some of you, know in your hearts who you are and what you are. You are wizards of Fairy Tail."
~~~~~~~~~~~~~~~~~~~~~~~~~~
Fourteen months past, Garo Barse, the third master of Fairy Tail, told his guild to disperse and to go into hiding to save their lives and their freedom after Mira Dreadnot was arrested and sentenced to death. It was in that moment that the most powerful guild in Fiore fell out of favor, you see, and the general populous quickly took to the idea of destroying these wizards who had 'gotten too powerful for their own good' and who 'don't give a vulcan's ass what gets destroyed in their wake.'

And so, the members of Fairy Tail went their separate ways. Without their influence, however, darkness began to creep into the world for, as dark wizards saw it, nobody could stop them (especially since three of the members of the Magic Council had seemingly disappeared over night).

Yes, there were good guilds left who stepped up to the plate, but Fairy Tail left shoes too large to fill. Dark guilds were popping up at a rate unimaginable, and though they were repelled at first, it seemed impossible that Fiore would be able to quench the growing threat. Thus, it was ultimately decided that Fairy Tail would be reinstated to combat the growing evil in the world (that, and a certain Garo Barse continually left flaming piles of dog shit on the council members' front steps).

Fourteen months to the day, a special magic sensor array was used to summon Fairy Tail's wizards back to the guild hall (that needed some cleaning up, to be quite honest). With their return came a resurgence of happiness in Magnolia as well as an insurgence of new members wanting to be a part of the once-legendary guild. The guild that soars high above the rest. The guild that will continue to create legends well into the future.

It's name…… is Fairy Tail.
Rules/Guidelines/Tips
1. CC Rules Apply
2. If you weren't in the first RPG or aren't familiar with the anime/manga, don't sweat it! It's really easy to catch on, and this series is a lot of fun!
3. Lost Magics are allowed, but all magics are encouraged
4. 3 God Slayers are allowed [All are TAKEN]
5. You can have as many characters as you'd like to have, but it is never a guarantee everyone will be able to have a major role in every arc.
6. Feel free to have your characters go on jobs even when there is an arc going! It'll make it so that there's always something going on, and it'll be easier to coordinate arcs.
7. Feel free to form teams, but I ask that they aren't more than 5 people (Exceeds not included)
8. If you have any plot points that you'd like to be added to arcs/stories, just let me know via PM or skype. A big part of Fairy Tail is all of the interconnections between characters and the world.
9. The wiki is a wonderful source of information
10. Exceeds should only really be made for 1st or 3rd generation Dragon Slayers
11. Main Arcs in the story will be present throughout the entire RPG, for the most part. This doesn't mean that you have to work like crazy to finish the arc. Take your time and have fun!
12. Although jobs have descriptions below, it'll be mostly up to the teams going on them to create what happens on the journey (though I can help if you need it).
13. Ronan and I work on arcs several months out, so please respect that it takes time to make it just right.
14. If you have any questions relating to the series, the RPG, or the world, feel free to let me know!
15. Above all else, have fun!
Notes about Certain Magics
1. Celestial Wizards can have up to 3 gold keys, first come first serve, or make up their own silver keys with permission from me after explaining their idea through a PM. (Use this form
"Silver Key":


Name/Constellation:        
Description of Looks:
Description of Key:
Description of Powers:
2. Requip wizards can also do the same with creating their own kinds of armor/weapons with permission from me after explaining their idea through a PM.
3. While Lost Magics cannot be repeated, regular magics
can
.
4. Magics do not have to be canon. Feel free to get creative!
5. Animus Magic is of my own creation, but attached is a bunch of information about it so that others can have Animus wizards.
"Animus":

Animus is a form of magic that was heavily influenced by Pokémon as sort of an answer to the question: what if people want powerful holder magic after all of the Golden Keys are taken (see Celestial Wizards)?

It was pioneered by Newton Animus four decades past, but it is so shrouded in secrecy that not many know of it (and fewer can practice it). It is sort of a mixture between a holder magic (like Celestial Spirit Magic) and Subordination magic that, when used properly, can capture the spirits of creatures into specially-designed gems. These creatures can then be summoned and used to battle, but, like Celestial Spirit Wizards, Animus Wizards must use magic power to do so (and a great deal of it).

In order to capture a spirit (better known as an Animus (pl. Animi)), a wizard must essentially beat the creature within an inch of its life. Doing so will weaken it to the point where its soul is easier to rip away from its body, which is necessary for the next step. If an Animus Wizard has successfully overcome the creature, they then cast a capturing spell (using an empty gem). If all goes well, the creature's soul is sucked into the gem (which becomes a sort of vessel in place of its body), which can be called upon.

Because they often deal with strong creatures in order to capture them, Animus Wizards typically become proficient with a weapon of choice. This also comes in handy should they run out of magic power (and Animi).

Animi

When captured the creatures' souls are basically torn from their bodies. This can be terrifying to them, but the adept Animus Mage will be sure to comfort their new companions. How is this done? Well, when an Animus is captured, the mage forms a bond with it that is hard to be destroyed. Through training, they can learn to speak with their creatures even while they are in their Animus Vessel (before being summoned).

They do not look exactly like they do before they are captured, I'd like to add. When summoned, they are the form that their souls take, not what their bodies took (which can confuse some novices. For instance, a wolf's soul may take the form of a 10 foot tall beast… or that of a small pup.

But that isn't to say that the souls remain as they are captured forever. No, just as human souls can grow and mature, so too can those of creatures (especially after they are siphoned a great deal of magic power through being summoned many times). The more time that they spend in the physical world, the stronger they become. And being around that much magic can sometimes cause them to develop into a stronger form, which is always a treat.

Animus Vessels

These crystals are about the length of one's pinkie (though they can be any shape) and come in a variety of colors. They are very difficult to make properly, so Newton Animus made sure to keep his magic a secret for the most part to keep people from hurting themselves as they attempted to make new Vessels.

When Newton died, the secret died with him, so most Animus Wizards only have a handful.

~~~~~

If you have any questions about Animus Magic, feel free to ask me. I put a bunch of information here, but I know that I left a bunch of doors wide open. So feel free to put your own spins on the magic, but I would ask that you get an Animus approved by me before capturing it.

"Animus Form":


Animus Wizard:
Animus Name:
Type of Creature:
Appearance:
Special Powers: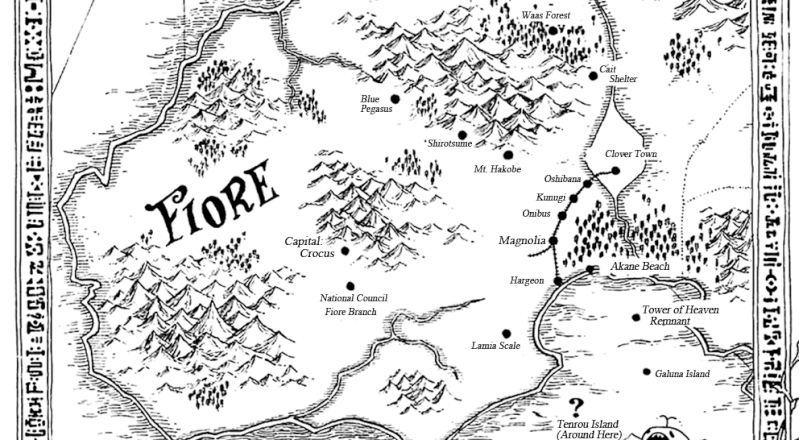 Form for Existing Characters
Name
:
Current Age
:
Wiki Link
:
Appearance Changes (Optional)
:
Past year Activities
:
Any other changes (Optional)
:
Team (Optional)
:
Form for New Characters
Name
:
Age
:
Guild
:
Appearance
:
Guild Mark (Color & Location)
:
Personality
:
Background
:
Strengths
:
Weaknesses
:
Magic(s)
:
Team (Optional)
:
Other
:
My Forms
"Existing Characters":










"New Characters":

"Trevor O'Dair":

Name

: Trevor O'Dair

Age

: 14

Guild

: Fairy Tail

Appearance

:

"Trevor":

>>Dark Blue Hair

>>Blue Eyes

>>Sometimes wears a white headband

Guild Mark (Color & Location)

: Orange; Right Shin

Personality

: Trevor is a very happy, outgoing individual who often attempts to make others' days better with his joviality.

Background

:

"Longer Than Expected":

As a child, Trevor hid his abilities from his parents for fear of being cast out in the rain like the other magic-users in his neighborhood had been. He loved and admired his parents, it's true, but he also feared them, as he should have. Rather than going to school, he would deliver messages from country to country in minutes or carry mail between loved ones who cannot afford to send it via messenger.

One day, Trevor came home to a blazing inferno. His father was outside, but there was no trace of his mother. Doing the only thing that he could think to do, he sped into his house, grabbed her from where she had been trapped, and saved her life. Surprisingly, even after being saved by the boy, the O'Dairs were furious that they had been feeding and sheltering a freak for all those years, and they threatened him in every way they could think to.

He ran away at once, tears streaking his cheeks. He loved his parents, after all, but he had no choice. He ran for days, ignoring hunger and thirst and all desire. He simply ran.

Until he came across an old woman who was stooped over on the side of the road, picking up her things that had presumably dropped. Trevor aided her and was thanked with food and shelter. Over the next two years, the old woman - Tilra was her name - and Trevor helped each other stay alive. He gave her what she needed, and she fed and sheltered him. For once, the boy didn't have to hide his abilities (she shared that she once had a magical son not unlike him, so she encouraged his powers). She taught him to be happy again and to cherish life and all of its quirks.

Times grew sour once more when an old hag wandered up to Tilra's cabin one winter night. The old woman told Trevor to hide, but it was too late; the hag broke down the door and froze the two where they stood. The boy watched as Tilra was murdered in cold blood, wanting to scream but not having the ability to do so. The hag then turned to him, her gaze like steel, and removed a necklace from her pouch. As she placed it around his head, she said, "[i]This loop represents the sorrow in your life, for I can tell there has been plenty. Moreso, it is a gift. Fate has dealt you poor cards, boy, but with this token, and by the sacrifice of your friend here, you will be granted what you need most."

She left, and he soon regained mobility. He ran again, this time to a large city in the center of a far-away country called Fiore. It was there that he stumbled upon Fairy Tail.

Strengths

:

>>Speed: Both in mind and body, Trevor is fast. He's always quick to conclusions and quick to destinations, and although this can make him appear cocky to others, it's simply because he works faster than others do.

>>Outgoing: Trevor is a very kind and caring individual who always tries to brighten the days of others.  

Weaknesses

:

>>Too Trusting: He sometimes forgets to use caution when conversing with people and will treat them like good pals even if he just met them.

>>Too Fast: The world seems to work a little too slowly for him, and he can sometimes get frustrated when people can't keep up.

Magic(s)

: Speed Magic

Team (Optional)

: Open

Other

:

"Kyle Eamir":

Name

: Kyle Eamir

Age

: 17

Guild

: Fairy Tail

Appearance

:

"Appearance":

Guild Mark (Color & Location)

: Royal Blue | Left Forearm

Personality

: Kyle is a very kind and trustworthy individual, but he sometimes chooses his Animi over the company of others simply because it is what is familiar to him. The only person in his life had been his mother, and when he had to leave her, he was just left with Boris and Kaedra. This left him a little scarred, but he always aims to make the best out of every situation.

Background

: When he was a young boy, Kyle was found in a western forest by Newton Animus' youngest daughter, Periphany. She took in the child and cared for him like a mother, teaching him about the world and, more importantly, the magic that she knew. As he aged, he grew to love the wild and she who he believed to be his mother in all but name. And it was on his 14th birthday that he captured his first Animus: Kaedra. It was a fierce fight with the fox, but the teen prevailed and grew close to this creature.

Near his 16th birthday, his mother began to grow weak. Periphany, only 30 at the time, lost strength by the day, and it eventually became apparent that her Animus Vessels had all faded. Her spirit became frayed, it seemed, and she had no choice but to send Kyle off to make a name for himself.

After a year of traveling, he arrived in Magnolia (now with two Animus Vessels in his pouch), eager to join the guild that he had heard so much about.

Strengths

:

>>Tactician: He is very intelligent despite never having attended school. His Animi allow him to think very strategically, and he often has a greater control of the battlefield than most others.

Weaknesses

:

>>Being Alone: Ever since he was a child, Kyle has dreaded being alone. Without his Animi, he would be saddened to the point of incapacity.  

Magic(s)

: Animus Magic

"Boris":


Animus Wizard: Kyle Eamir
Animus Name: Boris
Type of Creature: Gyrfalcon
Appearance: A whispy blue spirit that takes the shape of a large bird of prey. Its wingspan is roughly two feet across, and its beak gives off an icy glow.
Special Powers: Boris' wings and claws (the latter of which appear to be ice) are sharp as razors. This, combined with his speed, gives Boris a great range of combat abilities.

"Kaedra":


Animus Wizard: Kyle Eamir
Animus Name: Kaedra
Type of Creature: Fox
Appearance: Kaedra is a bright orange fox spirit that stands about the same height as a normal fox. She gives off a glow wherever she is, and is often very playful and kind (when unprovoked, that is). Her tail is longer and bushier than that of a normal fox, and it ends with a bright white tip (like her ears).
Special Powers: Kaedra is very quick & can use her tail as somewhat of a whip. She has also been known to have some manner of control of fire.

Team (Optional)

: Open!

Other

:

>>Kyle is left-handed

>>He keeps two knives on his person at all times.
Jobs
Available:

Employer: Lieutenant Dane
Location: Clover Town
Description: Bandits are attacking supply convoys on their way into town. Report to the barracks in Clover Town for details.
Reward: 180,000 Jewel
Status: Available
Available:

Employer: Mayor Harris MacGammon
Location: Gallowstown
Description: Miners have begun to go missing in the mines, but nobody makes it back alive to report on what is happening. Monsters are suspected. Exercise extreme caution.
Reward: 100,000 Jewel
Status: Available
Available:

Employer: Sir Pentworth Gorne of Crocus
Location: Crocus
Description: I require a rare Illiaris Serpent pelt to complete my collection. They can be found in the mountains to the north, naturally. Bring one to me at my estate in Crocus for your reward.
Reward: 300,000 Jewel
Status: Available [S-CLASS]
Available:

Employer: Ms. Neko
Location: Oshibana Neko House
Description: My cats have been acting strangely ever since the last full moon, and they will not listen to me any longer-nya! Please help-nya!
Reward: 80,000 Jewel
Status: Available
Available:

Employer: [Worn off with age]
Location: Eastern Sea
Description: Monsters have infested an island that used to be a thriving city ages ago. Eradicate the infestation.
Reward: 450,000 Jewel
Status: Available [S-CLASS]
Available:

Employer: Healer Kobino
Location: East Forest
Description: On the verge of a medical breakthrough, but the forest has grown treacherous over the years, and I am in need of several rare plants. See me in my hut for details.
Reward: 140,000 Jewel
Status: Available
Available:

Employer: Circus Leader Carol
Location: Hargeon
Description: A few members of my troupe have fallen ill, and I am in need of replacements. Report to the tent on the outskirts of Hargeon for details.
Reward: 80,000 Jewel (+Publicity)
Status: Available
Available:

Employer: Wenton Trenton
Location: Magnolia
Description: Help needed ASAP. Bring honey!
Reward: 80,000 Jewel
Status: Available
Available:

Employer: Mrs. Gashi
Location: Magnolia
Description: Help needed promoting a new magic shop in Magnolia Town. Visit Mrs. Gashi at her shop just south of Kardia Cathedral.
Reward: 75,000 Jewel
Status: Available
*Banner by Athena*
Last edited by Hero of Time on Mon Sep 05, 2016 11:17 am; edited 2 times in total
Yay! It's up!

The forms for Emilia and another new character will come later. I'll also go ahead and reserve a God Slayer. 'Cause why not.
_________________
Credit to Hime for the drawing!
[Infinity's Row: Interlude l Anaphora: Pariah l Infinity's Row: Uncontrollable l Anaphora: Vengeance]
Currently Reading: Renegades by Marissa Meyer
Currently Binging: Yona of the Dawn
I'll reserve a God Slayer, too (if that's ok)!
_________________
the hope for tomorrow will help me ease all my pain today.
thank you so much athena!:
Edit: Writing, your spot is reserved. Fix-it, Ronan had asked me for one of the spots a while back and I sorta spaced, so if it's alright with you, I'm going to give it to him. Super sorry.
_________________
the hope for tomorrow will help me ease all my pain today.
thank you so much athena!:
Forms, forms, forms.


And now, just because she's actually appeared in the main RP at this point and may pop in again...


I have some new characters to come, as well, but none of those are going to be revealed quite yet.
_________________
Avatar by Tara | Art by Ashley Cope

Omni

Retired Staff





Join date

: 2013-05-18


Posts

: 1536


Age

: 22


Location

: Here and there.



I'm still working on my two new characters, but for now, here's Emilia.
Emilia Stafford:

Name

: Emilia Stafford

Current Age:

19

Wiki Link

:

http://ft-awakening.wikia.com/wiki/Emilia_Stafford Appearance Changes

: Her appearance hasn't changed too much. She has dyed her hair and put in colored contacts at various times throughout the timeskip, to avoid being seen by anyone, but for now her hair's back to blonde. She puts it up in a high ponytail more often now, to get her hair out of her face while she's trying to concentrate on something.

Past Year Activities

: Oh, nothing much -- just trying to avoid being seen by any Fairy Tail member while working on single-handedly destroying a Dark Guild. You know, fun stuff like that.

Any Other Changes

: She's missing, for one, and has (unofficially, technically) left Fairy Tail. That means she hasn't seen anyone in Fairy Tail for a very long time.

Team

: Technically, none right now, but when the time comes, it'll be with Jonas and Evan (if Lyssy's still up for it)
_________________
Credit to Hime for the drawing!
[Infinity's Row: Interlude l Anaphora: Pariah l Infinity's Row: Uncontrollable l Anaphora: Vengeance]
Currently Reading: Renegades by Marissa Meyer
Currently Binging: Yona of the Dawn
Not sure when I'll get my forms in, but I'll get them in--hopefully--somewhat soonish.
Sweet!

And accepted, Writing!
Page 1 of 5 • 1, 2, 3, 4, 5


Similar topics
---
Permissions in this forum:
You
cannot
reply to topics in this forum